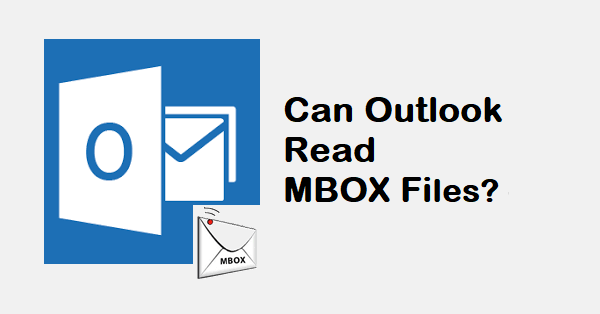 A question "Can Outlook read MBOX files?", the answer of which is complicated. It can be answered with both 'Yes' and 'No' depending on the intent of the user.
In short, if a user seeks a direct method (an official method) to open and read MBOX file in Outlook, it is simply impossible. Outlook uses PST file for storing its emails, It does not identify MBOX as a valid mailbox file and hence has no native means to import MBOX to Outlook. So, a direct approach is out of the question.

But then, is there any means to read MBOX file in Outlook, even if there is no direct method?
Yes, there is a way.
It is not a native option but a workaround. Although Outlook does not support MBOX file, it has ample support for PST file. It can even open EML file if a certain trick is applied. So, by converting the files in these formats, one can easily open and read MBOX files in Outlook.
User Query –
"Our primary email application for desktop used to be Thunderbird. But to regulate the additional tasks incurred by the organization growth, we are planning on switching to MS Outlook. There are around 60 employees whom need to read their mailbox files in Outlook 2019. Can Outlook open MBOX files? If yes, then what is the process to do so? The import option doesn't seem to work and we are out of ideas. The emails are important and we would like a method that can help us read and open MBOX files in Outlook as soon as possible. Thank you in advance!"
The intent of the user is clear from the query. So, without further adue, let us directly move to the methods.
How Can Outlook Read MBOX Files?
There are two methods to have Outlook read MBOX files:
The first one uses a trick to transform the files in EML format and open them in Outlook.
While the second one exports the files in PST format and import them in Outlook.
Find the methods in detail below.
Manual Trick to Open MBOX Emails to Outlook via EML
Alert: This method uses a trick and not a conventional feature. It is not officially recognized so users must be vigilant while performing the steps. The manual method is safe for moving one or two MBOX file data but is very risky for migrating in bulk. For bulk mode, use the second method.
Run your MBOX desktop email client and import the MBOX files in it.
Now, open the mailbox folder in the email client.
Choose all the email messages inside the folder.
Right-click and save the selected emails onto the local computer.
You will see multiple EML files representing the saved email messages.
Now, run MS Outlook email client on your system.
Drag and drop the EML files into the center panel of Outlook.
The emails will start appearing in the Outlook interface.
Do note that this method may not preserve your folder stucture. Furthermore, there is no means to prevent data loss and change of email attributes. So, it is recommended to use the next method to ensure safety of essential data items.
Proven Method to Read MBOX Files in Outlook via PST
With a trusted application like DataHelp MBOX to PST Converter, one can easily generate PST files supported by Outlook 2019, 2016, 2013, 2010, 2007 & 2003. It excels when there is a need to process several MBOX files at once. It resolves the query – Can Outlook read MBOX files? in a matter of minutes. Furthermore, the chances of data loss and attributes manipulation are reduced to none with its advanced protocols.
Steps to Read MBOX Files in Outlook:
Step 1: Run the MBOX tool and click Select Files.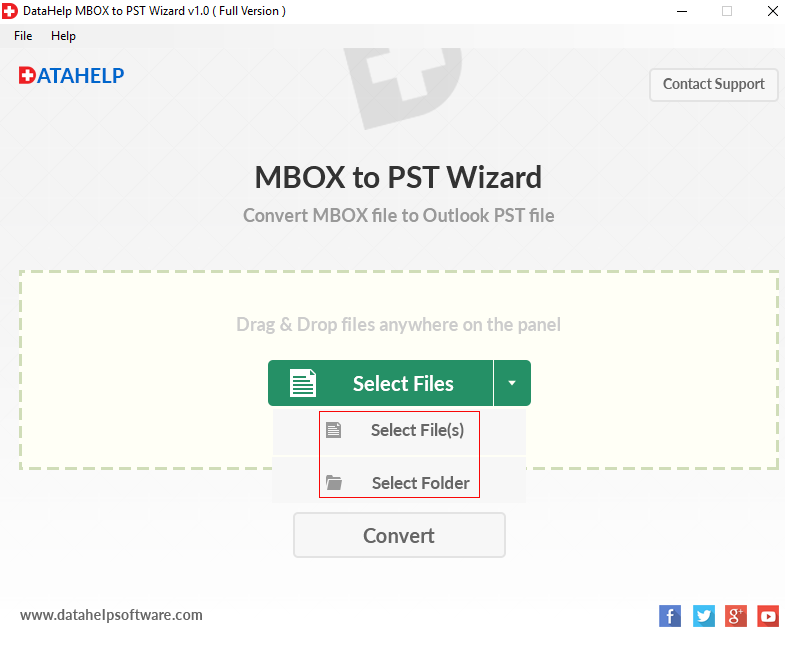 Step 2: Import MBOX Files into the software interface.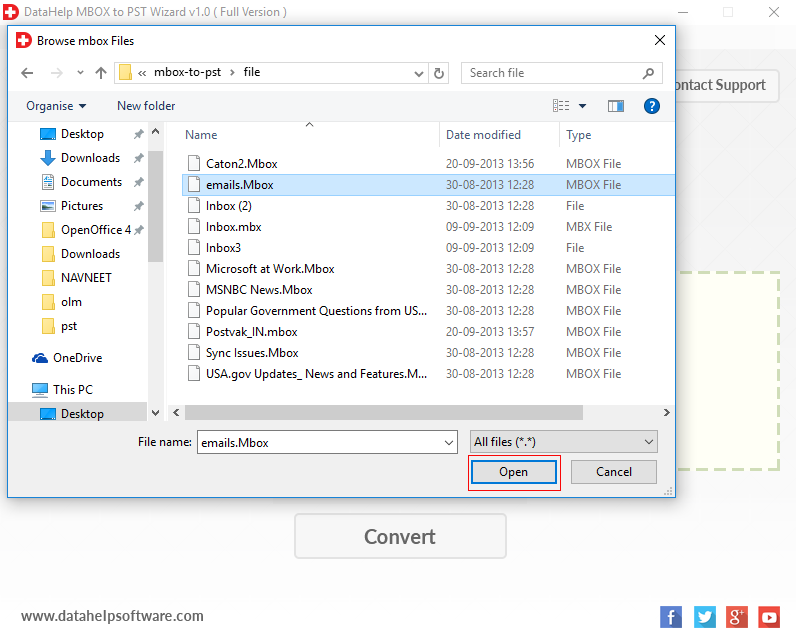 Step 3: Click Convert and set target location for Outlook PST file.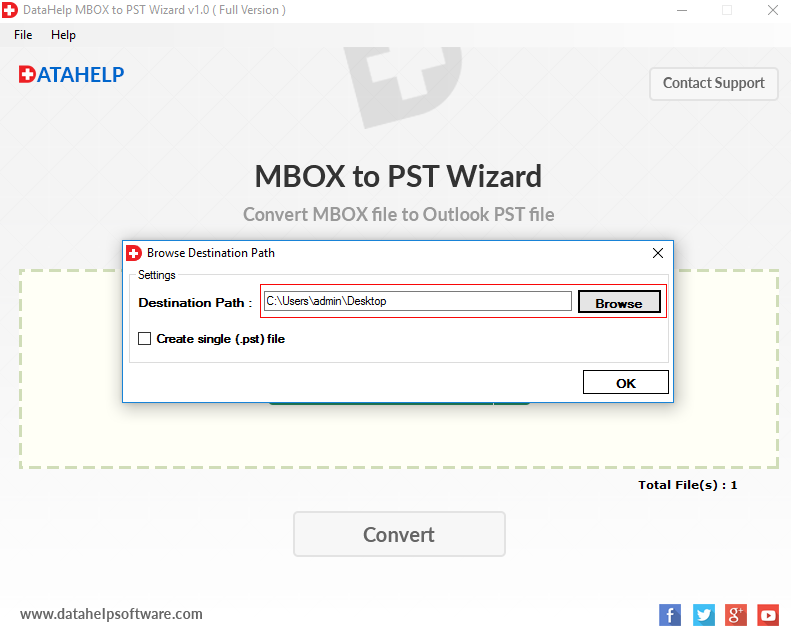 Step 4: The tool will export all MBOX files into PST format.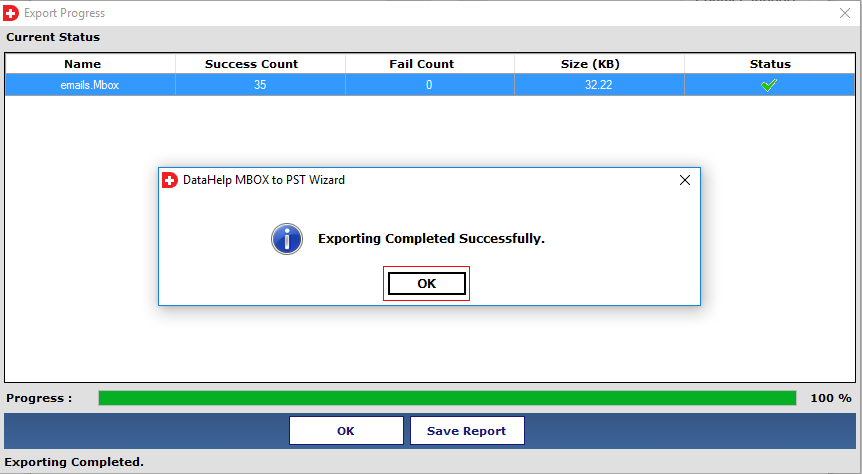 Step 5: Import the PST files in Outlook and read the emails.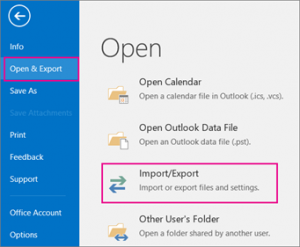 Why Do We Care?
MS Outlook is one of the most popular email applications in the current time. As a result, many organizations are moving to Outlook. With MBOX being the general mailbox format, a lot of queries sounding as – Can Outlook Read MBOX Files? is often asked by migrating users. Without a proper technique, one cannot comprehend to open MBOX file in Outlook. Therefore, in this article, we provided a trick as well as a proven technique to read MBOX emails in Outlook without any cumbersome process.
Problem Queries:
Can Outlook 2016 import MBOX file with the given methods?
Yes, it is possible to read mailbox files in Outlook 2016. Furthermore, the steps are also applicable for Outlook 2019, 2013, 2010, 2007 & 2003.
Why is Import/Export feature of Outlook not working?
The feature is working in its truest sense. It's just that it does not support opening the MBOX file and hence is unable to do so.