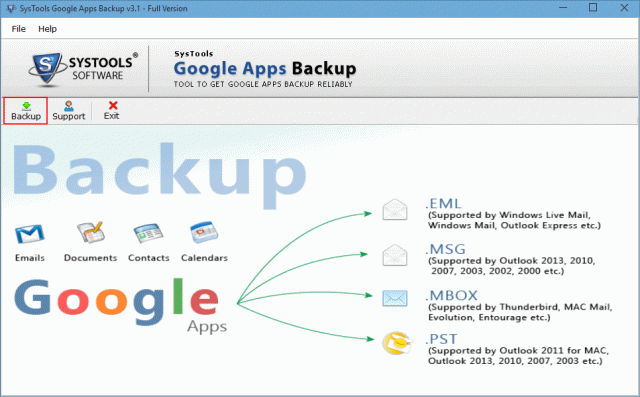 Summary: The article describes 3 proven methods to export G Suite emails to MBOX. Whether you need to export messages from one G Suite account or multiple user accounts at once, we have it covered. Read the article to find more.
G Suite is technically a business Gmail account. So, the export options available for Gmail can also be implemented for an individual G Suite account. For example: Google Takeout. Of course, you have to be mindful of a few things.
There are several methods particularly designed for G Suite as well such as the Export functionality in the G Suite Admin Panel. And professional tools that automate the entire process. Some organizations also outsource the export process to dedicated service providers.
Ultimately, what you choose depends on your requirements. It can be about a fixed deadline, budget, time, place, number of users and even trust factors. Anyhow, we will discuss 3 methods that are designed to cater to all the user needs as a whole. You can choose one as per your situation.
3 Proven Techniques to Export G Suite Emails to MBOX
#1 Google Takeout for Exporting Mailbox from Single G Suite Account
This technique is for the end users and not something that an organization admin can do by itself. A single G Suite account holder can make use of Takeout service from Google to move G Suite emails into SD card or local computer. If there are multiple users, the either the end-users will have to do it themselves, or the admin will need to perform the steps again and again for each account.
Sign in to your G Suite account on your browser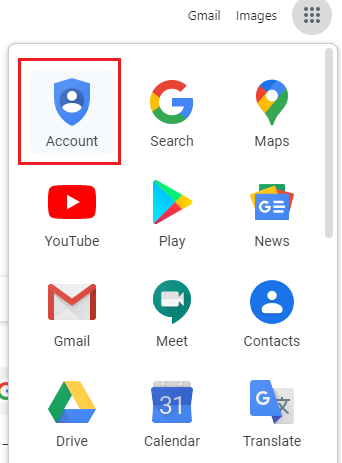 Select Data & Personalization and click on Download your data option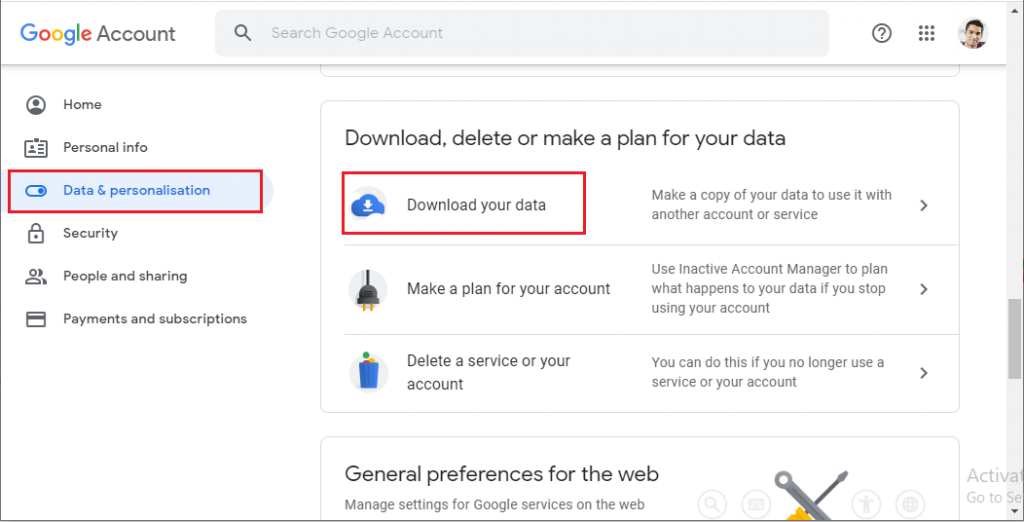 Click Deselect All button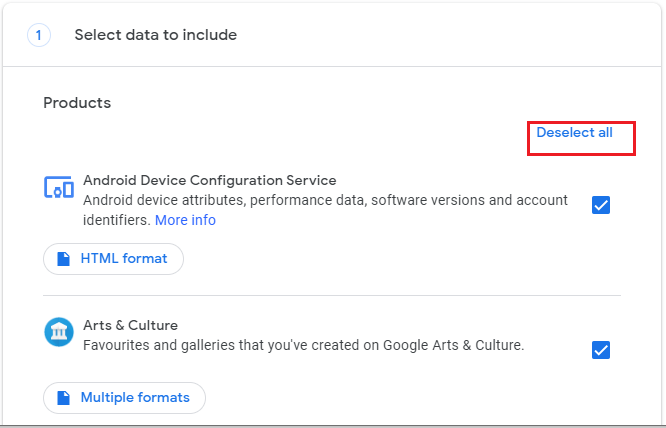 Go to Mail section and tick the box. You can also choose the mail data that you want to export from G Suite to MBOX with All Mail data Included option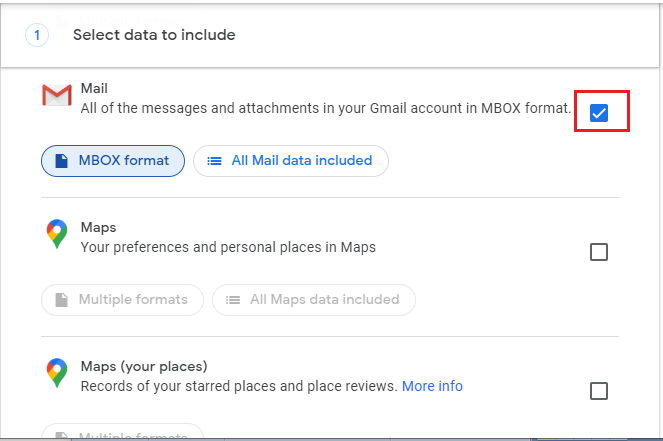 Scroll down and click on Next Step button

Leave the default settings and click on Create export button
Google will start creating the archive of your G Suite account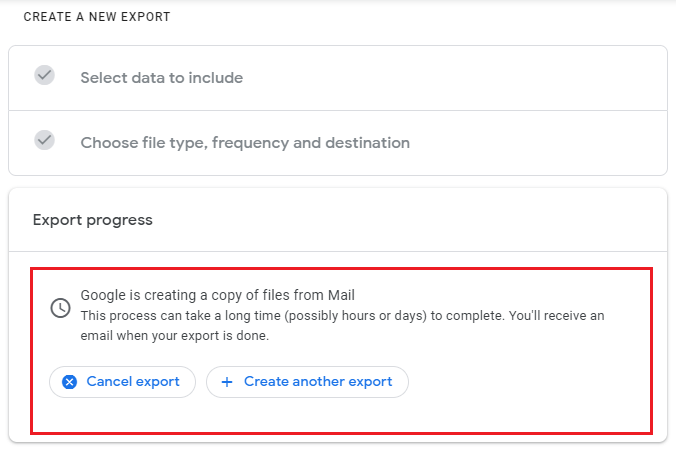 Once the process completes, you will receive an email containing the download button, click Download your files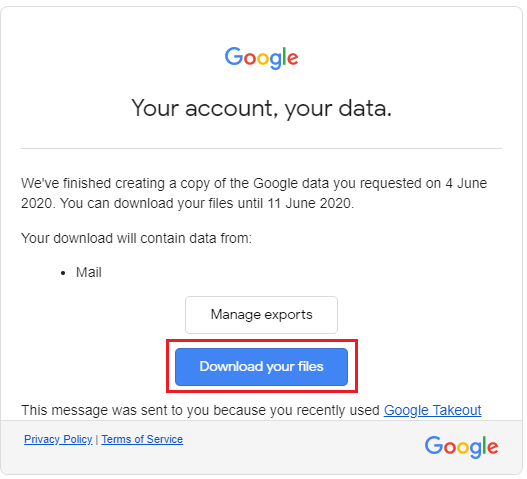 When the file is downloaded, extract it on your system and you will get multiple MBOX files.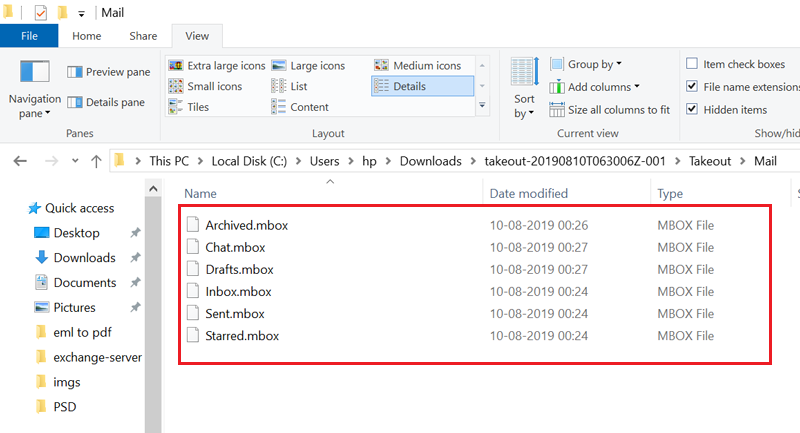 Note the Limitations:
Only applicable for one G Suite account at once
Limited download retries
Takes days to get the download link from Google
#2 Backup Tool to Export G Suite to MBOX Files for Domain Users
Using Google Apps Backup tool, you can easily export G Suite mailboxes to MBOX for both single and multiple users. It is a proven tool recommended by experts to easily generate MBOX files without any data loss issues.

Working steps to convert Google Apps emails to MBOX using the tool:
Start the tool on your Windows system and click Backup button.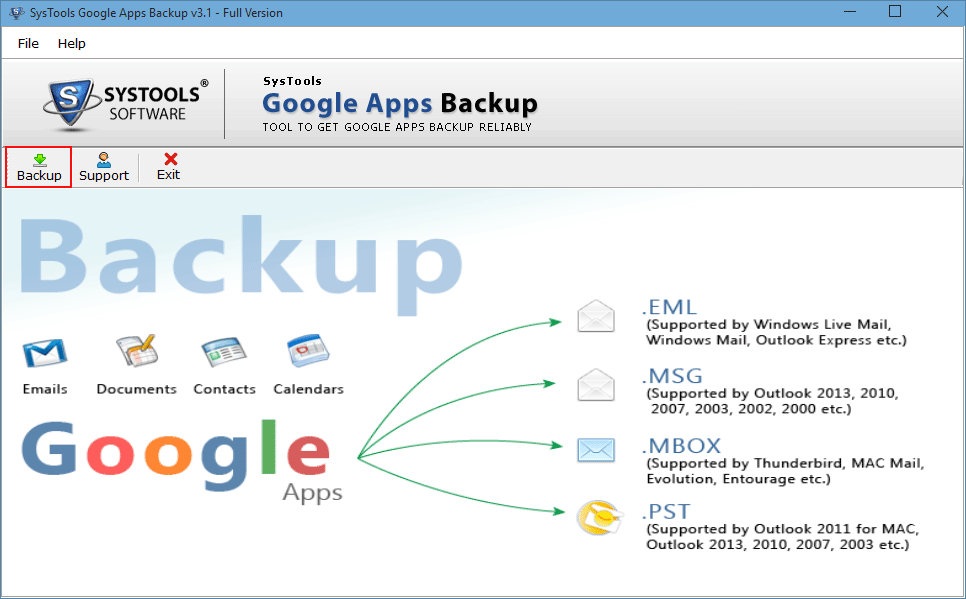 Select Domain Users option for saving mailboxes of multiple users of a domain.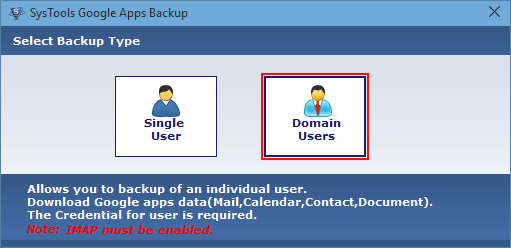 Enter G Suite admin id and create a CSV containing the list of user mailboxes that you want to save in MBOX and import it in the software interface.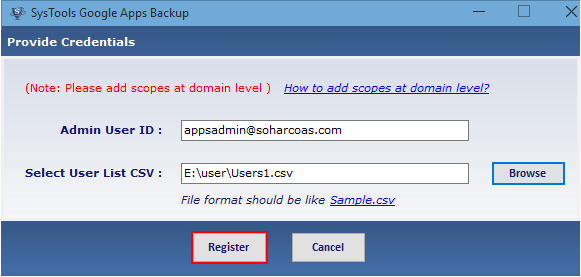 Select MBOX file from the list of options and click Emails in the category section.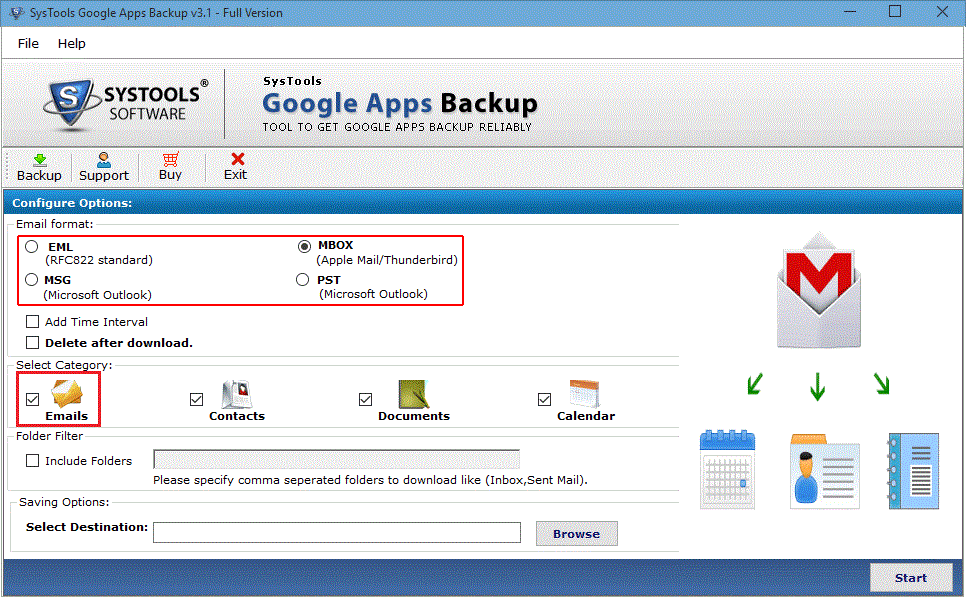 Apply time-interval and folder filter, select target location and click Export button.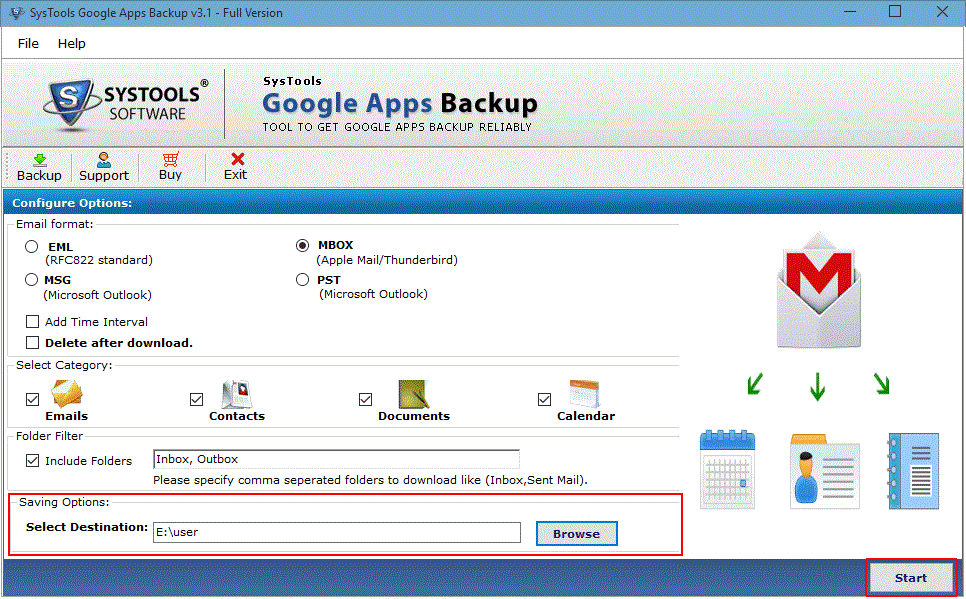 All the emails of the designated user accounts will be saved in MBOX files at the given target location.
Note: This tool also allows you to export G Suite to MSG, PST and EML files.
#3 Data Export Tool for G Suite Admin User
The Data Export tool is available only for super admin of a Google domain. The administrator can export G suite to MBOX for multiple users. However, there are some prerequisites that must be taken care of before implementing the steps.
Prerequisites:
The G suite domain must be more than 30 days old.
The user must be super administrator.
2-step verification is to be enabled for the admin account.
The domain must have 1000 or less accounts.
Once the perquisites are done, follow these steps:
Sign in with G Suite admin credentials and open the G Suite Admin panel.
Click on "<" button and select Tools >> Data Export.
Click on Start export.
Google will process the user accounts at its end and provide you with the download link via an email message.
Once you receive it, download the data and extract it on your system to get MBOX files.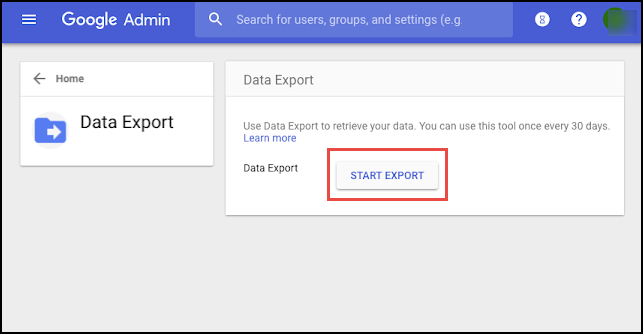 Alert: Although this process seems easy, it is still not preferred by many organizations. The reasons are as follows:
You cannot specify the data type and wish to export only that data. For example, you cannot specify and export only G Suite emails to MBOX.
You cannot use this technique for only some users.
The processing takes a lot of time. You may have to wait for a whole week to only get the download link.
Honorable Mention
Other than the defined methods, you can also export Google Apps to MBOX by synchronizing your G Suite account with MBOX supported email clients such as Thunderbird, Apple Mail, etc.
Why Do We Care?
Google has a trusted data management history. However, it is not free from issues of cybercrimes. Hence, it is always good to have a local copy of the G Suite mailbox in MBOX files on your local system. That is why we have provided you with solutions to export Google Apps to MBOX. Some methods are feasible for a single account, while others are optimal for multiple accounts. But the automated tool combines the advantages of both these methods and export G Suite to MBOX file for a single/several/all user accounts at once.