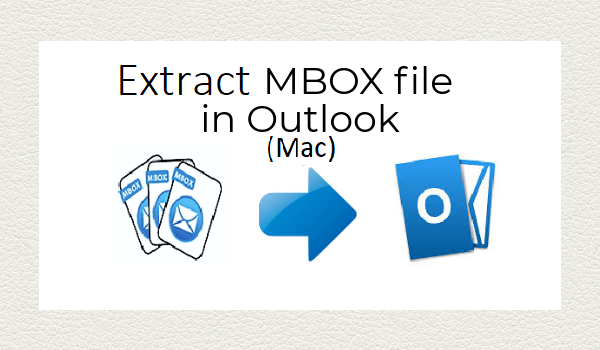 For Mac users, the two most popular email clients are Outlook and Apple Mail. While Outlook is a part of MS Office, Apple Mail comes free with every Mac OS. So, which client to go for? That depends on users requirements which vary from user to user. Apple mail being free was used by the majority of Mac users until the release of MS Outlook 2016. With new and advanced features, it began turning heads of not only Mac Mail users but also the other Mac email-client users. And so, started the migration to Outlook which is still going on. But most clients including Mac Mail uses MBOX format to save client data and Outlook doesn't support it. Does that mean leaving the precious data behind? If not, then how to extract MBOX file into Outlook 2016 for Mac? That's exactly what we are gonna find out in this article.
Why import MBOX file into Outlook 2016 for Mac?
The solution of the given query is commonly required in the following cases:
There won't be much need of converting MBOX data file if people don't migrate to Outlook 2016. Whenever someone switches from an MBOX supported client to Outlook 2016, the requirement to convert that MBOX file data to Outlook PST arises.
Whenever users download their Gmail data (saved as MBOX) and then need to access it in Outlook 2016.
When users have to analyze the contents of an orphan MBOX file for professional or personal reasons.
Use of indirect manual ways can result in loss of essential time, effort, and even data. These shortcomings forced users to search for an easier, secure and direct professional approach.
Lets go through a query to get a better grasp of the situation:
"Hello, my organization subscribed to the Office suite recently as it was beneficial for our growth. We used the free Apple Mail for our Mac systems. But now we have to shift to Outlook 2016 since it provides better integration with other MS Office applications. So we have a large amount of MBOX data from Mac Mail. But we are unable to find a direct solution of how to extract MBOX file into Outlook 2016 for Mac. Please suggest a relevant solution for the same…"
Mac MBOX Converter – One Stop Solution
The best way to extract MBOX file to Outlook 2016 for Mac is by converting it into the PST file format that MS Outlook supports. Once converted, users can easily import the PST file in Outlook and access all its data. And that's why we are going to provide you with an expert solution which has proved its worth globally. Mac MBOX to PST converter is a one-stop solution for all your MBOX extraction needs. What do you want – Reliability, readability or conversion speed? This tool is equipped with every relevant feature a user is ever gonna need to import MBOX file into Outlook 2016 for Mac!
Benefits of the Converter
Supports Conversion of multiple Mac MBOX files to PST file format
Maintains the integrity of emails throughout the process
Retains the folder structures and email attachments in the converted data file
Provides Naming Convention options to save emails as per the user requirements
Date filter option available for user convenience, especially in cases of large amount     of data
Successfully runs in all latest Mac OSX machines such as Mac OSX 10.10 and 10.11
Stepwise Approach to Extract MBOX file into Outlook 2016 for Mac
Follow the given instructions to achieve conversion results in a quick and easy way:
Download and Launch the application in your Mac system
Click Add file(s)/ Add folder(s) to add the MBOX file/folder into the Application
Click on PST radio button. Then, select from multiple export options like Date Filters and Folder Hierarchy as per your requirements
Click Browse to select the saving location of the converted file
Click Export button to export MBOX file to Outlook 2016
Import the converted PST file in MS Outlook using its in-built Import/Export menu option from the destination location set previously. To do that follow the given steps:
Run MS Outlook 2016 application
Go to File>> Open & Export>> Import/Export>> Import from another program or file
Select Outlook data file(.pst). Click Next and locate the converted file
Select other required options and click Finish to complete the process.
Summing up
The article focuses on providing users with a direct solution on how to extract MBOX file into Outlook 2016 for Mac. Though some may argue that there are manual workarounds available for this task. But after considering the complexity and data loss issues in the manual ways, ultimately everyone opts for a professional and direct solution. One such effective tool with a wide array of relevant features is mentioned in the article. Using this tool, users can achieve the required results in just a few clicks. In addition, the article also discusses the reasons behind the conversion demand and the complete guide to perform the conversion.