How to Remove Duplicate Emails from OST file?
Emails duplication is one of the major reasons for the slowdown of Outlook application. Generally, duplicate emails occur with the PST files but there are also some users reported that they are encountering duplicate emails in their OST files. However, remove duplicate emails from OST file is very hard to do. Also, Outlook does not provide and solution for this.
OST stands for Offline Storage Tables in Outlook and it will have created when one can configure their Outlook program with Exchange Server or using IMAP protocol.
So, if you seeking a solution to delete duplicate emails from the Outlook OST file. Then, your search ends here. In this article, we will provide you a step by step guide which surely helps you to deal with such problems.
Reasons that Result Duplicate Emails in OST file
Before jumping on to the solution let's get know the common reasons that cause duplicate email items in Outlook OST:
Incorrect configuration of rules
Short intervals while sending and receiving messages
Error at the time of account setup
Inappropriate settings of the mailbox
Technical Issues
Why it is Important to Remove Duplicate Emails from OST File?
Microsoft Outlook is the widely used email application so, to keep it in a working state it is really important to remove duplicate items. However, duplicate emails can badly affect their performance.
Duplicated emails in Outlook affect the productivity of the mailbox and causes errors sometimes.
When searching for a specific item it takes more time in search as the size of OST is large due to duplicate emails.
Duplication of Outlook emails makes the file oversized which causes corruption of the OST.
Duplicate emails can be a major problem for those users who have to deal with numerous emails messages every day and reply to each message.
Instant Way to Remove Duplicate Emails from OST file?
It is very important to delete duplicate emails from the Outlook OST file. Generally, you can remove duplicate emails from the PST file using Outlook Clean Up utility. But in the case of the OST file, it is not effective. So, in that troublesome situation users have to go with an automated solution.  

SysTools Outlook Duplicate OST Remover software. It is a powerful single utility that can easily remove duplicate emails from OST file and Outlook PST file.  Along with emails this software also removes duplicate contacts, notes, tasks, journals, etc.  When it comes to removing duplicate emails via email fields, it is the best option to go for.
So if you searching for the safest solution, that does not cause any alteration to with your original file and keeps them intact. Instead, it creates a new PST file and saves all the data excluding the duplicate items.
Steps by Step Working of the Software
Step 1: Download and Run the software.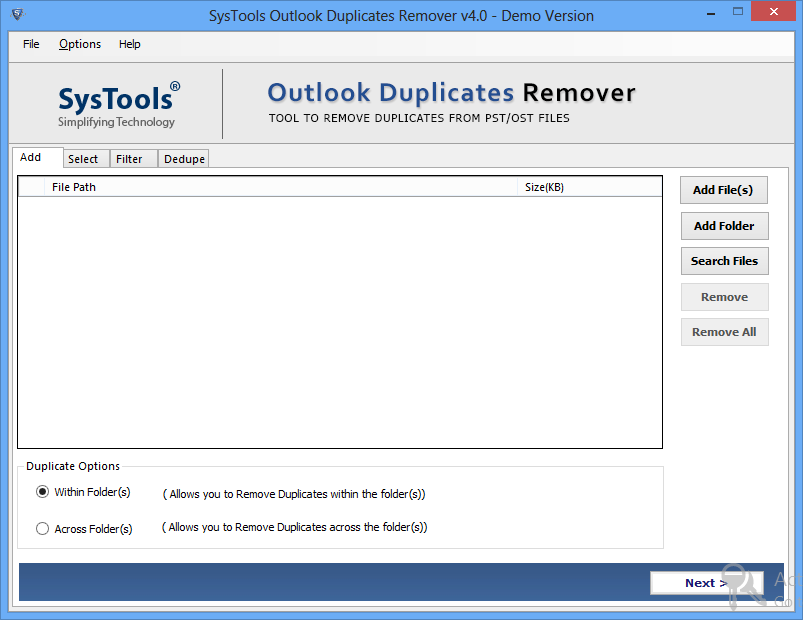 Step 2: Click on Add File(s) or Add Folder to add OST file
.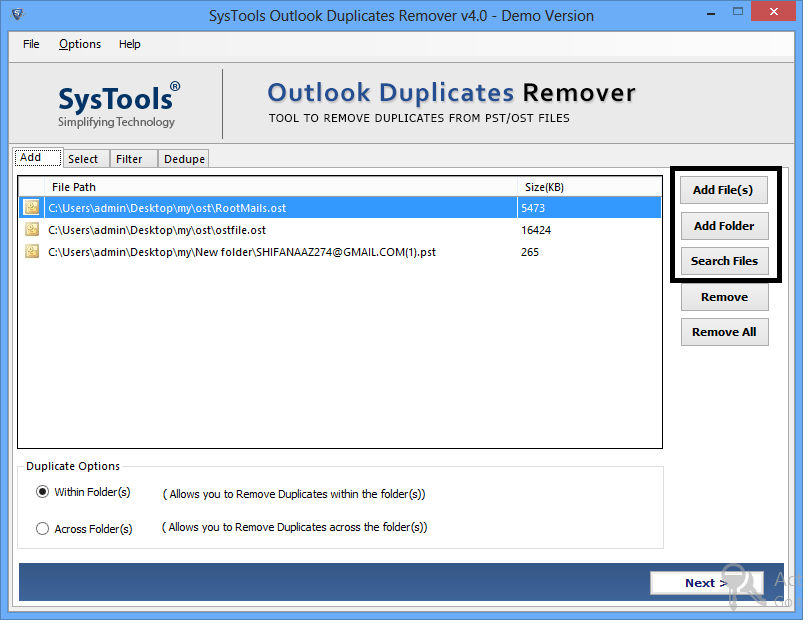 Step 3. Check any option to delete duplicate emails: Within and Across Folder.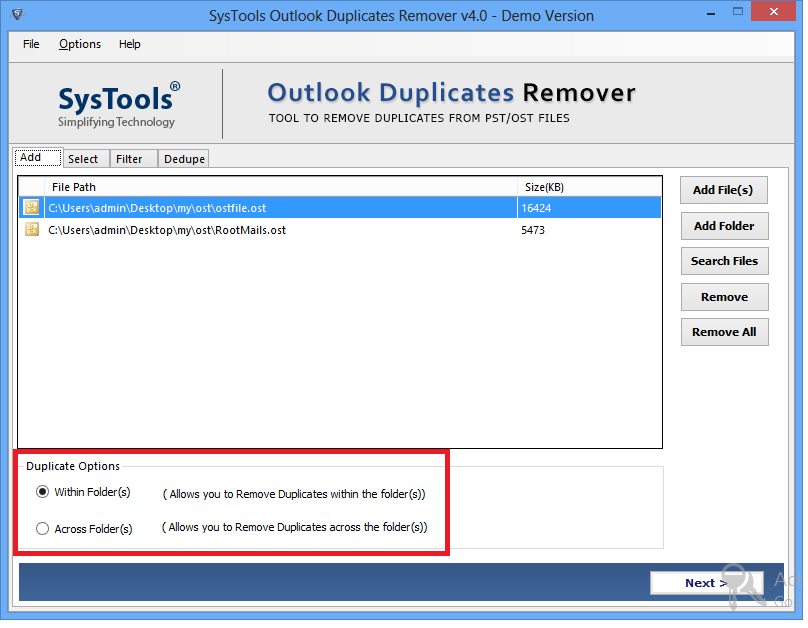 Step 4: Tick the checkboxes provided under the Select filter and duplicate criteria option.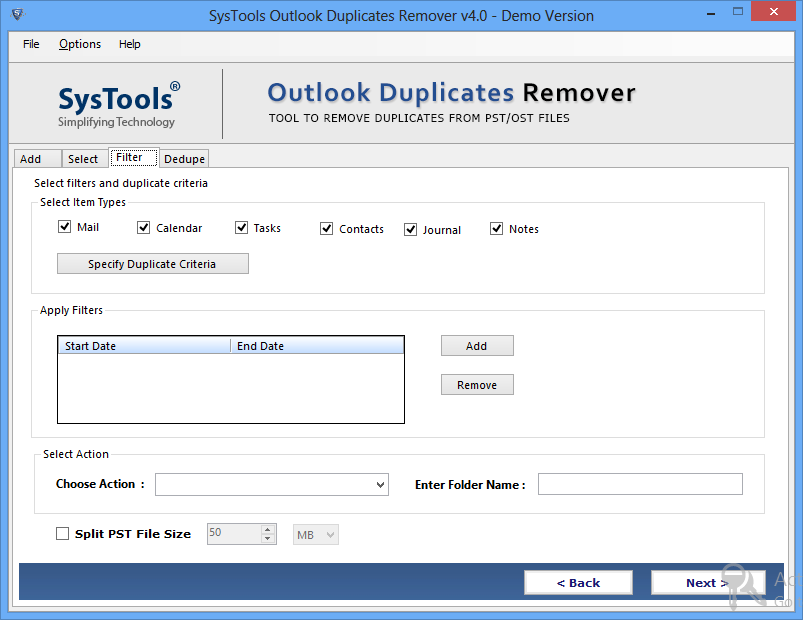 Step 5. Select one or more field to customize duplicate email processes from Specific duplicate criteriaoptions.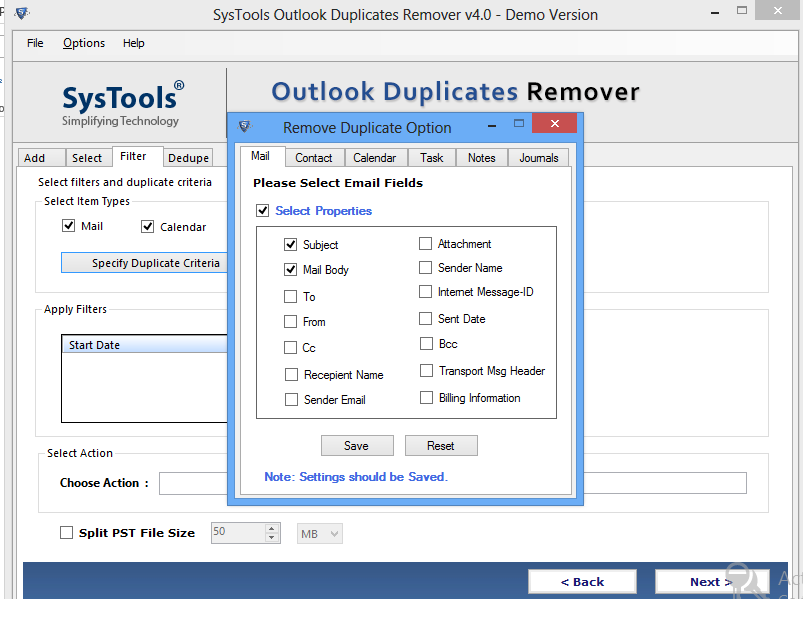 Step 6. Click on the Next button to start the process of de-duplication of emails in Outlook OST file.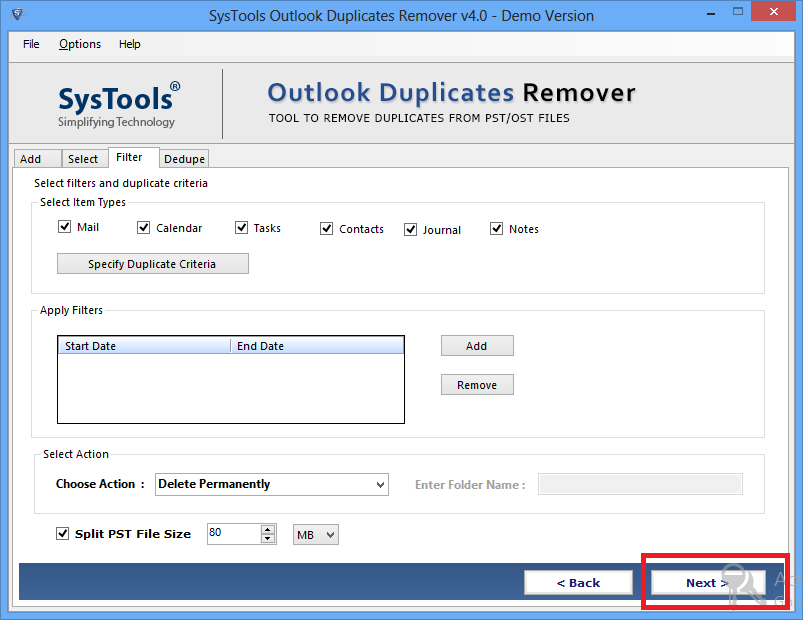 Why this Software?
This software has been designed both for technical as well as non-technical users. So, a novice user can also remove duplicate emails from OST/PST/BAK file without any professional assistance. The software is compatible with all versions of Windows Operating System and supports Outlook data files of MS Outlook 2019, 2016, 2013, 2010, 2007, and below versions
Wrapping up:
Duplication of emails create lots of productivity issue that will affect your workflow. Thus, it is really important for users to delete duplicate emails from the mailbox to increase productivity and workflow. So go through this article, here we have discussed the most effective way to remove duplicate emails from OST file without any data loss.