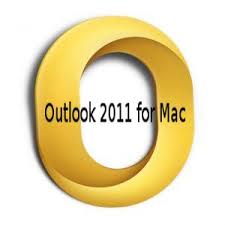 The Outlook for Mac is a widely used email application for accessing and managing emails as well. Moreover, Mac Outlook 2011 database file contains messages, contacts, tasks etc. to save files in the particular folder. All of sudden, there are several situations occur where Outlook file gets fail to load, which leads to corruption in data. Therefore, most of the users presently keen to repair corrupt Outlook 2011 database for Mac but before resolving such issue users have to understand about it.
There are certain situations when Mac Outlook 2011 database become corrupted and all of them are discussed below:
MS Outlook cannot open, stop responding, and quit unexpectedly.
Outlook items fail to open or even open different data items.
Blank lines are shown in Outlook contacts or also in Outlook message list.
Microsoft Outlook cannot appear correct contact entries
While performing a search within Outlook, the search results unable to match the criteria that a user has set.
Blank Office reminders Window will appear.
MS Outlook get fail to display the clippings in the Scrapbook.
A user cannot find detailed information that added to Outlook, such as a contact and a calendar events.
There are multiple signs of repair corrupt Outlook 2011 database. However, in that case, a user must restore corrupt Outlook Mac database. To resolve such type of issue a user must utilize an inbuilt Database utility.
Steps to Repair Corrupt Outlook 2011 Database
There are following steps to recover damaged database in Outlook 2011 for Mac. Let us discuss in below:
1. Quit all Applications
i. First, click on application name from the menu.
ii. Now, select Quit option.
iii. Otherwise, hold down the Command & Option keys, and press ESC button.
iv. Under Force Quit Application Window, choose the Application.
v. After that, click on Force Quit option to quit the desired application.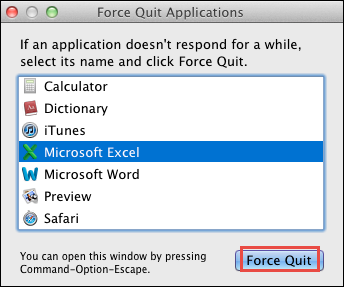 vi. Finally, go to the close button to close the Window.
2. Determine the space available on hard disk
i. In the Finder, select Go, and click Home. Then, open the documents folder.
ii. Next, open the Microsoft User Data Folder>> Outlook 2011 identities folder.
iii. After that, choose the Identity folder.
iv. Go to the File menu, select Get Info and again, click on Get Information to verify the size of the database.
Note: Must keep in mind to have at least three times hard disk space available instead of the size of Outlook identity. While deleting or adding appointments, messages and notes then, the database can easily create a wasted space.
3. Create a backup of current identity
i. In the Finder, choose Go and press Home. After this, navigate the documents folder.
ii. Now, open the Microsoft User Data folder.
iii. Right-click on Office 2011 identities folder and choose the Duplicate. Then, a copy of the identity folder is developed.
iv. Next, Quit each and every application.
Note: This backup has been used by any third-party database recovery tool also.
4. Recover Corrupt Database
i. First, users have to Quit all applications
ii. Now, start Outlook 2011 by holding down the option key on the keyboard.
iii. In the Database Utility Wizard, choose the database that a user want to maintain and click Rebuild.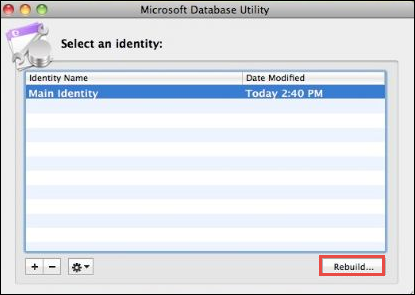 iv. Next, the Rebuilding Main Identity will start and display the progress. When the operation has completed, users will appear the message like 'Your database was rebuilt successfully'
v. Then, click on Done and restart the MS Outlook application.
5. Create a new Outlook Identity
In case, if users are using MS Outlook at home as well as at workplace then, they might create a separate Outlook identities. Basically, each identity will save set of email items containing calendars, tasks, account settings and more. Even, there might be a chance that one of such identity becomes damaged. In such situations, a user has to create a new identity to Repair Corrupt Outlook 2011 Database Issue
i. First of all, Quit all applications.
ii. In the Dock, click on Outlook icon and holding the option key on the keyboard.
iii. Now, open the Microsoft Database utility
iv. After this, click the plus(+) sign for adding a new identity and enter a relevant name for the new identity.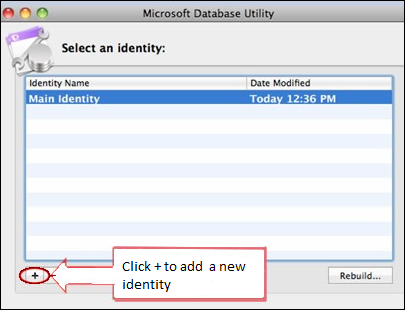 v. Next, choose the newly created identity, select Action option and then, click Set as the Default option.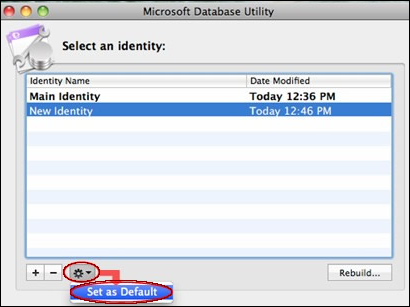 vi. Finally, quit the MS Database Utility and to restart the Outlook.
Conclusion
All possible measures to repair corrupt Outlook 2011 database files are discussed in this blog. Thus, to resolve the Outlook Mac related issues such as corrupt or Outlook fails, users are suggested to first understand the causes of such error. Moreover, we have tried to cover all the possible manual solution to recover Outlook 2011 Mac database issue successfully without any experts help. Even by follow these steps a user can easily perform the recovery of Outlook 2011 files.