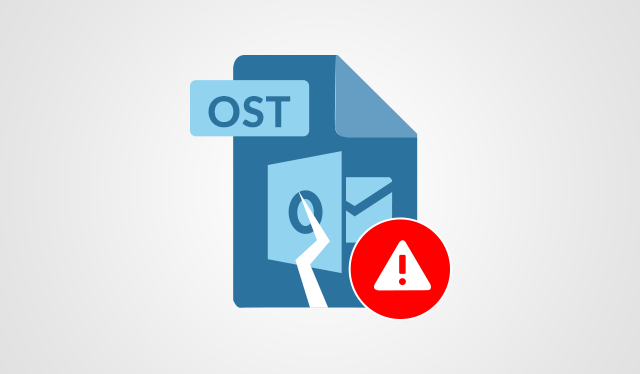 "I performed various tasks on my OST file & while carrying out, I moved forward to sync the changes to MS Exchange Server. However, before I could synchronize, my PC got shut down due to the software crash. Now, due to this OST file failed to load error is displayed. One of my friends suggested me to run the scanost.exe inbuilt utility. I ran that but the same problem arises. How can I fix this error?"
Like PST, OST is also a storage file of MS Outlook which makes it possible for the users to save emails, contacts, calendars, tasks etc. The advantage of this file is, it allows users to retrieve information even when they are not connected to Exchange. But, when OST file fails to load, it creates the nuisance for the users as they lose access to entire information that is stored in OST file. But sometimes there are scenarios by which you can use inbuilt procedures or can use the automated solution to convert OST file to PST for its proper access.
Basic Reasons Why OST File Failed to Load in MS Outlook
Threats: If you receive any spam email including attachment then you should always delete it rather than keeping on Outlook. If in case you open the mail & download the attachment then OST file might get corrupt or damaged due to the presence of virus in that mail.
Improper Synchronization: If in case the synchronization of OST file gets failed to due to the poor internet connection then MS Outlook will not get loaded in the content of OST file.
3. Forceful Shut Down: Before switching off your computer, you should click on the arrow mark which is given on the right corner of the Windows computer's taskbar & should also check whether any file is open in the background or not.
4. Quitting OST inappropriately: The header is the important part that stores entire detail of offline OST file. So if you don't want to damage or destroy OST file header, then you should safely close Outlook using the Exit option. If you fail to use suitable option then it will damage header & it also refuses to load its content.
Conversion of OST file After "OST File Failed to Load"
Microsoft Outlook has provided various built-in ways to convert OST file. But this technique helps only when the OST file is healthy without any errors. If you wish to convert OST file which fails to load then you need to take help from any of the appropriate software. In this matter, you can consider MailPro+ OST to PST converter which deals to remove corruption from OST file & then convert the healthy file into PST file format. With this utility you can restore all important emails from a specific attribute like you can retrieve the entire message body along with CC, BCC, & recipient details. You can make use of this application on your Windows 10, 8, Windows 7, Windows XP, Windows XP, Windows Vista operating systems.

Simple Methodology to Fix OST File Error
Download the software from the above button & install it on your Windows machine.
2. Now, select option to create a new collection
3. Click "Scan file" option. Browse the file & click "Add"
4. The tool will quickly scan & load the file
5. You can preview the data of OST file
6. Right-click on any of the emails which you want to export. Click Export option
7. Choose the file destination format as "PST"
8. After that, all the selected emails get converted to PST file format.
Conclusion
Through the following article, we have discussed the methods to resolve "OST file failed to load" error. Several reasons have been discussed to fix the error so that the users can continue with their work in Outlook. An automated solution is also mentioned through which the users can convert the OST files to other file format consuming not much time.