How to Troubleshoot "Cannot Open Outlook Express Email" [Resolved]
aldrichcalvin
| Modified: September 2nd, 2020 ~ 4 Minutes Reading
Outlook Express only works of older versions of Windows such as XP, Vista, etc. But, there is still some number of people left who work on Outlook Express. As Microsoft does not offer any support for this email client anymore, Outlook Express users find themselves in trouble when any error or trouble appears. One such problem is they cannot open Outlook Express Email.
If you are still using Outlook Express and unable to open it, stop worrying anymore. Here, users will get to know the best solutions to fix unable to open Outlook Express. This write-up is suitable for the people who are having issues as mentioned below:
"For last few days, I am unable to open Outlook Express application of my desktop. Though I use other emails clients simultaneously, OE contains some important emails that I need to access right now. Please suggest me any solution as I cannot open Outlook Express email for more than a week."
"I have stopped using OE and switched to MS Outlook. But when I tried to access it to retrieve some data, I cannot open Outlook Express. I do not know what is the reason because last time it was working fine. Can anyone suggest me how can I access OE emails?"
Reasons Why You Cannot Open Outlook Express
If someone is unable to access Outlook Express, mainly two reasons are responsible. The first reasons is that the DBX files are corrupted or damaged, and the second reason somehow the DBX file got marked as read-only. Now we move on to the remedy to this problem.
How to Fix "Cannot Open Outlook Express Email"
Users can choose either the manual or automated solution to get rid of this annoying problem. In this section, they can learn about both types of methods.
Manual Troubleshoot of OE Inaccessible Issues
If Outlook Express email is not opening, you can try this manual method first:

1. Shut down Outlook Express properly.
2. In Windows Explorer, open the store folder.
3 Select all files using CTRL+A.
4. Right-click on any selected file and then choose Properties. Make sure to uncheck the box besides Read-only attribute.
5. Start Outlook Express and users should be able to open it without any problem.
Limitations of Manual Method
This manual method fixes only one of the possible reasons that might be causing "cannot open Outlook Express email problem." If the problem is happening because of some other reasons, then this method will not be able to fix this error.
Automated Troubleshoot of Outlook Express Unable to Open


If the above-mentioned manual methods fail to fix this problem, users need to take help from powerful and efficient applications like DBX Converter. This application can convert DBX file email into multiple formats like PST, MBOX, EML, PDF, etc.
Users can choose depending on the additional email client they have. Or they can save the data in PDF format and open without any help from email clients. Download the software and start fixing the Outlook Express problem "Cannot open Outlook Express Email".
1. Open the DBX file conversion application on your computer.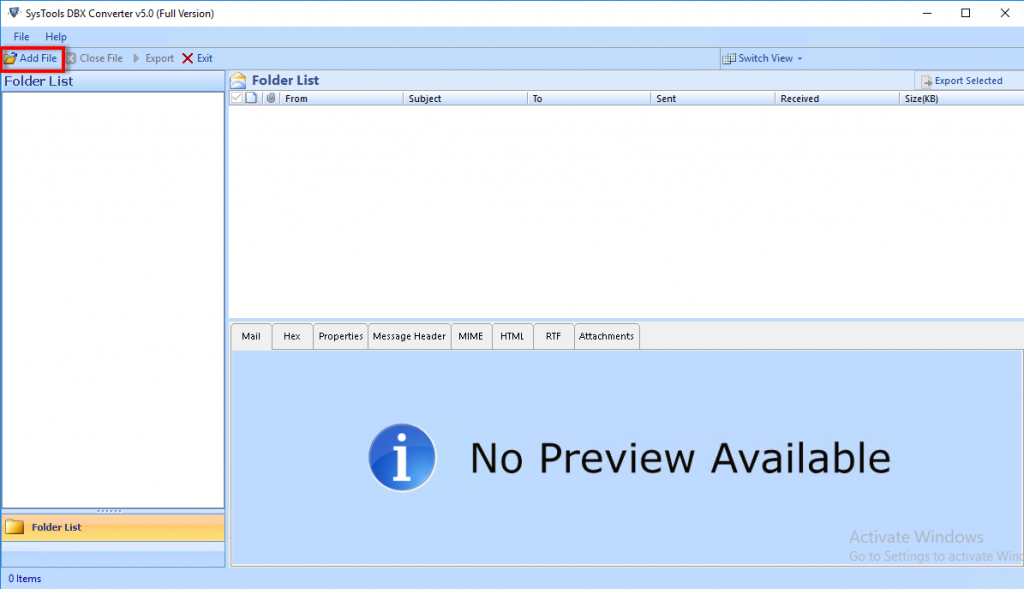 2. Click on Add File button and choose whether to search the orphan DBX file or directly capture from email profile.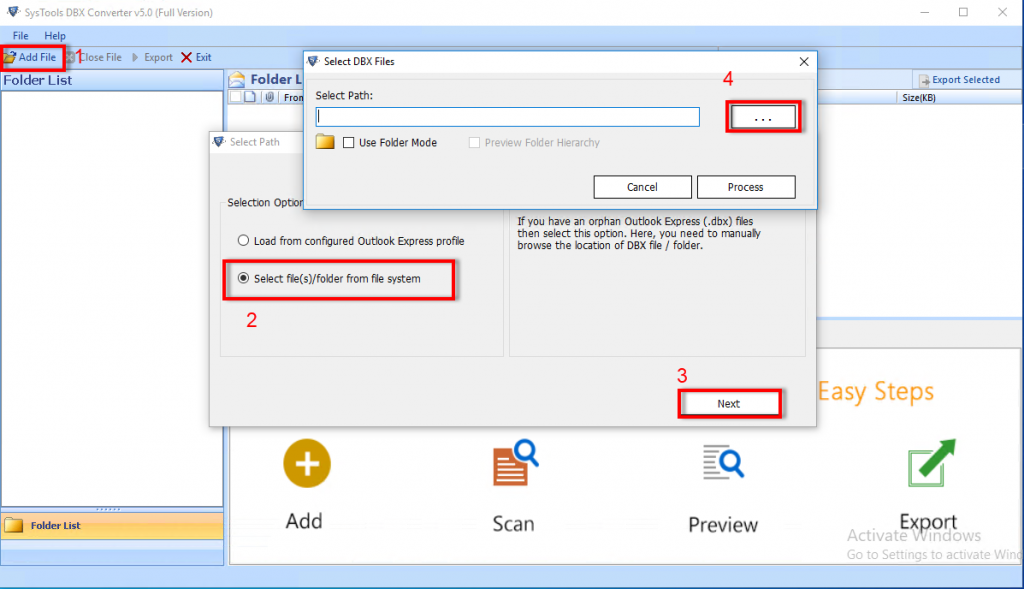 3. After the files are added, have a look at the preview.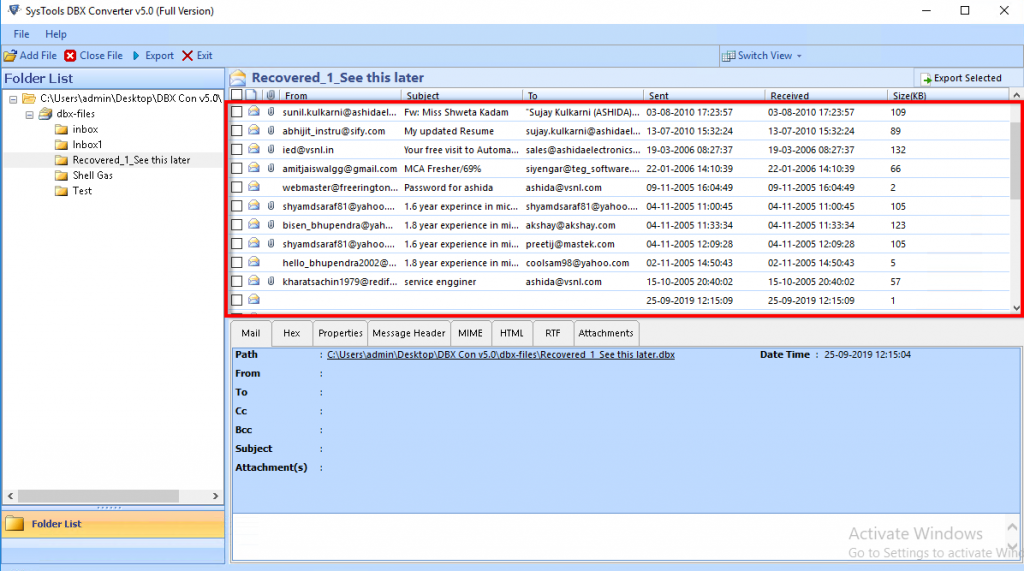 4. Select in which format you want to save the files.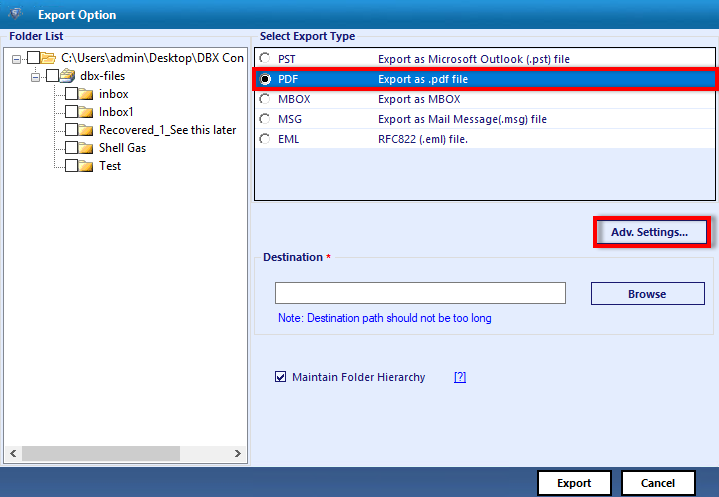 5. Apply Advanced Settings and click on Export button.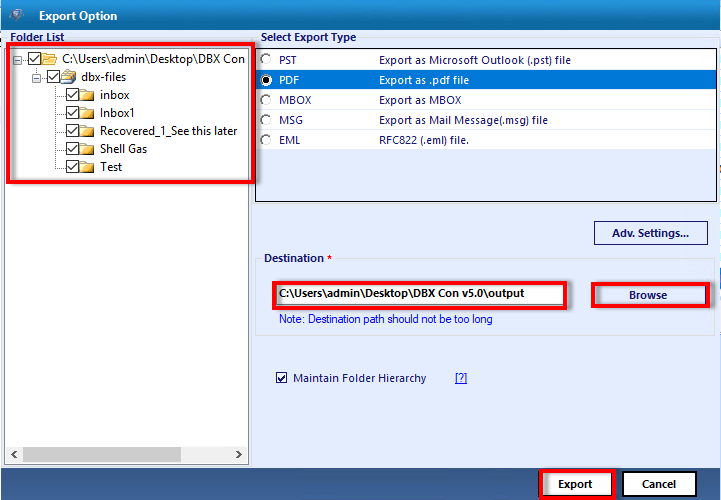 Thus users can open the emails from Outlook Express on any other file format of PDF reader.
Additional Benefits of Using Automated Method
If users choose the software for opening Outlook Express email without Outlook, they will get additional benefits.
This application is completely free of virus and malware and does not store your data.
It offers 8+ previewing modes to view the email data before exporting into chosen format.
Using Add Folder option, multiple DBX files can be added for conversion in this program.
Users can extract felderwise or email wise or time-range based selective data.
Option to maintain folder hierarchy and file naming convention is also available.
Outlook installation not needed to export DBX data in PST and Split PST option available
Try the Free Demo
The demo version of the software is available for free. Before purchasing the full version at an affordable cost, they can try this to preview & export only 25 items per folder of DBX file.
Conclusion
Outlook Express users often fail to open their email which create a lot of trouble in their day to day life. In this blog, multiple methods have been suggested for the users who cannot open Outlook Express email. Since the manual solution does not guarantee fixing the problem all the time, it is better to go for the OE converter software for accurate results.