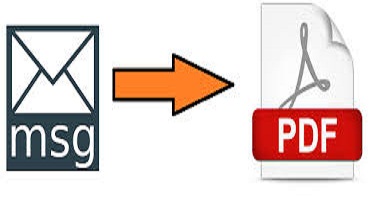 As per the present day scenario, not even a single individual prefer to use pen and paper for communication purpose. In today's era of technology, both the regular and professional users are communicating through emails. But, while using emails for communication purpose, users also establish a relationship with their email clients. Since emails stores all the important and crucial information, that is why most of the Outlook users prefer to keep a backup of these emails which can be easily accessed. For this, it is necessary for the users to create PDF from .msg. This blog describes the possible solutions to convert MSG files to PDF with attachments. Read this blog in detail to learn more about this conversion procedure.
As per the recent survey, MS Outlook is the most widely used email client among the Outlook users. Since, we all know that a single Outlook email message is stored in MSG file, which is created via the dragging and dropping of mails. In the following write-up, we have come up with different techniques to save MSG file as PDF with attachments. But, before jumping directly to the solution, let us have a look at the queries faced by the users for the same:
"I am currently working as a Digital Forensics Trainee in an organization and I am given a task in which I am required to create PDF from .msg file on my system so that I can access the data anytime in an effortless manner. But, at the same time, there should be no data loss. In order to complete my task on time, I need to batch export MSG to PDF but I do not know the procedure to perform so. Now, I am searching for a solution to transform multiple MSG to PDF without consuming much time. Any help would be appreciated. Thanks in Advance!!"
Reasons to Create PDF from .msg File
Some of the major reasons why users prefer to export MSG to PDF are listed below:
PDF Adobe files can be easily accessed anytime and anywhere on any computer.
It is quite simple and easy for the Outlook users to share mails with each other.
PDF is a secure file format and cannot be edited without the permissions.
Adobe files can be easily attached to the mails as attachments.
How to Export MSG to PDF Manually?
In order to execute this procedure to create PDF from .msg file manually, the installation of Microsoft Outlook and Word is very necessary. If you are having both of these applications, then you can proceed with the procedure.
Note: The Manual Approach discussed in the following section is only capable to export MSG to PDF but fails when it comes to attachments. Because this approach is only capable to save the text of the file. But, if you want to transfer MSG file along with the attachments, then you are suggested to skip this Manual Approach and directly jump to the second approach to create PDF from .msg file.
Download and install Microsoft Outlook on your personal machine and then open the mail which is to be saved in PDF format. Then, click on File option → click on Save As button.
A file saving wizard will be open where users have to select HTML as an option from Save As Type menu and then click Save button to continue.
Now, go to the location where you are required to save the file in step(b) and then right click on it. Select Open With option → Click Word (desktop) from the displayed menu.
The Microsoft Word will open in which you are required to click on File menu→ Click Save As option.
In the Current Wizard, Click on Save As Type Option drag-down menu and then choose PDF option and now, click on Save option to continue with the process to create PDF from .msg file.
Now, in the end, the resultant file is saved in PDF format so that users can see the location which is mentioned in Step(e).
Professional Approach to Create PDF from .msg File
The Professional Approach in order to save MSG file as PDF. One of the major advantages of using SysTools MSG to PDF Converter Software is that it can easily export MSG to PDF along with its associated attachments. Although, the extension of the attachment remains same as they were before performing this conversion approach. Some of the unique characteristics of this tool are discussed below:
Open & search emails within MSG files with attachments without MS Outlook
Capable to detect folders with MSG files automatically
Create Individual Adobe PDF files for MSG email
Capable to perform selective email conversion
Conclusion
The above write-up has come up with two different approaches to create PDF from .msg file. The first Manual Approach is only capable to help users if they are having very less or few MSG files and that too without attachments. On the other hand, if there are a very large number of Outlook files, then users can go for the commercial third-party approach discussed above. This tool is capable to export emails along with their attachments as well. Users can choose any one of the above-discussed techniques.