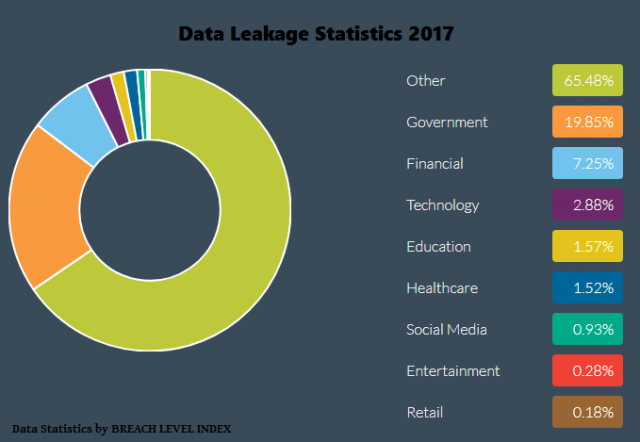 Last year i.e., 2017 was the monumental year for information breaches. As per the BLI (Breach Level Index), the percentage raised by 88% from the year 2016. Business accounts were compromised and the confidential information was disclosed to the public. Till now as per the history of BLI, 2017 broken down the highest record established in 2013. Different analysis of data breach statistics 2017 found that:
7,125,940 user's data was compromised every day
2,96,914 user's data was compromised every hour
4,949 user's data was compromised every minute
82 user's data was compromised every second
The data breach incident of Verizon account gave rise to a question i.e., What conditions lead to information leakage in a company and that too suddenly? In the year 1984, Andy Warhol made a public service announcement – 'It is 10 p.m. and does you know where your kids are?' The same thing applies to your organizational data in the year of digitalization. Think of a question that "It is the year 2018 and is your data safe when no physical person is officially present to protect data on cloud?" If you are completely unaware of the fact that where your information is stored and who is accessing it at what time then, things are really at high risk of data breaches.
The total number of data breaches with sudden incidences of compromised data records is 56%. This percentage is rose 18% from the year 2016, which clearly indicates that several companies are still unaware from real disaster of information leakage. Disclosing of secretive documents lead to revealing of internal business data that might affect the content integrity resulting as a big barrier to business growth. If the intruder or hacker get access to your sales data and modifies it, this content manipulation will result in degrading or vanishing of your business.
List of Major Data Breach Trends 2017
Human Irresponsible Activities – The unintentional or irresponsible nature of human beings results in an accidental loss. This loss comprises of disclosing of customer records, hacking of user's account, and other associated cybercrime accidents. In the year 2017, 1.9 billion of records were exposed just because of human errors. Dramatically, it is 580% upgradation in compromised records from the year 2016.
Occurrence of Identity Theft – 69% of all data breach accidents were because of identity theft. Around 600 million data records were leaked that directly gave an increase of 73% from 2016.
Increase in Internal Threat – In comparison to the year 2016, the cyber threat due to internal threats decreased in 2017. But the data breach statistics 2017 found that number of stolen records arose 30 million that is 117% increment.
Nuisance Type of Cyber Attacks – The information leakage incidents caused due to nuisance activities was 560% more than in the year 2016. The BLI gave a definition of data breach in form of nuisance when the compromising of data activities included personal information like phone numbers, name, or address. The complexity of this information leakage is unknown because hackers make use of them for orchestrating other cyber attacks.
Industries Highly Got Impacted – Healthcare (27%), government (11%), education (11%), and financial services (12%) were having higher reports on data breaches. Considering the total number of stolen record, compromised data, or the lost files, the targeted sectors were financial services (9.1%), technology (16%), and government (18%).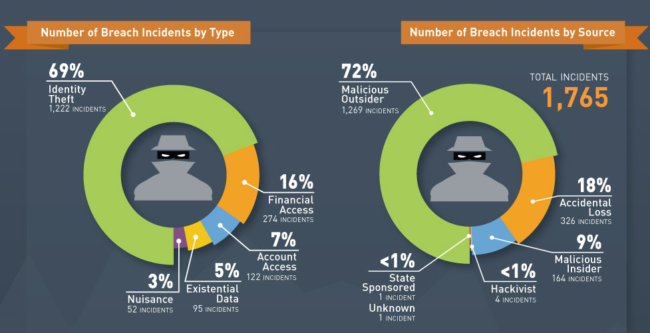 One of the shocking facts in the entire data breach statistics 2017 study was that 'only 1% of 2.6 billion lost, stolen, or compromised information was encrypted and rest were kept unencrypted on cloud. Shamefully, this percentage is 3% less from 2016.'
Now Its Time To Say No To Data Breaches
Governments of different countries are applying regulations for IT companies. These regulations are mandatory to adopt for each and every firm residing in a particular country. The purpose of originating these standard regulations is to reduce the data breach incidences and hence, cloud information security. From May 2018, it is compulsory to adopt GDPR (General Data Protection Regulation) for all the organizations present in the European Union. Any of the organization who is directly or indirectly dealing with the data of European citizens have to comply with this. The discussion over the same thing is taking place in between Congress and Mark Zuckerberg, the CEO of Facebook to apply these government regulations in US, as well.
Final Lines
Organizations should feel shameful that even in the presence of latest cloud security measures they are getting targeted by hackers easily. The data breach statistics 2017 analysis clearly conclude that disclosing of information took place more in the year 2017 than that of 2016. Not for other's benefit but, at least for business growth, authorities are recommended to adopt CASB Solution Providers like CloudCodes, if they themselves are unable to protect data on cloud.