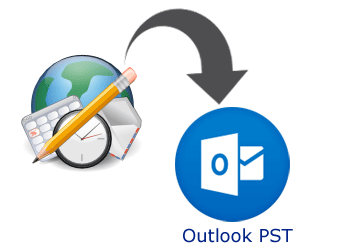 Evolution is a free Linux based mail client which is developed by the GNOME. Basically, It is stores the emails, calendar, address book, task-list etc. in MBOX file format. It resembles MS Outlook in terms of functionality and interface. Whereas, MS Outlook is an e-email client and personal information manager which stores information in PST format. MS Outlook is inbuilt in MS Office suite. It provides the functionality like: calendar, task manager, contact manager, journal etc. When it comes to choose only one email client. Most of the users always prefer MS Outlook because of its advance features & security. Many users searched in forums that; they want to export Evolution Mail to Outlook format. So, we come up with this article which will help the user to transfer emails from Evolution to Outlook. Before that let us have a look to some user's query.
Query 1:
"My father gifted me a new laptop which has Windows 8.1 Operating System. Recently, I have Ubuntu where I am using Evolution for emailing. I really want to switch completely to the Windows OS and bring all my mails to MS Outlook 2016. Suggest me a way to move out of this trouble and get all my emails shifted to MS Outlook platform from Ubuntu."
Query 2:
"I am working on a business case for moving an organisation of 3000 users from Evolution to MS Outlook. We have no doubt in that Evolution Mail will be sufficient in functionality, but my company have made a decision to shift all the work to MS Outlook. So, I am looking for an appropriate solution with the help of that I can migrate Evolution mail to PST Outlook without losing data. Is there anyone who can help me out!"
How to Locate database files in Evolution Mail client?
Default location of Evolution mailbox where email items are stored:
"C:\Documents and Settings/Administrator\.evolution\mail"
There are times when users not able to find out the location of mailbox files or dealing with different OS. So, in that case the approaches to find the location will be different.
IN LINUX:
Firstly, Go to Home directory and then enter the User or username.
Then, you need to unhide Evolution Mail folder, to do so press CTRL+H in your PC.
Now, you will see folder with label .evolution, locate the directory as: .evolution/mail/local
After that, you can copy the Evolution Mail data from here to any External Storage or USB device making it easier to Paste on Windows PC.
Note: Evolution client must be closed while copying the data files or folders at the local destination.
How to Export Evolution Mail to Outlook
Evolution Mail client stores the data in MBOX (file without extension) file format which is used by many other email clients like: Thunderbird. So, Evolution data files can also be migrated into Thunderbird. But in case of Microsoft Outlook, the mbox file created by Evolution Mail is not supported by Outlook because it stores files in PST file format. To Import Evolution mailbox to Outlook you need to transfer emails from Evolution to PST format.

Quick Way to Move Evolution Emails to Outlook
MBOX to PST Converter is one such tool which is basically designed to export emails from Evolution Mail to Outlook format. This application is created in such a way to transfer MBOX files of Evolution into PST file format without any loss of data. With this tool, users can get proper preview of email file along with attachment. It also maintains the data integrity after conversion. The migration of email takes place from MBOX to Outlook in bulk. Moreover, there is no need of Microsoft Outlook installation in order to import MBOX files to PST.
Steps involved in Evolution Mail to PST Conversion:
Launch the tool by clicking on Start Menu >MBOX to PST converter.
After that select single or multiple MBOX file.
Select the email application which is already installed in the machine.
After selecting default program configured, the application will fetch data from default location.
By Selecting File/ Folder system MBOX file can be fetched from the location.
For MBOX File, Browse.
Select folder that contains MBOX file.
In the preview window, the email loads the process can be stopped by clicking Stop button.
The user can switch to vertical or horizontal view of email as per convenience.
To export all the MBOX file at a time, click on Export Folder.
The type of file to be selected where user wants to export MBOX file.
Select destination location and click on OK button.
After that, Click on Export button to begin the export process.
Once the export process begins, details will be shown in the window.
Once the Export process is complete, Click OK.
The converted file can be directly accessed by clicking Open location.
The Export report can be viewed directly.
Summing Up
There are times when a user wants to import files from Evolution to Outlook without any data loss. So, In this article we have discussed an approach with the help of that a user can easily export Evolution Mail to Outlook. Just read & follow the above discussed methods to perform this conversion from Evolution mailbox to Outlook.