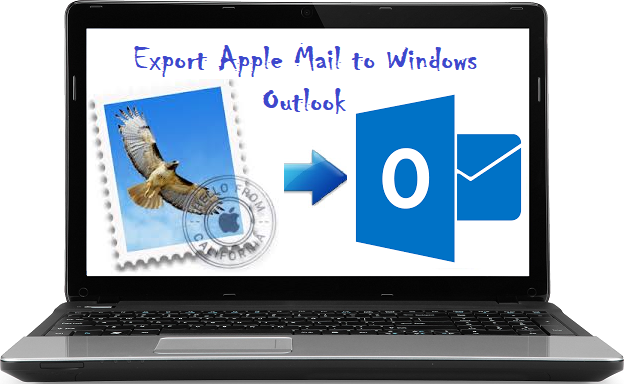 Mac mail is the most preferred desktop-based mail client used by Mac OS users. It can save the contents of mailboxes in MBOX file format. However, several reasons tend to make users export Mac Mail to Windows Outlook. In fact, Outlook supports both Mac as well as Windows OS. Due to its advanced features, the large number of users attracted towards it. At certain times, during transfer of Apple Mail data, its MBOX files may get corrupted very easily. Therefore, users look for some safe way to transfer Apple Mail data easily. Hence, in this post, we have a complete procedure to import Apple Mail MBOX to Outlook for Windows.
Why Users Switch From Mac Mail to Windows Outlook?
In today's arena, switching OS platforms has become a common thing. So people who use Apple Mail on Mac machine, now they start using Outlook for managing all files. Why? Since Outlook is the leading email client on Windows platform, using it as a preferred application is only logical. Also, Apple Mail users are restricted to Mac platform only. Although, Outlook is compatible with both Windows and Mac OS. Thus, it becomes easy for end users to use it on any platform.
There can still be a number of reasons responsible here. But in any situation, the path to take for successful result remains the same i.e., accessing the emails of Apple Mail on Windows platform(with MS Outlook)
Export Mac Mail to Windows Outlook Manually
There exist no direct solution to transfer Apple mail to Windows Outlook. Why? Because Mac Mail stores all data items in MBOX file format. And MS Outlook does not support it. It has its very own PST format for data storage task. So only some way to convert MBOX to PST can be referred to as a direct method in this scenario. But of course, there are alternatives available. One such indirect mechanism to perform data conversion is provided below:
Step 1: Import Apple Mail MBOX to Outlook
Users can export Mac Mail mailbox to Windows Outlook with this manual approach described below:
Open Mac Mail on your Mac system
Go to File menu and click on the Import mailboxes
Select Files in .mbox format under the Import Data from list and press Continue
Browse to the destination location where MBOX files are stored and select them and click Continue
Once the entire process gets completed, click Done button
now locate the Apple Mail MBOX file and transfer it to Windows platform to carry out the next steps.
Step 2: Creating MBOX Files
Install Eudora email client in Windows to create .mbx file. This is an essential step to take since that MBX file is required in the next step.
Change the extension of imported file to MBX, for example, abc to abc.mbx
After that, this file is directly converted into the directory in which all Eudora files are saved by default and usually this directory is:

C://Documents and Settings/Application Data/QualcommEudora

Start Eudora application, double click on File, and close that application. This way, the file has become created
Now, this created file can be used to export Mac mail to Windows Outlook 2016 and all below versions efficiently.
Step 3: Import Emails from Eudora to Outlook Express
Now, you have to start Outlook Express
Click on the File, select Import option and choose Messages
From the list of email programs, choose Eudora and press Next button/li<
Browse till you get to abc.mbx file and choose it. Press OK button
Click Next button and till you get to Finish button and click on the finish button
Step 4: Import Outlook Express Files to Windows Outlook
Launch Outlook for Windows
Go to File option and choose Open tab
From among the list, select Import and then choose Import and Export option
Now, the Import and Export wizard is successfully launched
Choose Import Internet Mail and Addresses and press Next button
After that, select Outlook Express 6.x, 5.x, 4.x or Window Mail option
You must check the Import mailbox if it is not checked and then click Next
The manual procedure is complete and now the imported folder can be easily accessed in Windows Outlook.
Not satisfied with the Manual way? Takes too much time? Doesn't give you the required results? Well, no need to worry. Read the below section for another alternative which can surely cater to all your needs completely.
Any Smart Solution to Migrate Mac Mail to Windows Outlook?
The above-stated method is quite lengthy and can also lead to data loss. If you have also faced such problems while exporting emails, then don't worry! We have got a trustworthy solution known as, MBOX to Outlook Converter. It is an ultimate solution which helps to convert bulk Mac Mail MBOX files to Outlook PST format. Filtering mechanism ensures conversion of selective emails or files only. It is capable enough to maintain Inline Images and HTML formatting too. Moreover, what makes it a brilliant tool is that it is available in both Windows and Mac variants.
It does not matter if you want to export Mac Mail to Windows Outlook right there on Mac platform or move to Windows and then perform the conversion. This software can do it all.
The Bottom Line
Quite often people a need to switch from one platform to another arises for both individuals and business firms. But one requirement remains the same – Email management applications. And if it happens to be from Mac to Windows, the chances of switching between Apple Mail and Outlook is greater than any other scenario. Thus, in this blog, we have discussed both manual and automated solutions to export Mac Mail to Windows Outlook. Users can follow any approach as per their convenience.