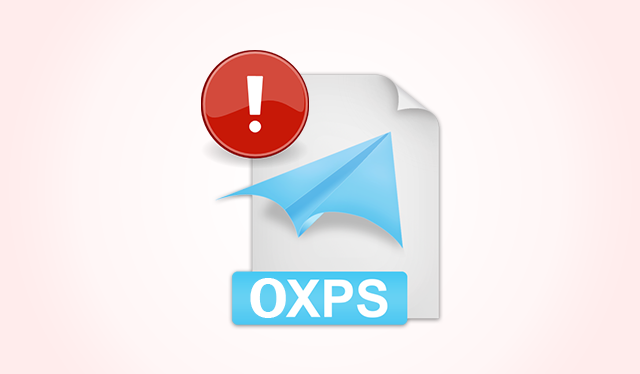 This blog tends to describe some commonly faced errors by Microsoft XPS Viewer like: XPS viewer cannot open OXPS or the xps viewer cannot open this document on Windows 7, 8, 10. Also get instant solutions for solving these errors.
An XPS file is basically an XML Paper Specification language, which describes the fixed page layout information written in the Page description language. However, it defines the layout, printing information, and the complete appearance of a particular document. The XPS files are almost similar to the PDF files but they are saved in the Microsoft XPS format. Users mainly use .xps file to view, save, protect, and share the information in the document. The XPS file was initially designed as a replacement of EMF format. A user can create XPS file in Windows by choosing Microsoft XPS Document Writer as a printer while printing any particular document. In addition, one a user save the content in XPS format, then it cannot be edited. Apart from all this, when it comes to open XPS file a user needs to do that with the help of XPS File Viewer Software.
On another hand, OXPS file is created in Open XML Paper Specification format and it has been standardized as an open format. As it works similar to XPS format, so a user generally tries to open .oxps file in Microsoft XPS viewer . However, OXPS file is not supported by MS Windows 8 and below versions. Therefore, when a user tries to open .oxps file in Windows 8 or below versions, it displays an error message stating
"The XPS Viewer cannot open this document"

OR 

"XPS viewer cannot open OXPS"
Now, the question is how to overcome this situation. To fix this error in the perfect way, we have discussed a reliable solution in this blog.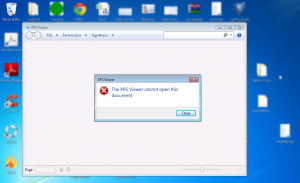 Commonly Asked User's Queries
"Yesterday, I tried to open a .oxps document with Microsoft XPS viewer on Windows 7 machine and I received an error message that document is an unsupported type. However, I am very sure that there is no problem with the document. I do not know what wrong has happened. Why is it not opening the XPS file? If anyone out there has any idea of how to solve this error, please let me know."
"One of my friends mailed me an OXPS file, which was created from Mozilla Thunderbird application on Windows 10 platform. But when I tried to open it on my machine with the same OS it displays an error message "The XPS Viewer cannot open this document". I know OXPS file is supported by Windows 10 OS, still, it is unable to open it. What exactly would be the reason behind it? If you know what is the problem and how it can be fixed, then please reply."
Possible Reasons Behind Error – Xps Viewer Cannot Open This Document  on Windows 7, 8, 10
There can be many possible reasons behind this XPS Viewer error. However, major ones of them are discussed below:
It might be possible that a user is opening an .oxps file on Microsoft Windows 8 and below version using XPS Viewer. Because in that case, it will generate an error.
Microsoft XPS Viewer is capable to open OXPS file created from a specific application only. Like if a user has created .oxps file from Thunderbird application, then it will not be opened by the Microsoft XPS Viewer tool.
Another possible reason behind such type of error message is that a user has opened an unsupported type of file via MS XPS Viewer.
Method to Fix "The XPS Viewer cannot open this document" Error
As there is no manual approach available to tackle such problem when you Cannot open xps viewer or xps viewer cannot open oxps , so a user is advised to use any third-party tool. There are various tools available online and one such trusted third-party tool is SysTools XPS Viewer software. It is the most popularly used free utility to open and read XPS or OXPS file on Windows 7, 8, 10. While opening OXPS file using this XPS Viewer software, the data styling and formatting will remain the same. Moreover, a user can easily use this application on any version of Microsoft Windows. The tool will display all information related to OXPS and XPS files like file name, creation date, and file size. Another major benefit of using this application is that it is capable to open XPS and OXPS file created by any application without any hassle.
Steps to Open XPS or OXPS File Via SysTools XPS File Reader  on Windows 7, 8, 10
1. First of all, install and open SysTools XPS Reader application on the local machine

2. After that, choose the folder containing OXPS file from the left pane of the software

3. Then, you need to choose the .oxps file, which is you want to open using XPS Opener
4. The software will generate an instant preview of the .oxps file on the from screen

5. You can easily Zoom in and out the file by ctrl + scroll up/ down command

6. At last, click on the Exit button from the Menu bar and close the application
Conclusion
"The XPS Viewer cannot open this document" as well as "xps viewer cannot open oxps" is the most common error message encountered by the Microsoft XPS Viewer tool users. Thus, considering the requirement of users in mind, a simple, quick and reliable solution to fix this error is discussed in the above blog. A user can easily use this tool when they cannot open xps viewer or any type of XPS or OXPS file on any version of MS Windows OS.