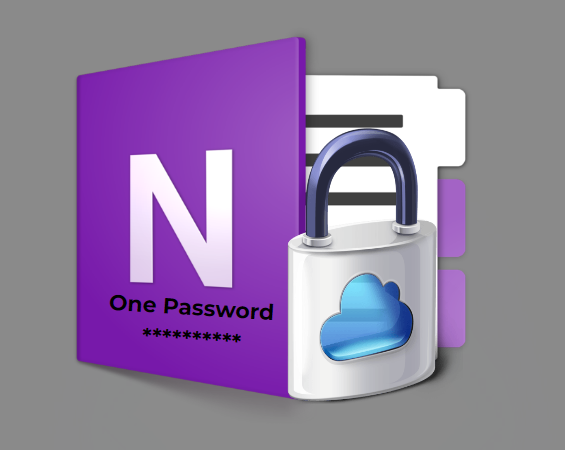 Security of OneNote file is must, whether the information is related to business or study every document required privacy and protection. Most of the users prefer OneNote to save their personal notes and why not storing data on cloud is the most efficient way. To keep the data safe on cloud Microsoft has invented new feature that is, Password Protect This Section. This function hides the password protected section. Encryption is the best way to secure any information, but do you know how secure is OneNote password protection? Does it actually secure data online? Before you use this features you should aware about OneNote encryption strength and how safe is OneNote password protection.
This feature i.e., password protection in .one file has designed to protect the information from prying eyes. Strong password play a crucial role in controlling access to those notes. Therefore, users can protect OneNote with password to secure and maintain the privacy.
Know How Secure Is OneNote Password Protection
Data security is one of the biggest challenges, specially when information is saved on cloud. It is a safe and secure way and after applying OneNote encryption it hides the protected section. OneNote password protection has several advantages let's take a quicl overview of it.
When you are securing a section with password, all of its pages get locked until you enter the correct password to unlock it.
You can change or remove the password as per your requirement.
The password protection in OneNote feature has designed in such a way that it gets locked automatically after the completion of customizing time-period. You set a particular time slot, so that if you are working on that note then it will get locked and you have to unlock it again.

To enable this feature it takes few steps.
OneNote encryption strength is strong enough, it includes numerics, alphabets and special symbols. So. Now it depends on you to create a strong password for OneNote password protection.
It increases the trouble of hackers, to hack data one need the credential of Microsoft account and further, it required the password of .one file. That means it working like a two-step authentication.
Some important notes about passwords
Before applying the password user should know how secure is OneNote password protection, what are the sensitive factors and disadvantages.
Password can be applied to a particular section of OneNote, not entire the notebook or application.
Password is a case-sensitive therefore, while entering the password make sure caps lock key is off.
You will not able to search password-protected sections. To include those notes you need to unlock it.
OneNote encryption strength secure password-protected sections. Therefore, if you forget the password there is no recovery process for lost password. In this situation, Microsoft Technical Support cannot recover it. So, while assigning or changing a password of notebook section you need to be very careful.
A Quick Tips For OneNote Password Recovery
The above section has explained how secure is OneNote password protection but what if you forgot your password. If the password is combination of alpha-numeric and special symbol then, it's tough to remember it. Free version of OneNote does not support password protection to the entire notebook, for protection of information you have to apply password in the different section of .one file. Therefore, it is obvious that different section contains a different password. So, it is not possible to remember multiple passwords. For overcome to this issue follow below-mentioned trick.
Save all the password in a docs file
Press Ctrl + A and select it now change font colour by white
Save this page to the desired location
If someone opens this file the third person will get a blank sheet, in this way you can secure OneNote password.
Last Lines
Security of information is an essential and top priority. Encryption is excellent and smart choice to protect the information on cloud. The article has discussed how secure is OneNote password protection and how OneNote encryption strength can protect a section of notebook. Always assign a strong password and maintain the privacy of sensitive information.