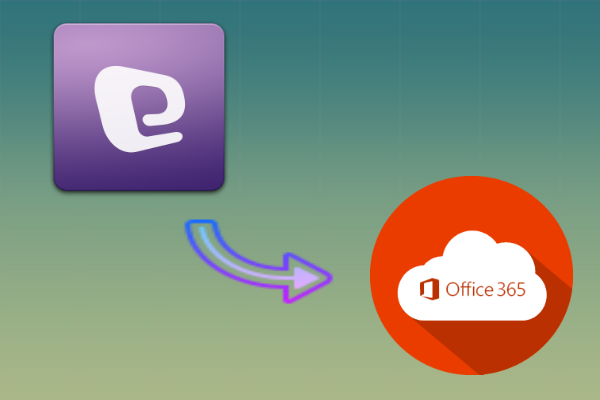 Entourage was developed by Microsoft as an email client for Mac OS 8.5 and later. It worked as a personal information manager with features such as email, calendar, address book, tasks, notes etc. It was a popular email client before being discontinued by Microsoft in favor of Outlook in 2011. In present times, Entourage users are migrating to other email platforms in search of better features and security. One of these emailing platforms is MS Office 365. Since its release, Office 365 has taken the global market by storm. It provides cloud-based services and data security along with a whole set of other data management applications. It has been the main attraction for users looking to migrate Entourage to Office 365.
"Hello, my organization has been looking to switch from Entourage to a better email-client for some months now. After evaluating some options we found out that MS Office 365 fulfills our requirements exactly the way we needed. So we have decided to migrate Entourage to Office 365. However, we have important data in Entourage. As the IT admin of the firm, it is my responsibility to move the data to O365 securely without any data loss issues. Kindly, suggest me a professional solution for the same!"
"Hi, I was using Entourage on MAC OS as my default email client application. But I moved to Windows platform due to some professional issues and now work on Office 365. However now I want to move my Entourage data file to my Office 365 account quickly. Please recommend a relevant solution which can do the same without any issues!"
Best Tool to Migrate Entourage to Office 365
SysTools MBOX to Office 365 Migration is the most effective tool to migrate Entourage to Office 365. This stand-alone application is quick, easy-to-use and does not demand any technical knowledge on the part of the user. This feature-rich tool can move multiple Entourage files to O365 in a matter of minutes without harming the structure and integrity of the data files.
Some of the astonishing features of the tool are as follows:
Move multiple Entourage files to Office 365
Choose to move file(s) or folder as per the user's requirements
Supports both With or Without Impersonation methods for transfer of data
Supports filtering of files by date using In-built Date Filter
Maintains Folder Structure throughout the process
Provides a high-speed export process with no data loss issues
Can run on any Windows OS since it supports all Windows versions
Procedure to Migrate Entourage Data files to Office 365
Download and install the software tool on any Windows system. Launch the application to view the following interface:

Click on Add File(s) to select an individual file or click on Add Folder to select the complete folder storing the Entourage data files

Click Next button once the file(s) added into the software is displayed by the tool
An automatically selected radio button corresponding to Office 365 will appear. Select the Maintain Folder Hierarchy box to keep the folder structure. Click the OK button

Users can select the With Impersonation or Without Impersonation options as per their roles and requirements

With Impersonation: Selecting this will require user(s) to mention the admin credentials as shown in the screenshot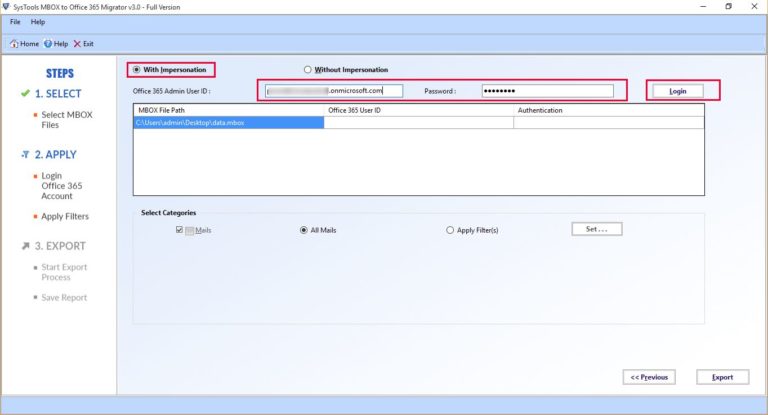 Without Impersonation: Selecting this will require a user to give Office 365 User Id and password for each mailbox separately
Once the credentials are authenticated by the tool, select the Apply Filter(s) radio button and click on Set… button to apply a date filter

Note: The tool will only migrate that data into O365 account which is received in between the applied date range.
Click on Export button to start the Entourage to Office 365 data migration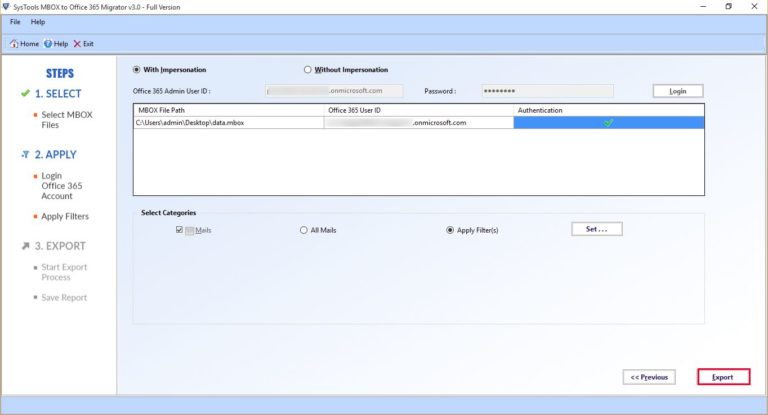 The entire migration progress will be viewed on a live bar. Also, a user can click the Stop button to halt this progress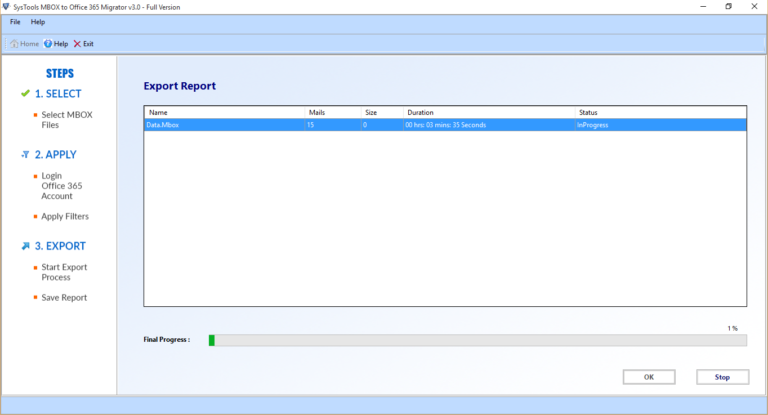 The tool provides an option to save a report of the process in the form of .csv file by clicking on Save Report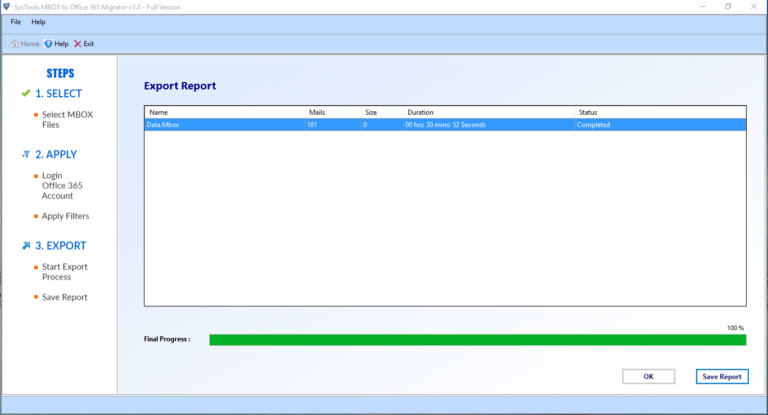 Finally, all the emails migrated from Entourage to Office 365 can be viewed as shown below: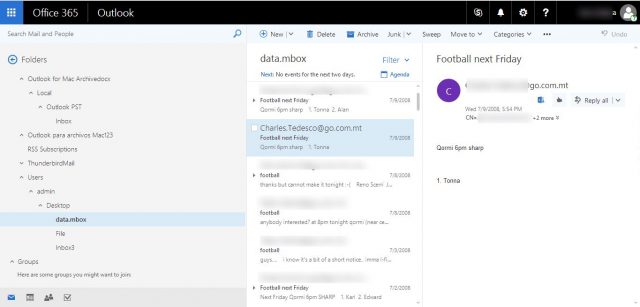 Conclusion
Entourage was once a popular email client but now is fairly outdated by modern standards. So users are looking to move to a much better and feature-rich MS Office 365 suite. Through O365's advanced cloud services and security, users can increase their productivity as well as manage their tasks efficiently. Therefore we have provided a comprehensive and professional tool to migrate Entourage to Office 365. This tool can get the job done in a few clicks with absolutely no data loss issues which give it an edge over any other method or software.