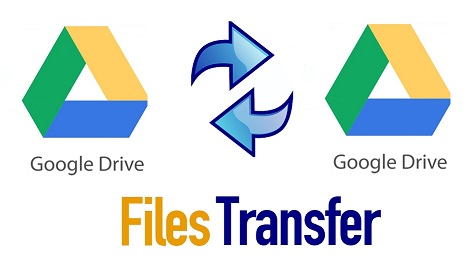 Google Drive is a service provided by Google for the purpose of file storage and synchronization. It allows the users to store, edit or share documents presentations, spreadsheets, etc. With every Google account, the users are provided with 15GB of free storage which can be expanded with various subscription plans. The storage is shared between Gmail, Google+ and Google Drive. Due to the size limitation, G Drive users are looking for a way to migrate Google Drive files to another account.
User Query: "I am having a Google Drive account whose storage space consumption is approaching 15GB. I was thinking to move google drive from one account to another so that those important data will not get lost. For this, I created a new account for storing the data from old account. Is there any easy way to transfer Google Drive from one account to another without causing data loss?"
Reason & Requirements to Migrate Google Drive from One Account to Another
Restriction of free storage space
Google account provides the users with only 15 GB of storage for free which is being shared between Gmail, Google+ & Google Drive. Due to this size restriction, many users will be creating more than one account in order to avail more free storage. So at some point, it will become necessary to export Google Drive documents to another drive.
Migration of Google account from one domain to another
Changing the domain as a result of graduating from school / college, change of job, etc. can be a cause for the user to move Google Drive folder to another drive.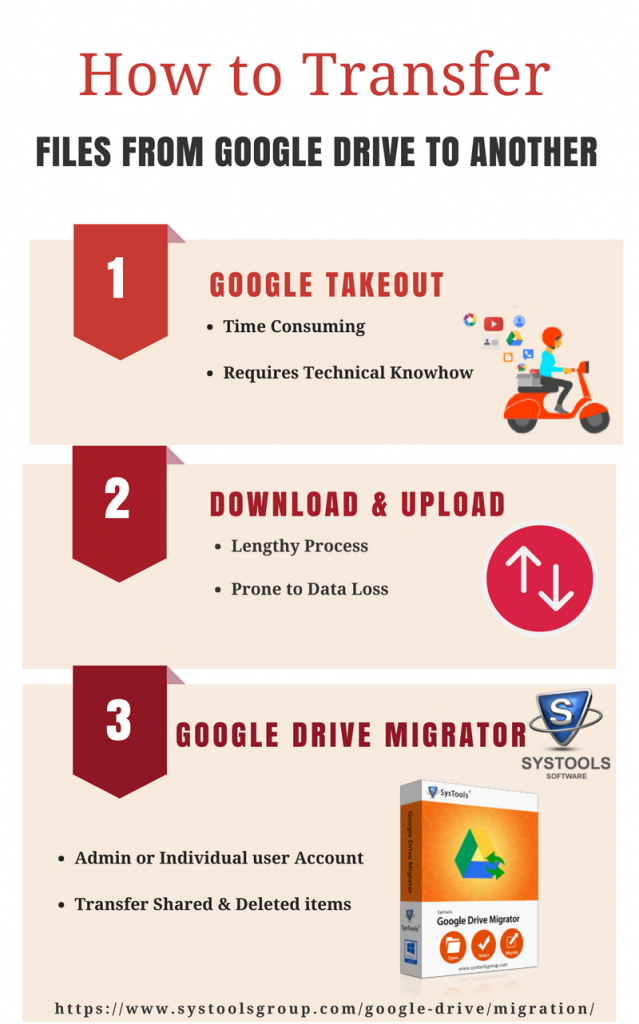 Manual Method to Migrate Google Drive Files to Another Account
For transferring files from google drive to google drive including differently formatted data, use the methods given below:
Method 1:
To Migrate google drive from one account to another, create an archive of the Google Drive data with Google Takeout and upload it to the new account. While taking archive, the file formats will be automatically changed from Google data types to Microsoft related types. This can adversely affect the folder structure of the stored data.
Method 2:
A person without much technical knowledge regarding Google Takeout or it's working can manually move all the contents from his/ her Google Drive account to another using the following steps given below.
Step 1: Login to the source Gmail account
Step 2: Open Google Drive and select the files which are to be moved to new account.
Step 3: Right click and Choose the option to Download documents to a local folder.
Step 4: Login to the new Google Drive account
Step 5: Click on New >> Upload File / Folder >> Select the files from local folder
Use the above given methods for effectively transferring files from google drive to google drive without any complicated issues.
Automated Solution to Export Google Drive to Another Account
The manual methods described above will be tremendously time consuming and will need the administration of a person during it's working in the case of large quantity of storage data. It will be difficult for the user to monitor the entire process of migration without causing any disturbance to the file transfer. The impediment to administer the entire process for a long time leads the users to choose an automated solution which does not require any technical expertise or knowledge to transfer Google Drive documents to another GDrive. For this situation, users can go for the Google Drive Migrator tool which helps to easily migrate Google Drive files to another account within a short time period by simply providing the source and destination drive address and validating them.
Main features of the tool includes:
Migrate Google Drive data using either Admin or Individual user Account
Allows to transfer Deleted Items as well as Permissions to another drive account
Provision to move Shared files from source Google Drive to destination drive
Provides options to pause, resume & stop the process of exporting the Google docs to new account
Provision to export Google Drive contents without password using Admin account credentials
Summing Up:
To move Google Drive data to a new account is a time consuming task. So users are looking for a solution to transfer google drive from one account to another without much trouble. In the above write-up, both manual method and automated method are given. Both are effective in terms of migration, but If you are looking for an instant solution to migrate Google Drive files to another account, then you can use the SysTools Google Drive to Google Drive Migration tool. This tool allows to move the deleted as well as shared files as it is from the Google Drive account without causing any data loss.