Import Zimbra Mail to Outlook | Overview Explained
Just like MS Outlook, Zimbra is an email client that offers desktop and web-based versions. The Zimbra webmail client offers the best interface and functionality while connecting to the end-user to exchange data files. On the other hand, Outlook offers additional features in terms of performance and services. It wouldn't be right to compare both the email client Outlook is far superior in terms of features and support. Whatever the reason for conversion might be, this blog covers the step-wise guide to import Zimbra mail to Outlook. So without any delay let's dive right into it…
How To Add Zimbra Email to Outlook | First Move
Zimbra webmail is compatible and stores all the data files in a TGZ file. Whereas Outlook is compatible with PST file format. As its clear now both the email client is compatible with different data files. So the first step is to extract the Zimbra TGZ file. Let's start the Zimbra to Outlook email migration procedure…
Open Zimbra Webmail.
Move to Preferences>Import/Export.
In Export Panel select the Type as Account.
In the Source Filed select the Mail checkbox.
Click Export.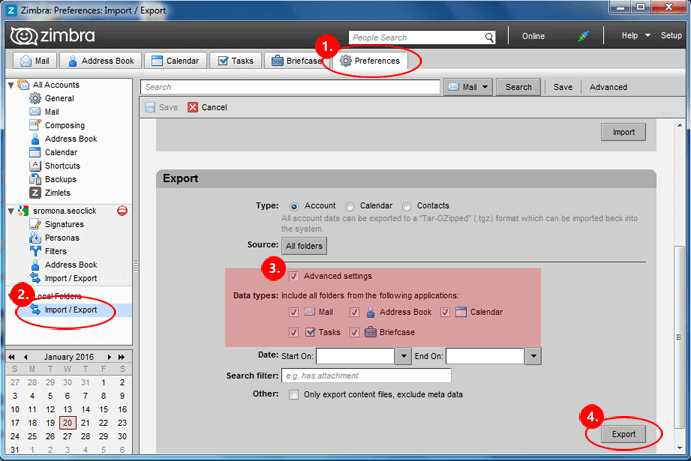 Zimbra to Outlook Email Migration | Automated Approach
SysTools Zimbra to PST Converter is a professional-grade utility that allows converting multiple TGZ files in a trouble-free way. Not only that, the software allows to Export Zimbra mailbox with complete data files including Email, Contacts, Calendars in a hassle-free way.
Also, you can easily convert the TGZ file into PST, MBOX, vCard, PDF, and EML format. This tool supports the latest versions of Windows OS. Furthermore, the graphical interface is so simple and easy to use one can easily access the working of the tool without any guideline of technical experts. Follow the steps listed below to import Zimbra mail to Outlook.
Import Zimbra Mail to Outlook | Automated Tool Working Explained
1) Download and Install the Automated approach with the mentioned link. The first look at the software panel will appear like this.
2) From the Navigation bar click on the Add Files button. Pop-up windows appear to select the Add File or Add Folder option.
3) Use the Browse button to add the TGZ file.
4) The software will automatically scan the files and display all the data files.
5) Select the Export or Export selected option to start the conversion process.
6) Now pick the file format in which you want to convert the data files.
7) Software allows adding Extra filters while conversions use them in advanced settings.
8) Afterwards click on the Export button to save the file in the required format.
Zimbra to Outlook Email Migration | Guide Explained
There are a plethora of reasons that force users to import Zimbra mail to Outlook. Both Zimbra and Outlook are different email clients with different data files. We have covered the best method for Zimbra to Outlook email migration. One can download this tool and enjoy the benefits of the demo edition that allows converting the first 25 files of each folder.
Frequently Asked Questions
Q Is There Any Limitation of Demo Version of Automated Approach?
The demo version of this tool works similar to the licensed version but it allows to convert the first 25 items of each folder.
Q Can I Access This Utility for Zimbra Desktop?
The answer is yes you can access this utility on the Zimbra desktop and it is compatible with 7.3.1, 7.3.0, 7.2.8, 7.0.1 versions of Zimbra.
Q Can I Convert Multiple Number of Files at Once?
This automated utility allows converting the number of files in batch without any technical failure.
Q Is It Possible To Run This Utility on Windows 8?
Yes, you can access this utility on Windows 8, and it's compatible with Microsoft Windows 10, 8, 7 (32 bit / 64 bit).