Do you have more than one Google account? Do you want to consolidate those accounts into one? If yes, then don't get panic, because we are here to explain how to merge two Google drive accounts. In the following write-up, the reasons and solutions to combine multiple Google Drive accounts are being discussed.
Google Drive is a cloud service, which is used to store, edit, and share the data in the form of documents, sheets, presentations, images, videos, etc. A Google drive account provides only 15 GB storage which could be increased by moving to a subscription plan. However, this 15 GB storage space is shared among Gmail, Google Drive and Google+ services. Due to this, storage of data with large size can be difficult. This may force users to migrate Google Drive account data and thus merge two Google drive folders.
Why Does a User want to Merge Two Google Drive Accounts?
Let's discuss a user query to understand the need to merge multiple Google Drive accounts.
"I am using two Google Drive accounts; one is for personal use and the other for official use. Now, I am thinking of merge my personal Google account to the Official account. Is there any easy way to merge Google Drive accounts without causing any data loss? Your helpful suggestion would be appreciated!!"
There are also two main reasons behind the merging of Google drive accounts:
Storage Space Restriction: A Google account offers maximum 15 GB free storage which is shared by Gmail, Google+ and Google Drive. Due to this restriction of size, users create more than one Google account in order to avail more free space. Thus, it becomes necessary to merge two Google drive folders.
Change of Domain: The another reason for merging Google Drive accounts is changing the domain as a result of graduating from school or college, changing the organization or company, etc.
How to Merge Two Google Drives?
There are many solutions by which a user can merge google drive folders, files, accounts, documents, etc. Some of them are discussed in the following section: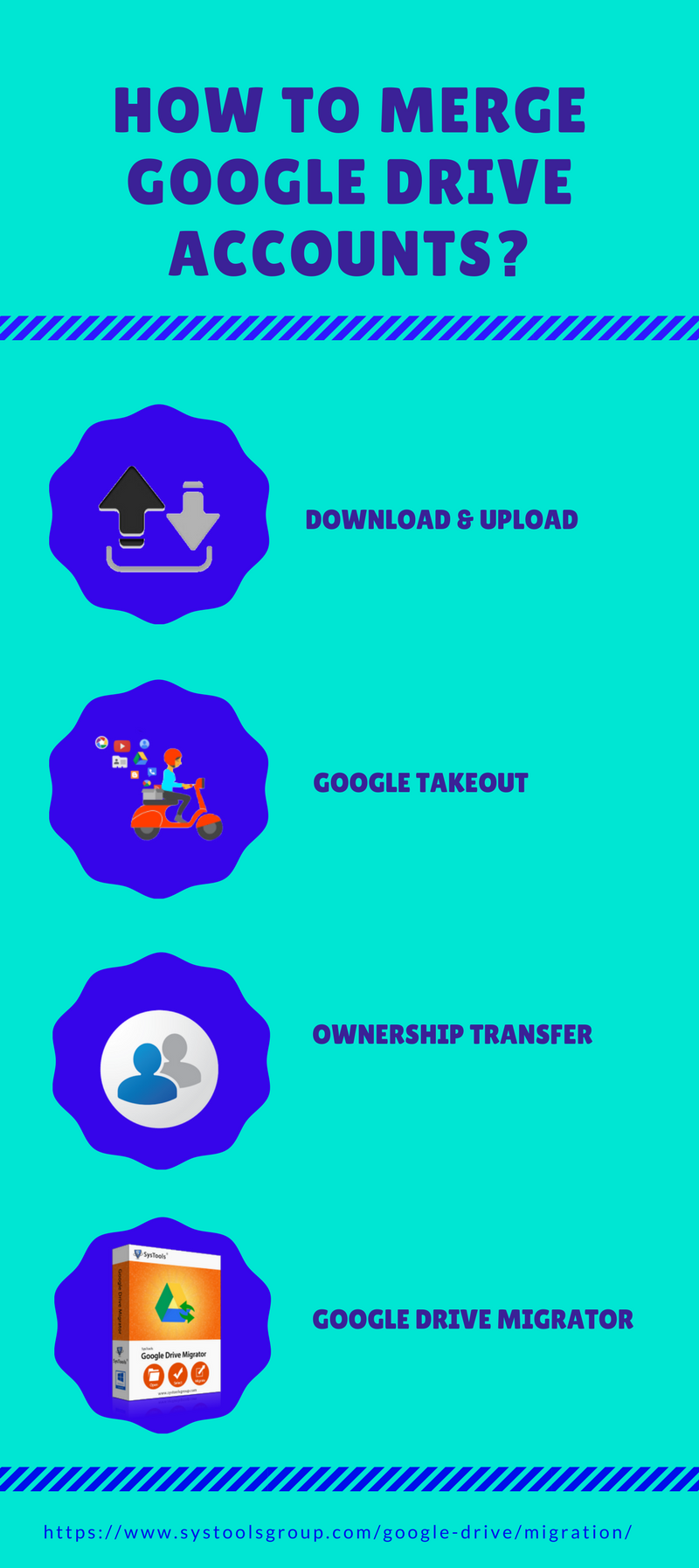 • Solution 1: Download and Upload the Files
In order to merge multiple Google Drive accounts, first, you have to download and upload the files and folders from source to local folder. After that, upload it from local to destination Google drive.
• Solution 2: Through Ownership Transfer
You can also use ownership transfer option to combine the files with the destination Google drive account. In this use Is Owner option to set the ownership.
• Solution 3: Using Google Takeout
Google Takeout is a free utility which is provided by Google. This service can be used to create an archive of the required files from a Google Drive account. And, this archive file could be downloaded and extracted from the Google Drive. After that, it could be uploaded to the destination drive.
• Solution 4: Automatic Solutions
The above discussed manual methods are efficient to combine multiple google drive accounts without any complications. But, these are tremendously time consuming methods and requires expert administration during the entire working. Also, any small disturbance during the merging process can adversely affect the entire process and it can cause data loss. Therefore, to overcome all such limitations, it is required to use an automated solution like Google Drive Migrator tool. This utility does not require any technical expertise to merge Google Drive files and folders. Even a novice user can easily use this tool. It provides many advanced features that makes easy for users to work with this application to merge Google Drive documents.
The Bottom Line
In this blog, we have discussed "how to merge two Google drive accounts". Apart from this, the main reasons and four solutions to merge Google Drive folders, files and documents are also covered in this blog. However, to combine multiple Google Drives with large amount of data is a merely impossible task by using manual method. So, users are advised to use a third-party solution to overcome this issue.