How to Import PST Files in Gmail? Manual and Sustainable Solution
PST format is a proprietary format of Outlook data file which is created by Microsoft Outlook on your system, it is a desktop-based email client. PST is the most important application which is used by many users for personal and business-related tasks. Apart from mailing, it has some other useful features in terms of working conditions. However, some users prefer to choose a web-based email client. Gmail is the top web-based email client provided by Google. However, any Gmail account you can save your important data such as contacts, calendars, attachments, tasks and, etc. In our write-up, you will get the information how to import PST files to Gmail.
There are a few solutions to transfer PST files to Gmail. One of the methods is used manually and the second can be used by using an application. Here, we are explaining to you the required solutions to transfer files.
Why You Need to Import PST Files to Gmail?
Gmail is the best and most used email client that works independently and its data is saved on the cloud, so you can access Gmail from anywhere from any internet-connected device. Because of this feature, there is no requirement for desktop software. There are more benefits when it comes to importing PST files to Gmail. Few of the benefits we are listing below –
1. You get ample storage to save your important emails for free.
2. You can export your contacts and set your regular archiving.
3. Gmail provides you the security of your data.
4. If anytime you forget your credentials, then, Gmail gives you a quick recovery procedure.
5. The data of yours synced instantly with different devices.
6. It is a free and easy-to-use email client without any complications.
7. Gmail allows you to use multiple applications by using a single Gmail ID.
Top Most Methods to Import PST Files to Gmail
There are basically two methods to import PST files to Gmail. i.e –
1. Manual Method
2. Self Operating Method
Manual Method to Import PST Files to Gmail
This process is attractive because it is a free and simple solution for data file migration — modify your Google settings, configure the second account, and link both. For the manual way to move PST into Gmail you need to enable IMAP and POP servers, plus, to save your time while migrating files you need to on the Less Secure App as well. Now, download Google Workspace Migration for Microsoft Outlook to migrate emails, contacts, calendars data from PST files.
Step by Step Guide to Use Google Workspace Migration to import PST files to Gmail.
Download the Google Workspace Migration tool on your local computer and follow the given steps-
1. Login with your Email Address and tap Continue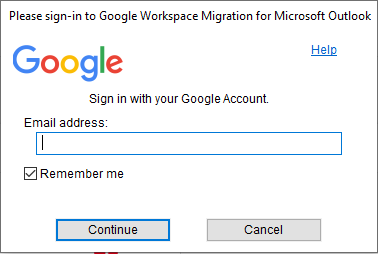 2. Choose an account through which you want to migrate files, you can add any other Gmail account as well.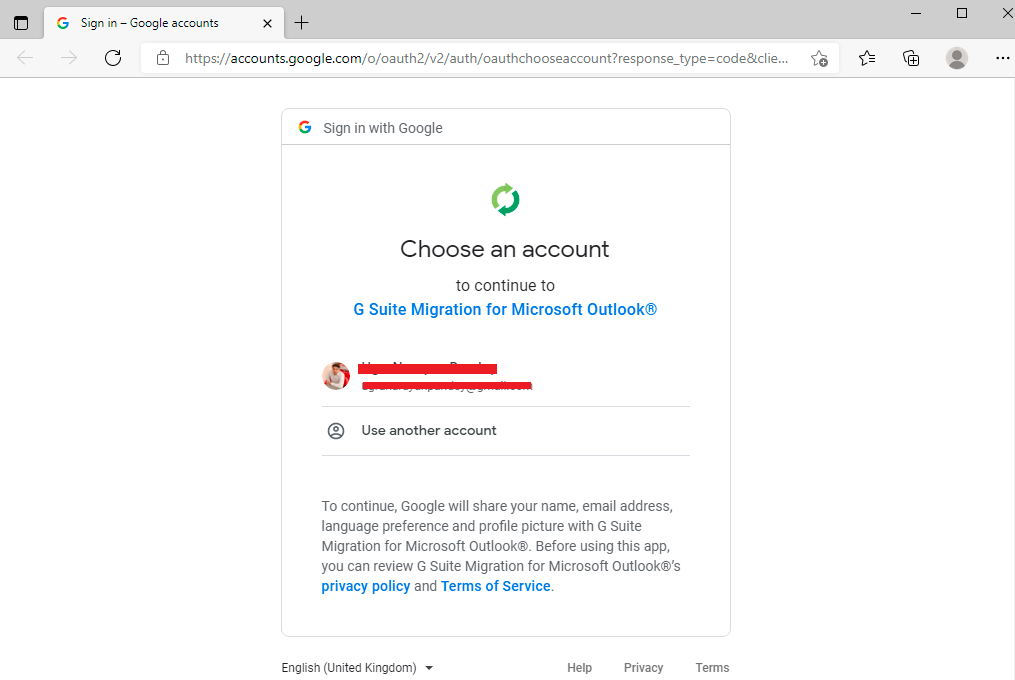 3. New pop-up box will arrive on the window, Now, tap Allow button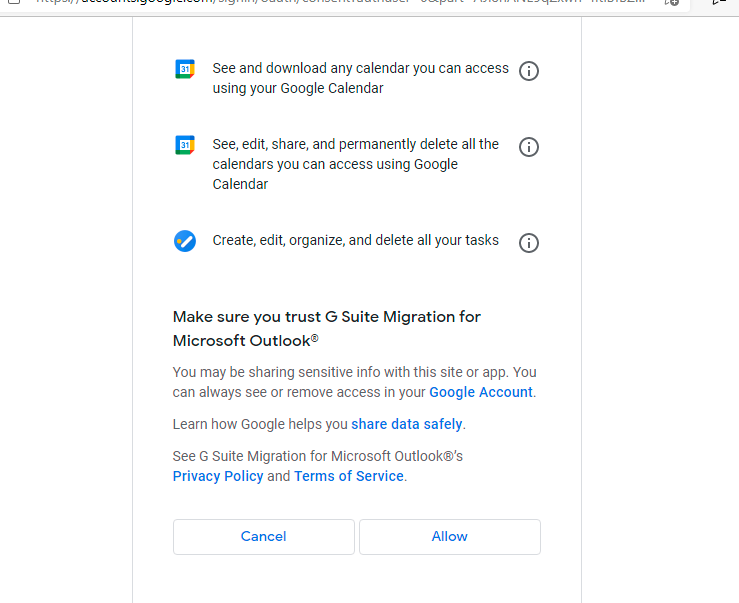 4. Select user profile and choose if you want to migrate all data or only a few data. Then, tap the Next button.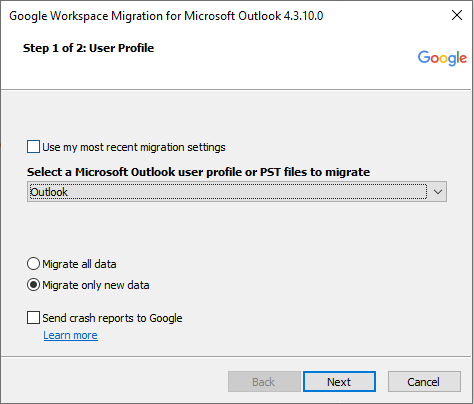 5. From the new window, fix the migration settings and choose the data that you wish to migrate. After selecting the required data, tap Migrate button.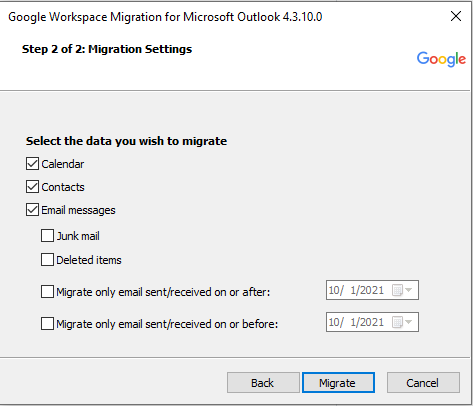 6. Your data migration will begin, but if you think you need some changes you can stop the migration. After the migration process, a folder named Outlook PST will be saved in your Gmail account.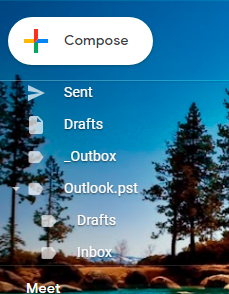 7. Now finally, you can see the imported files in your Gmail account.


The manual method can be used to import PST files to Gmail but it has limitations that you could face.
Drawbacks of Manual Method to Import PST Files to Gmail
• Manual method is a time-consuming method to migrate your PST files because of its lengthy process.
• You must be aware of technical knowledge to process it and Office 365 must be downloaded on your local system.
• While migrating PST files by using this method, there are chances of data loss or a few alterations in your important data.
Import PST Files to Gmail Automatically
As you're facing issues while importing PST files to Gmail using the manual method, now you will search for a reliable and sustainable solution to migrate your data file. There are many software are available in the market, one such tool is SysTools Outlook to G Suite Migrator. It's the best tool for migrating your data file from outlook to your Gmail account safely and reliably.
Features of the Utility to Import PST Files to Gmail
1. By using this software, you will be able to convert your emails, contacts, calendar from Outlook PST files.
2. This application is capable to migrate Outlook data files in bulk in just a few steps.
3. You can easily detach attachments from your data file while importing Outlook emails.
4. There is an option available to exclude the deleted emails, junk emails, and sent items from the PST file.
5. This utility allows you to change the name of your PST file as per your needs by using Map Folder(S) feature.
6. It provides you the facility to delete duplicate contacts while importing PST files.
7. This software creates a folder structure after the migration process of PST to Google apps.
Follow the below-mentioned steps to import PST files to Gmail
Download the demo or full version of the application and Install the utility. A welcome screen will appear on the system. Now, follow the given steps:
1. Add PST files and enter Google apps credentials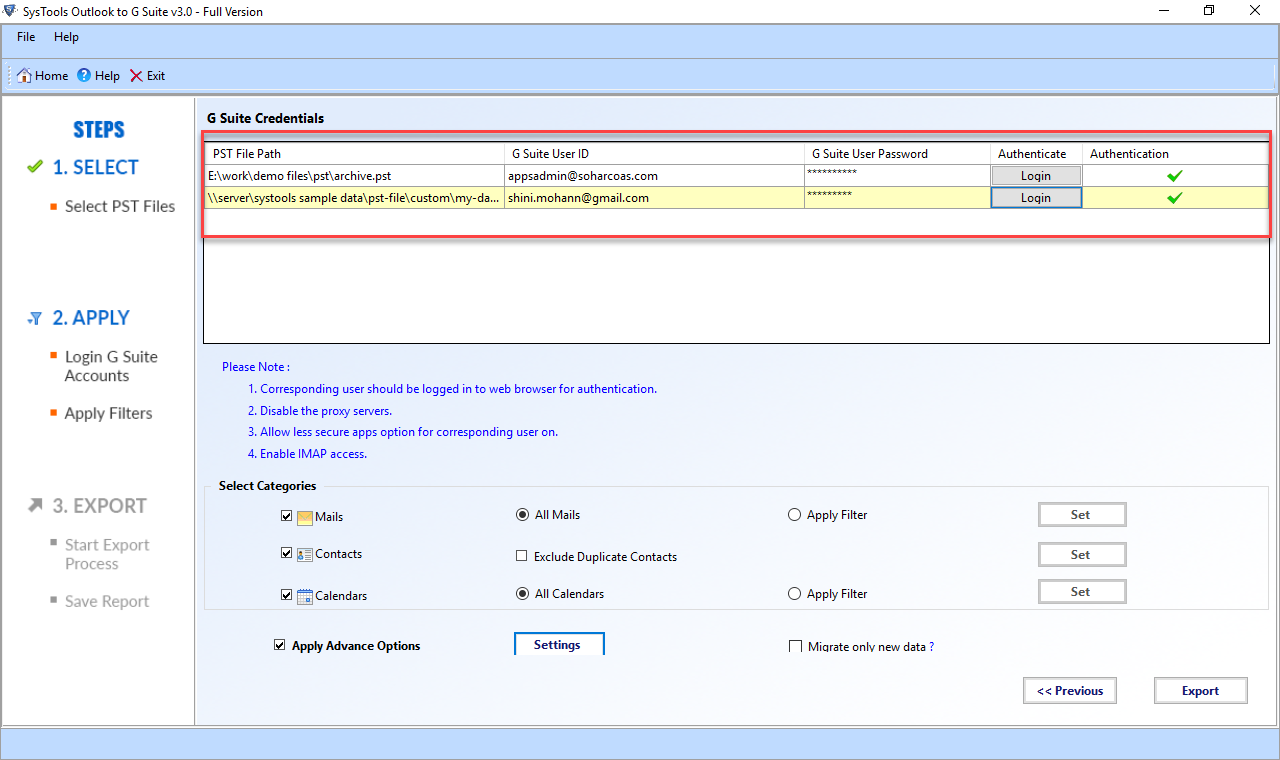 2. Select categories that you want to import, such as mail, contacts, calendars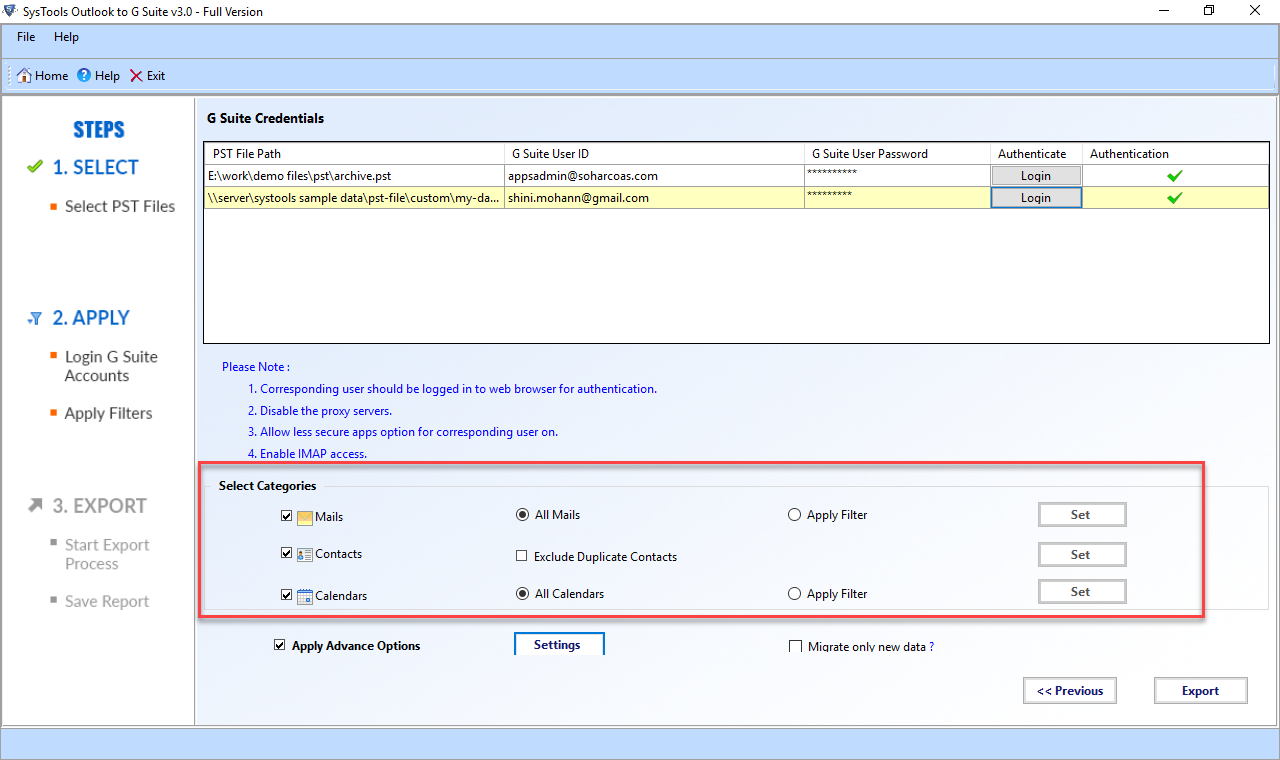 3. Lastly, successfully import PST files to Gmail/G-Suite/Google Apps.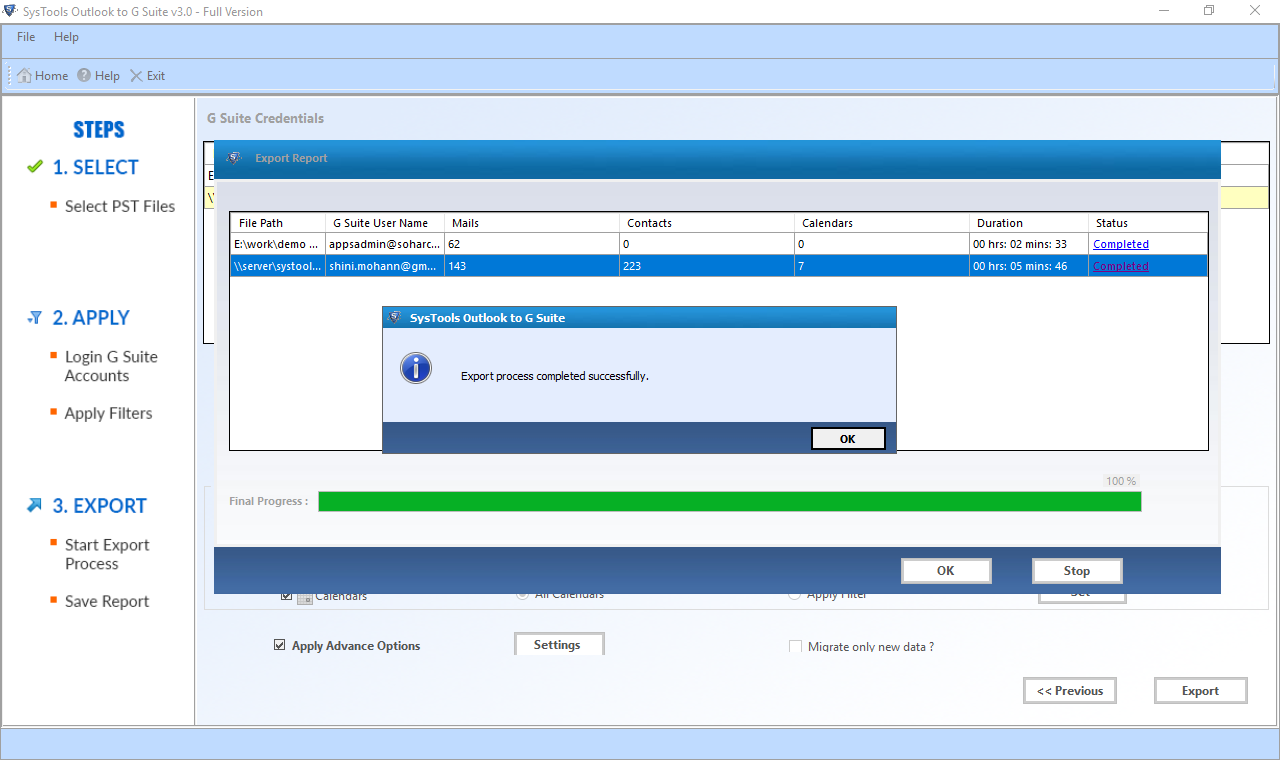 Conclusion
In this write-up, we have discussed different ways to import PST files to Gmail. You can use the manual method but there are some limitations to it that you will face while migrating. So, it is not recommended to use the manual method. The best solution to migrate your PST file you must use SysTools Software because it provides you many features to import and there is no data loss fear.