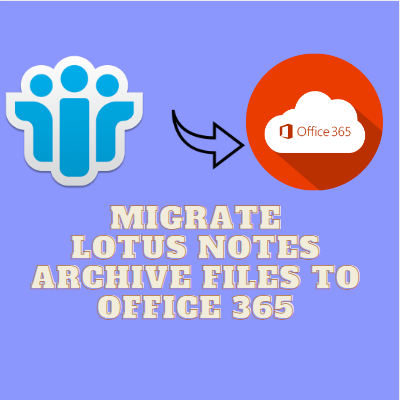 Most of the users prefer safeguarding their confidential emails and other data items to prevent losing them because of any manual or technical errors. Instead of permanently deleting the emails, it is a wise option to save the mailboxes to a reliable cloud platform.
Are you an IBM Notes user who wants to migrate Lotus Notes archive files to Office 365? If yes, then here comes the blog stating an ultimate solution. Through this write-up, we will shed light on the result-oriented approach to seamlessly transfer IBM Notes to the proficient Office 365 cloud platform.

Nowadays, MS Office 365 is used extensively by both personal and business to meet the communication requirements. Both Lotus Notes and Office 365 enable users to send/receive emails, contacts, calendars, data security options, etc. However, one of the major differences between both email applications is that the flexibility induced in Office 365. Additionally, the data saved in MS Office 365 can be accessed swiftly from any location and device with an adequate internet supply. Whereas, in the case of Lotus Notes, there is no such functionality that enables quick accessibility to the data.
Major Reasons Behind Migrating from Lotus Notes to Office 365
There are a couple of reasons, which might divert your mind to switch from IBM Notes to Office 365. Some of the genuine reasons are listed below:
MS Office 365 being a cloud-based suite, it permits users to save innumerable data to the cloud. It does not consume local space, unlike Lotus Notes
Office 365 offers simplified features induced within a user-friendly interface
Unlike IBM Notes, Office 365 can be smoothly operated by novice users, which does not require enough technical expertise
MS Office 365 cloud is cheaper in terms of installation and maintenance cost, which is quite expensive in IBM Notes
To meet the exceptional challenging requirements, Office 365 is one of the best cloud-based email platform offering proven features
Using Office 365, it is easily compatible with the standard HTML syntax. Moreover, it allows to efficiently render HTML and CSS script
The services incorporated in Office 365 are limitless such as MS Office suite, Exchange Server, SharePoint, Yammer, OneDrive, etc.
"Being working as a technical architect, I have been a part of hundreds of projects in my tenure with this organization. To manage the communication flow, Lotus Notes is being used, wherein my inbox consists of numerous confidential emails, which I do not want to lose. To safeguard all these NSF emails, I have decided to migrate to an efficient cloud platform. Please help me know the accurate yet effective approach to migrate Lotus Notes archive files to Office 365 cloud. Request you to reply at the earliest."
Migrate NSF Archive Files to Office 365 Using Efficient Technique


The manual approach using IMAP connector is induced with several limitations. This include failure to transfer NSF files of more than 1 GB size, fails to migrate calendar data, data loss issue, must require technical expertise, etc. Hence, it becomes the need of the hour to avail cost-effective third-party solution.
When it comes to choosing the right solution, it is indeed a matter of challenge. This is because it requires sufficient research and planning the accurate migration strategies. Knowing all these concerning requirements, we are here to help you out! Without having a second thought, users can make the best use of SysTools Lotus Notes to Office 365 Migration Software. It is induced with top-of-the-line features enabling users to easily overcome their migration challenges.
Here are Some Impeccable Features Integrated in the Software:
Efficient enough to migrate Lotus Notes emails, contacts & calendars to Office 365
Option to migrate data selectively using "Date filter" option
From the Workload section, users can transfer desired NSF data items selectively
Dual-mode option to map user accounts i.e., by using "Import Users" or "Fetch Users" option
Facilitates multiple re-run migration options, which includes Delta Migration, Retry Failed Items and Re-run Full migration
Delta migration allows to migrate newly arrived set of NSF data
Retry failed items option allows to transfer failed data due to technical glitches
Re-run full migration option allows to export missed/skipped data items
Users are allowed to migrate preferred mailboxes by applying priority to it
• While undergoing the migration process, using "Stop Migration", one can effectively stop the migration process
The Winding Thoughts
In order to effectively migrate Lotus Notes archive files to Office 365, we have mentioned a futuristic solution through this blog. We have elaborated different reasons behind migrating from IBM Notes to O365 and the cost-effective data migration approach. Additionally, the manual method using IMAP connector consists of numerous shortcomings, hence availing the automated solution is an apt option.