How to Open MBOX in Thunderbird: Find the Most Feasible Solution
How to open MBOX in Thunderbird has become one of the major questions among users. The reason behind this is the increasing demand for the Thunderbird email application. It has now become a very famous platform for the storage of data and also for the instant emailing facility to its users. This application is used in small as well as big industries to maintain the continuity of the business. The file format in which it stores the data is .mbox. However, this is not the only email client that stores data in this format. It also helps to access MBOX files in Mozilla Thunderbird. There are multiple platforms that support MBOX format such as Eudora, SeaMonkey, Pocomail, EarthLink, The Bat!, etc.
View MBOX in Thunderbird Manually
The solution to access MBOX file in Mozilla Thunderbird is by opting for ImportExport Tool of Thunderbird. It is a free program, which makes it possible for users to read the files in MBOX in Thunderbird profile. Users just need to install it on the Thunderbird and then using the utility you can move the required files.
Limitations: Two Major Drawbacks of This In-Built Tool are:
It is not possible to transfer emails files from multiple profiles.
The hierarchical or nested structure of folders is not maintained with this utility.
Thunderbird Import Wizard: Application to Open MBOX in Thunderbird
Among different utilities, Thunderbird Import Wizard is one of the best tool available to import MBOX to Mozilla Thunderbird. This can move multiple MBOX files or folders at once into Mozilla Thunderbird. It comes up with different features like date filter option, maintains the folder structure, brings two option to transfer emails i.e. Add File or Add Folder, generates the complete report, supports converting of multiple profiles, etc. All the features are blend together in a very simple interface.

Steps to Access MBOX File Using Thunderbird Import Wizard
These are the steps following, after which users can open/view MBOX in Mozilla Thunderbird:
First, you need to Install and Start Thunderbird Import wizard on your system.
Then, the software brings two different options to add the .mbox file data.

Add File (s): In case you are in a need to take single or numerous files at a time.
Add Folder (s): In case you need to take single or numerous folders at a time.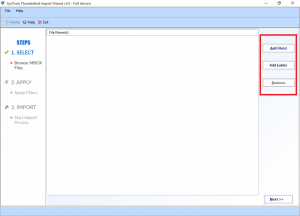 Suppose, you have chosen Add Folder option, continue.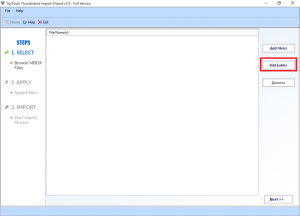 Choose the folder and then click on the OK button.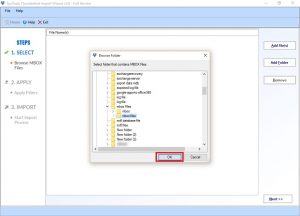 Once the folder is copied successfully, all MBOX files will be listed by the tool, click on Next to continue.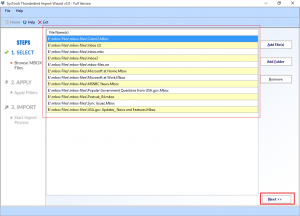 There is an option for Apply Filters, you can click on that if you wish to transfer specific files and click on Set. Set the data range as per your requirement and then hit on Apply.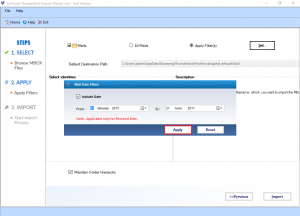 In this step, the tool will display all the configured email address in Mozilla Thunderbird in Select Identities option. Select the email ID and then click on Import.
Note: After this, in the box where it has written that Maintain Folder Hierarchy, put a mark if you want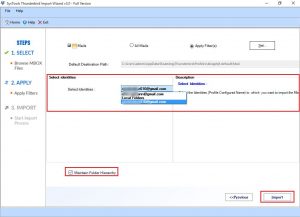 Once the process of migration is finished, click on Ok.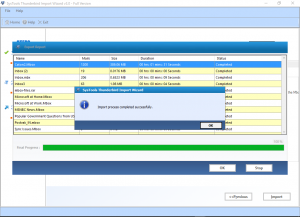 The software generates a complete report of the process; you can save it on the local system. This you need to click on the Save Report button. Choose the location to save it. The report will be stored in CSV format.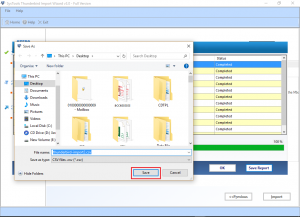 Note: Follow the same steps, if you select Add File option.
Thus the Thunderbird Import Wizard helps to view MBOX files in Thunderbird.
User Query to Open MBOX File in Thunderbird
Therefore, at times users wish to open and read MBOX file in Mozilla Thunderbird. This file can be associated with any of the email clients. Now, the next question arises that if it is possible to perform this process manually? We will come to this, but before that let us go through a query to understand a particular situation of importing MBOX to Thunderbird.
"My client has sent me some MBOX files for the preparation of a document. I find it difficult to access .mbox in Thunderbird, even it has the same file format. These files are so confidential that I cannot forward them to anyone else. Therefore, I started searching for a relevant method to view MBOX files in Mozilla Thunderbird profile. However, I completely fail in all my efforts. After a long try, I get to know about the ImportExport tool of Thunderbird, but I think it can only move one file after the other. Please suggest me any trick to get out of this situation."
Related: Downloaded Gmail Data in Thunderbird & Outlook
Wrapping It Up
.mbox is one of the file formats, which is supported by different email applications. Therefore, in some scenarios users need to open MBOX in Thunderbird platform. However, it is not possible to access MBOX files into Mozilla Thunderbird easily. Considering this, we have discussed a flawless utility which has the ability to perform the migration of multiple email files.