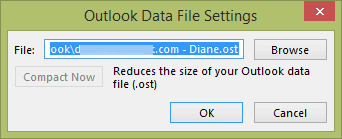 The Microsoft Outlook PST file can get very huge over time, especially when the user is receiving a lot of attachments in emails. It may become larger and larger if you are not paying them attention. This may result in the error message, Outlook data file too large to open. Outlook files are the Outlook's databases which store email, contacts, calendars, and much more. Therefore deleting some old messages won't help in reducing the size of your data file accordingly. Therefore this blog lets the readers find about oversized Outlook data files in brief along with few manual methods to overcome this issue. It allows proposes software which can resolve the problem in a few simple steps.

Instant Solution: The SysTools Split PST software can be used to divide pst file to smaller size files in a trouble free manner.


Why is it Necessary to Reduce Outlook PST File Size.
When Outlook files become larger, practically it may affect the speed of the account. That is if your Microsoft Outlook account is taking a long time to respond. And if you are not able to work with the important operations like an opening file, copying folder, downloading the embedded attachments or emails from the Outlook etc. Then it is clear that your Outlook application is dealing with an oversized PST data file that has reached the maximum permissible size limit.
The size limit exceeded PST files may lead to file corruption and ultimately result in losing your important personal data and crucial business messages. So it is necessary to find some sort of solution to address this Outlook PST file too large to access error in a timely manner.
Method to Resolve Outlook Data File Too Large to Open
There are different solutions available to recover from the problem, MS Outlook file is too large to read. One method is archiving Outlook files, the other is deleting unwanted emails, and the third method suggested here is saving the emails that are not deletable to the local system, and the fourth method is compacting PST files. You can follow any of the solutions to resolve this large size issue to a small extent.
The Ultimate Quick Solution
Automatically Fix Error: Outlook Data File too Large to Open
SysTools Split PST is a perfect available solution. It can effortlessly recover the above-mentioned problem in a few simple steps without losing any data from the account. The utility can split the large Outlook PST files into smaller files and save those in the local system quickly. Its special features are that it provides options to divide the files by different parameters like Date, Size, Year or Folder etc. This product does not impose any file size restriction while breaking Outlook files into multiple files.

IT can divide emails, contacts, calendars etc.
Option to split the PST file and to archive it easily.
Possible to break UNICODE and ANSI PST files of any size.
Outlook installation is necessary for the completion of the process.
Other Manual Methods that You can Try
Solution 1: Backup the PST Files
Archiving Outlook file is a very easy process. Firstly you need to close the Outlook account.
Now locate your Outlook PST file in the system >> create a copy of that file somewhere else.
If something happens to your account later, like corruptions, oversized issues, virus attacks etc. You can copy the file backup for its proper working.
Solution 2. Delete the Emails That Are Possible
This method is little obvious while considering a solution to fix the error, Outlook data file too large to open. In this method, the user is suggested to delete the emails that he/she won't be required in the future.
Remember, when a user deletes an item from the Outlook account, it will be just moved to the Deleted Items folder. But this doesn't free the space until the user empties the Deleted Items Folder. To perform this:
In Folder pane >> select the folder to be deleted or click the required email >> press Delete key.
Then open Deleted Items folder >> Empty Folder (this will permanently delete its contents).
Solution 3. Archive the Emails That can't Be Deleted
Microsoft Outlook can have several Personal Storage files. So, if the user doesn't want to delete the emails, the method provides you an alternative way to move the PST files that are too large from the account.
Create a new PST file:
Go to File >> Account Settings >> Account Settings >> Data Files >> Add >> OK.
A new PST file will appear in the Account Settings dialog box.
Now create sub-folders in the new file >> drag and drop the old messages.
Right, click on this newly created PST file >> Close.
Solution 4. Compact Outlook Data File
After permanently deleting or transferring Personal Storage files from the account, one can remove the space utilized by those deleted items by compacting the Outlook file. To perform this follow the steps:
Right click on PST file to be compacted >> Data File Properties >> Advanced >> Compact Now.
Warning: Compacting may take hours depending on the size of the PST file. And never try to interrupt the process.
Limitations of Manually Fixing Large Outlook PST File Error
There are different manual methods available to solve the problem, Outlook data file too large to open, but they are not that efficient enough to resolve it completely. The process is lengthy and confusing in the first view. But they are also too dangerous if the steps are not carried carefully. A small error in the process may lead to file corruptions and losing of entire important data of the user. Therefore in-order overcome these issues of manual method, one can also use safe software to fix this issue.
Conclusion
While considering different manual methods suggested with the features of the automated software. We can clearly conclude that it would be better to use a software instead of accessing direct methods. To fix the error, Outlook data file too large to open automatically, one of the best available third party solutions is SysTools Split PST. This utility can divide your large PST files into smaller files safely in lesser time.