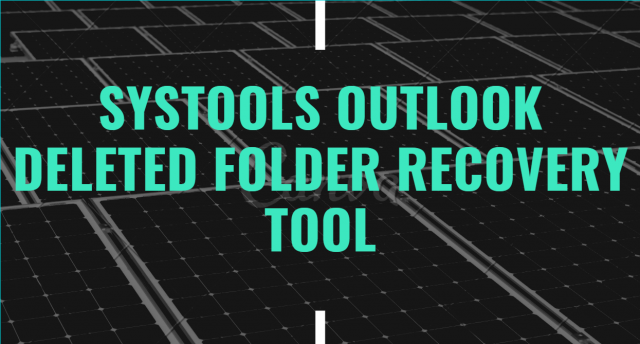 Have your Outlook folders accidentally deleted from your account? Your important emails or contact are now missing? Don't worry! SysTools Outlook Deleted Folder Recovery software restores all the permanently deleted Outlook folder back into your account. It has a RAW scan functionality that restores 100% data. Also, This tool provides the option to recover and export the folders in the same hierarchy as they were before.
There are many types of Microsoft Outlook folders like Inbox, Outbox, Drafts, Deleted Items, Junk E-Mail, Search Folders. It also includes User created folders and RSS Feeds. The tool will recover them all.
Before we talk more about the tool. Have you tried looking for the missing folder in 'Deleted Items'?
Restore Deleted Outlook Items From Your "Deleted Items" Folder:
Click and open 'Deleted Items' in Outlook application.
Search for the folder or deleted item you want, right-click on it, and then choose the 'Move' option then click on the Other Folder option.
This manual method didn't work out? Download the free edition of SysTools Outlook Deleted Folder Recovery here:

Note: Demo version has an export limitation. Go for the full version here:

For all Microsoft Outlook versions: 2019, 2016, 2013, 2010, 2007, 2003, 2002, 2000.
For Windows: Vista / Win 7 / 8 / 8.1 / 10 (32-Bit & 64-Bit) & Windows Server 2003 / 2008 / 2012
Recover With Microsoft Outlook Deleted Folder Recovery
Once you download the tool, follow these steps to recover Outlook folders:
1. Once the tool is downloaded and installed, click on the "Add File" button as shown below: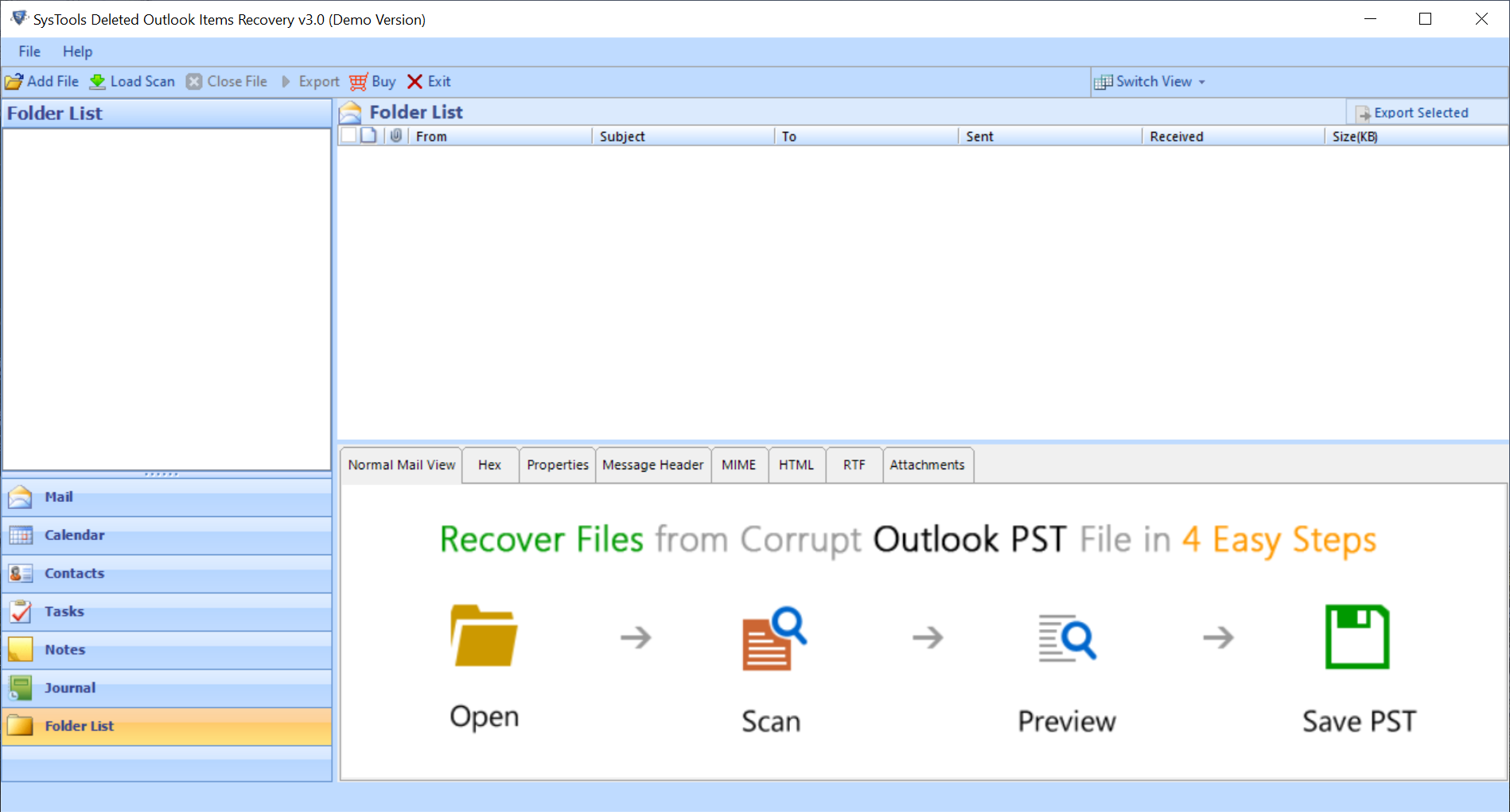 2. Click any one of the given option to add PST, OST, & BAK files: Select File / Search File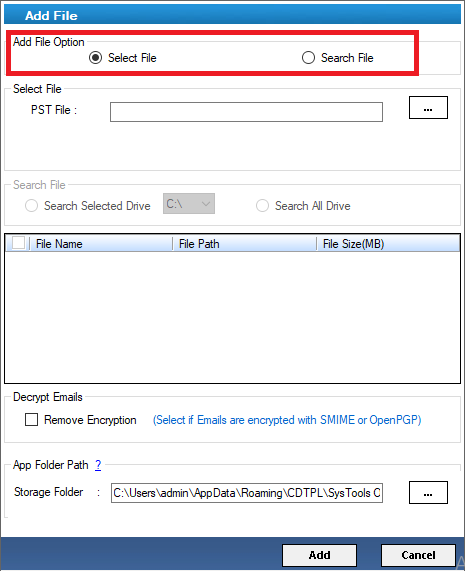 3. Once the file is selected, click on the Add button to proceed further.
4. Select the Export Button to migrate recovered items to other file formats.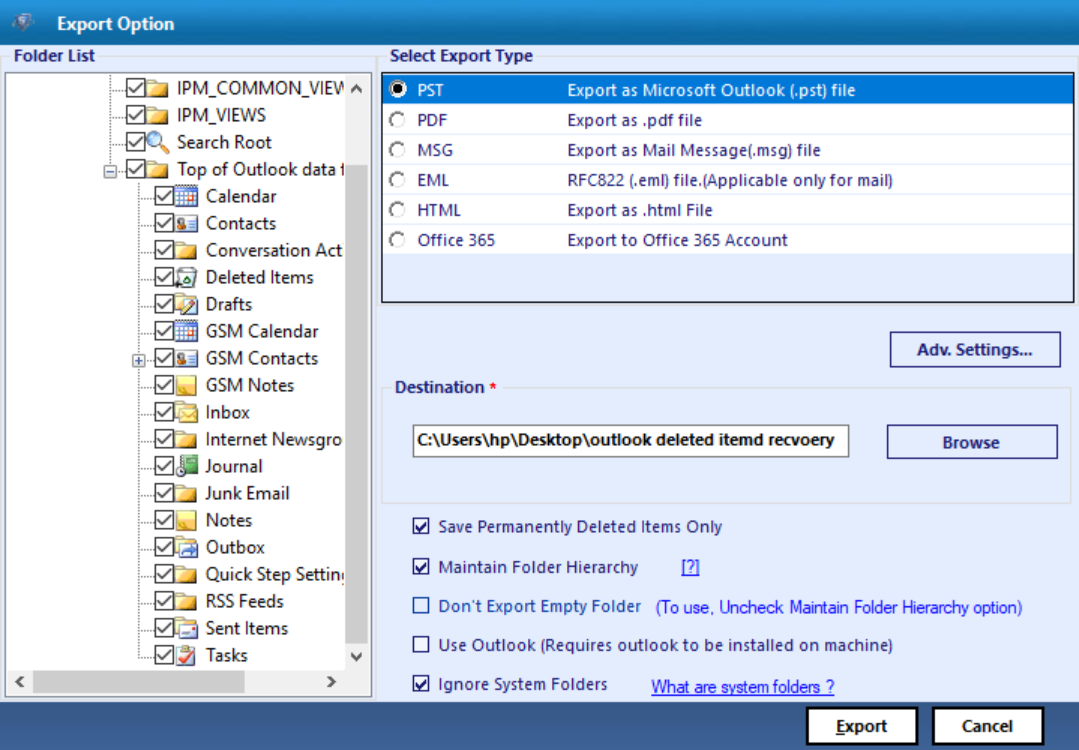 To know more about the tool visit: Outlook Permanently Deleted Items Recovery.
Features That Makes The Tool Uniquely Capable
As I have mentioned earlier that the tool has the ability to perform the RAW scan. This means it will search all Outlook types bit-per-bit. This will help you to recover permanently Outlook items thoroughly. Let us see some of the tool's features:
Recovers soft and hard deleted Outlook items from corrupted PST, OST, & BAK files.
It retrieves emails, contacts, distribution lists, calendars, notes, tasks, journals, folders.
Outlook Deleted Folder Recovery software enables users to retrieve permanently erased user-created.
Export recovered items to a healthy PST, MSG, EML, PDF, HTML, & Office 365.
You can have a preview of emails in 8 different ways (Normal Mail View, Hex, Properties, MIME, Message Header, HTML, RTF, Attachment).
You can opt to export folders in the same hierarchy as they were before.
In the end, you will get a CSV report that will mention success counts, fail counts, and file paths.
Conclusion
SysTools Outlook Deleted Folder Recovery software is the perfect tool for the critical recovery of permanently deleted items in Outlook. With its superfluid performance, you will not find any difficulty in running the tool. It recovers all Outlook items from all types of Outlook files. You also get multiple export options like EML, MSG, PDF, etc. You can easily transfer your data into Office 365 account.
Tip: If you have an Exchange Server connected to your account, you can recover deleted folders from the server:
Select the 'Deleted items' option from the folder list
Now click the Home section & select 'Recover Deleted Items From Server' option
Select the deleted folder or items then, click 'Restore Selected Item'
Lastly, click OK