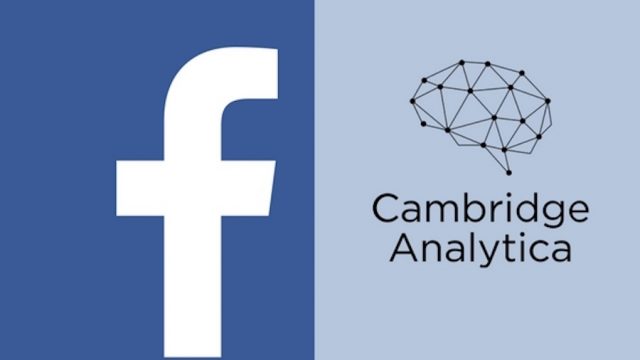 Does Facebook-Cambridge Analytica data scandal affect your trust on Facebook? Have you decided to delete Facebook account but you cannot execute? Are you looking for a solution to protect your information on Facebook? Then you have reached the right place. Keep reading and know how to secure Facebook data.
After Cambridge Analytica scandal maximum users have decided to quit Facebook. The Facebook-Cambridge Analytica data scandal involves the collection of sensitive and personal information over 87 million users and it put data privacy of Facebook on under the spotlight. But is it a permanent solution to delete Facebook account or you want to secure Fb account from hackers and data breach? Data breach and hacking becomes very common and it frequently occurs. Now the question is on security and protection, this event i.e., the data breach has shaken the trust of social media users. Another hand social media is playing a vital role in our personal and professional lives. Therefore, you should protect your information on Facebook. If you aren't affected by Cambridge Analytica data scandal then you are lucky but check it once whether your information has leaked to Cambridge Analytica.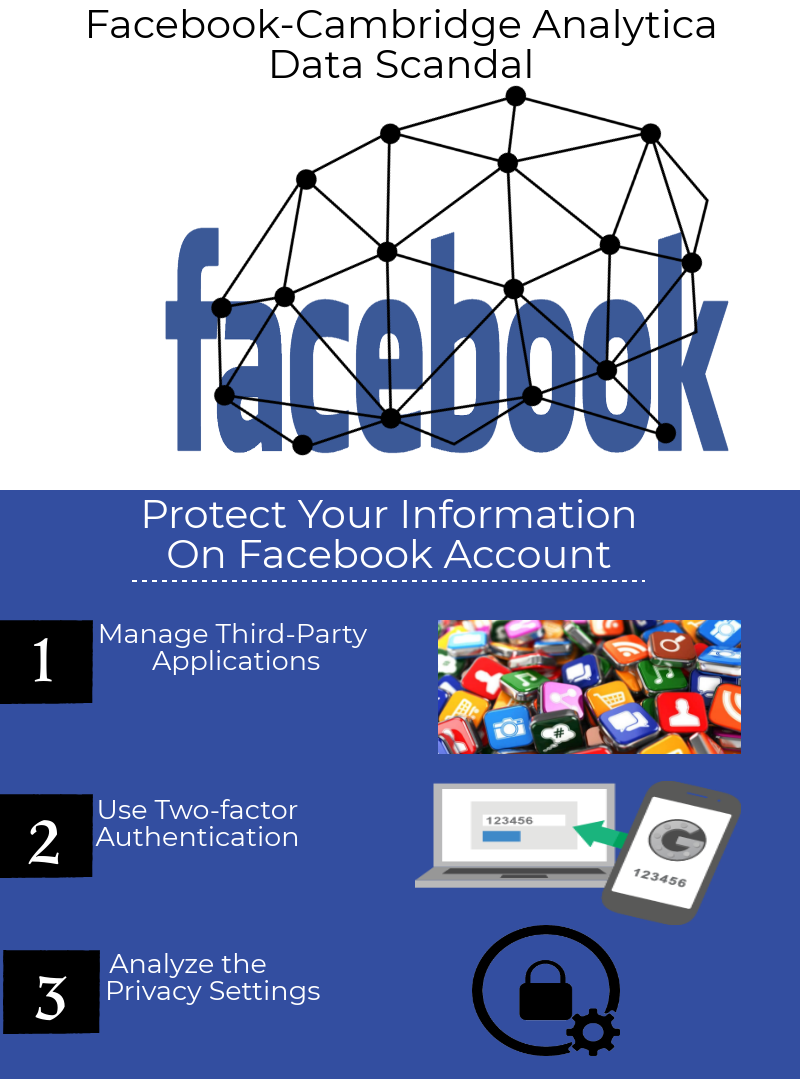 Check Your Data Has Leaked To Cambridge Analytica Or Not
First, visit help center of Facebook and type Cambridge Analytica in the search box otherwise click here. Log in to your account and you will receive a message from Facebook. That is based on Fb's records, you or your friends, logged into this digital life app, and your data might have been shared.
If none of your friend or you have done and it seems you are not stuck in the data leak then, get happy your information is secure.
Protect Your Information On Facebook – Best Practices
After this scandal, users have started to deleting their Fb account to protect Facebook data from hackers and data leak. Therefore, by following below tricks you can protect Facebook data.
Check which third-party app or tool have your data
Turn off or limit access to third-party apps
Limit your exposure to certain ads (and be prepared to be creeped out)
Download a copy of your Facebook data
How Facebook Protecting Your Data
We all addicted to Facebook moreover, it keeps connecting you with your dear one and near one. Thus, deleting Facebook is not a good idea. Due to a recent data breach, Facebook has introduced a new security feature i.e., Protecting your information to protect your information on Facebook. This will prevent & secure Facebook data from any type of data breach in future. You may receive two different pop-ups. If you get left notification i.e., Go to Apps and Websites that means it is just an alert how to manage your Facebook privacy setting properly.
If you are receiving the right notification i.e., See How You're Affected then your data might be leaked without the permission.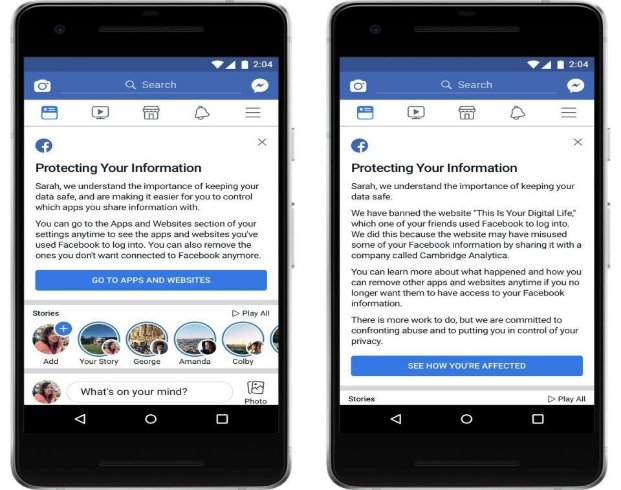 How to Protect Your Information On Facebook
To secure Fb account from hackers or any data breach follow below-mentioned tips.
Manage Third – Party Apps: Facebook has a weak privacy policy for third-party applications. But now this is no longer as the privacy policy has modified. You can do it yourself, there are two ways to manage these apps.
Method 1:
You can disconnect these apps which are no longer required. Then follow these steps to manage apps
Open Facebook App Go to Account Settings

Now Click on Apps Option

Select Logged in with Facebook Option and click on Edit

If you want to remove any app then select that app and touch the Remove tab
Login to Facebook App and Go to Privacy Shortcuts

Now, click on More Settings >> Apps option

Select Logged in with Facebook option

If you want to remove any app then select that app and touch the Remove tab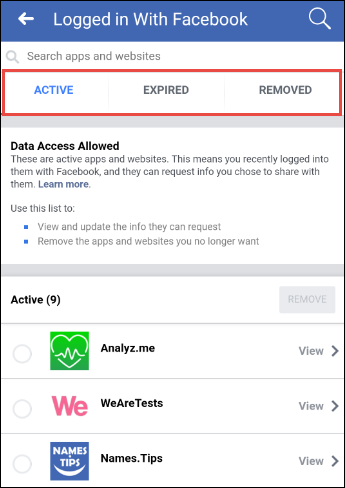 A new page will open where you will get all apps that logged in through Facebook. This page contains three tabs i.e., Active, Expired, and Removed. Using these tabs you can filter the apps that are no longer required and this process will protect your information on Facebook. Let's take an overview of these tabs.
Active Tab: In this tab, you will get all those apps which are currently logged in. They can ask users to share their details with them.
Expired Tab: Here you will get the list of those apps which are not in use more than 90 days. The admin of that app can access your private data from their database, but cannot ask to share the information.

Remove Tab:It contains the list of removed apps and website from the account. They cannot ask for private information until you won't activate them. You can active these apps again.

Note: Whether the app has been expired or remove, the app developer still have your shared information in their database. Which was collected when the app was in active state in your account.

Use Two-factor Authentication To Protect Your Information On Facebook

In two-factor authentication method, you will get a key code that allows to using a third-party application like Duo Security or Google Authenticator for security code generation. The third-party app can be utilized to sign in to Fb account when you may not have access to Code Generator in Facebook app. You can log in when your device not connected to server. Follow below-mentioned steps while using a third party app:
Click on Settings and Privacy
Scroll down to select Code Generator
Now follow the on-screen instruction
A new page will open and you receive a text A new security code will appear every 60 seconds. After successfully added a key code you will a six digit security code and this code will change in every 60 seconds.
Analyze the Privacy Settings to Secure Facebook Data
To protect your information on Facebook it is necessary to examine the privacy settings of Facebook. You can mark data as Public, friends of friends, friend or only me. These settings can be changed from About section Profile page of Facebook. Data and information can be well protected by selecting the correct process. It makes very tough for other third-party apps and third person to access your information. This process can secure Fb account from hackers and data breach.
The Last Lines
Data and personal information cannot be shared just because of some silly mistakes. Social media specially Facebook plays an important role in our daily life. Moreover, we are addicted to it so we start to think about it that whether to delete the account or not. So, instead of removing Facebook you can protect your information on Facebook. Opt the above-mentioned tips and secure Fb account from hackers and data leak scandal.