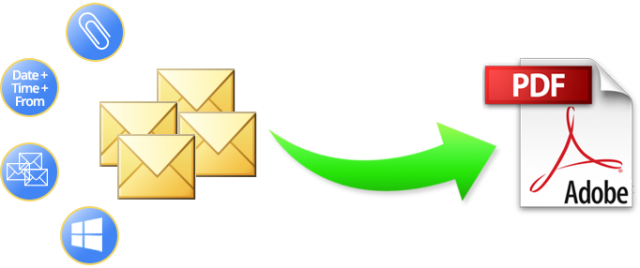 As we all know that Outlook is an email client of Microsoft, saves all its individual messages in MSG file format. When users need to save Outlook MSG as PDF, it becomes a headache. As manually viewing MSG files and saving it to PDF without Microsoft Outlook is not feasible, there are some commercial third-party tools that can save MSG files. SysTools Batch MSG to PDF Converter is also a brilliant software that can solve this issue. Any MSG file with attachments can be read and converted using this software. Here we will discuss this MSG File to PDF Converter tool and its features. Keep reading to know more about MSG Viewer Pro Application and its merits.
MSG File to PDF Converter to Save Outlook MSG As PDF With Attachments
MSG Viewer PRO is the leading software that allows users to view and save Outlook and Exchange MSG files to PDF. It is also possible to view MSG file with attachments to PDF by using this application. If necessary, users can also convert MSG files into PDF format. Every MSG file is saved in a different PDF file. A number of views are available for reading MSG files like Hex, Properties, MIME, Header, etc. Users do not need Outlook on their system to run this application. MSG Viewer Pro supports all Windows OS versions.
System Requirements for MSG File Viewer Pro
To use MSG Viewer Pro software in order to save Outlook MSG as PDF, user's system should fulfill these minimum requirements:
Operating System: Windows 10 and all below versions
Processor: Minimum 1 GHz (Recommended 2.4 GHz)
RAM: 512 MB (Recommended 1 GB)
Free Disk Space: 10 MB free space
Software Prerequisites of MSG Viewer Pro
Open the program as "Run as Administrator" while using on Windows 10/8.1/8/7 or Vista.
Highlighted Features of Tool to Save Outlook MSG as PDF
View MSG Files with Attachments: Attachment is an integral part of most of the emails. If users cannot open the attachments while opening emails, the purpose of opening those emails remain incomplete. MSG Viewer Pro opens all types of an email attachment that come with emails in the same interface.
View MSG Files in PDF Format: Among other features, this product works as MSG File to PDF converter because it can save Outlook MSG as PDF. This software will smoothly convert the MSG files into PDF and save each MSG file as a separate PDF file. Besides converting MSG email messages, it also converts email attachments.
View all Email Information: Each email contains a lot of information apart from the body part. The information is usually kept hidden from the senders and recipients. However, users can easily access the information using this program. The information includes a header, properties, MIME, etc.
Search Messages within MSG Files: This program will let the users find out any single email from all the MSG files. Users can search for their desired message by using the filtering option. The searching can be done by the subject of the email, any word or phrase, etc.
Auto-locate Folders Containing MSG File: MSG File to PDF Converter to save Outlook MSG as PDF has been developed using the latest technology. Therefore, it is capable of automatically locating MSG files. Even if the user is unaware of the location of MSG file in the system, the software will find it on its own.
Pros and Cons of the Software
There are numerous benefits of using this application to view MSG files without Outlook. The most important merit of this product is its ability to save MSG as PDF. As we all know, PDF is a globally acclaimed file format because of its portability. Once users convert MSG file to PDF, it can be easily shared. Also, it will automatically load MSG files from the system. Users do not need to select the MSG file location. This program also offers dual-viewing mode: horizontal and vertical. Users can choose any one mode as per their choice. On the other hand, there are no such demerits worth mentioning. The software's incompatibility to run on Mac system can be considered as its only demerit.
Conclusion
Sometimes, users face the problems to save Outlook MSG as PDF, especially if they do not have Outlook installed on their system. Many tools available in the market claim to solve the problem, but I have found most of the programs to be completely ineffective. However, this software satisfied me with its flawless performance. It allows users to view MSG files without Outlook installation. I am glad to rate MSG File to PDF Converter Software 9.6 out of 10 and hope that it will bring some more useful features in future.