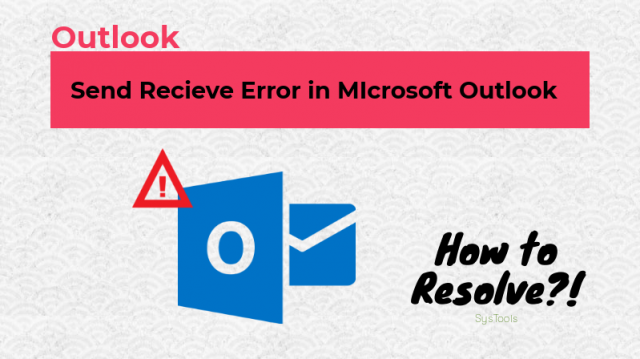 Microsoft Outlook: the widely used email client all over the world is facing various errors in it. If your searching for a solution to fix send receive error in Microsoft Outlook account, then refer the following section to know more about it.
MS Outlook is an email software program by Microsoft, using which users can send and receive email on their computer. It is the best email client in today's world as it acts as an effective tool in making our day to day work easy. Similar to other applications, it also has various types of issues. In Microsoft Outlook, if something does not work properly it will show an error. Errors inform users that some incorrect action is taken which is needed to be corrected. Most common errors occur in Microsoft while sending and receiving messages. So, this segment discusses how to fix send and receive error in Outlook that causes trouble while sending and receiving email messages from Outlook 2016 and all other versions.
Quick Solution: The best and reliable third party software to repair Outlook PST files is Outlook PST Repair Tool. The application can easily fix Outlook errors and issues efficiently without any data loss.
Some Send Receive Error in Microsoft Outlook
The target machine actively refused to make a connection.
Server could not be found.
Task 'server name – Sending and Receiving' reported error (0x800ccc0f).
Connection terminated by server unexpectedly. (Causes – Server Problems, Network Problems, or a long period of inactivity).
Task 'SMTP server name – Sending and Receiving reported error (0x80042109).
Operation timed out waiting for a response from the receiving (POP) server 0x8004210a.
While communicating with the server 0x800ccc19 time our occurred.
Some of Error codes: 0x800ccc15; 0x80042108; 0x800ccc0b; 0x800ccc67; 0x80040900; 0x800ccc81; 0x80040119; 0x80040600.
Error code: 0x8007000c.
Outlook Error code: 0x800C013b.
Error code: 0x8004210b.
Bug in update KB2412172.
Ways to Resolve Outlook Send and Receive Error
Step 1: Must test the Internet Connectivity
To test the internet connectivity one must open any web browser and just enter a web address like "https://ww.google.com/". If home page opens with a normal speed then internet connectivity is fine. This is a basic step to resolve send receive error in Microsoft Outlook. Now, in this case just switch to the next method to fix the problem.
Step 2: Suspected Messages must be Deleted from the Mailbox
It can be possible that email-virus may present in any of the mailbox messages. The spamming filter of Outlook is very powerful but you must check the email virus. Delete the suspected message by opening the Webmail account.
Step 3: Using Anti-virus Program to Scan Emails
There can be some disadvantages of integrating virus scanner with MS Outlook:
Errors occurring while sending or receiving email
Duplication or Deletion of emails can take place
HTML code of emails visible
Mails can be stuck in Outbox Folder
Virus scanner integration can be disabled with Outlook to fix send receive error in Microsoft Outlook by some easy steps:
For Outlook 2003 and older versions:
Open the Tools Menu, move down to Options. Now, click on the Other tab and choose Advanced Settings.
Click on COM Add-Ins button or Add-In Manager
Now according to add in that has to be disabled
For Outlook 2007:
Open the Tools menu and drop-down to Trust Center and choose Add-Ins from the left pane.
Click on "Manage" drop-down list, at the bottom of the screen and disable the required add-in.
For Outlook 2010 and 2013:
Open the File menu, click on Options and select Add-Ins.
At the bottom, click on "Manage" drop-down list.
Select Add-in category for disabling anti-virus.
Step 4: Microsoft Outlook Repair
If Microsoft Office installation is to be corrupt, then the best idea to execute is to re-install it. One other option is also available is to repair it.
Note: The Repair option is available for only Office 2010 and 2013 versions.
Open Control Panel and choose the program that has to be repaired
Now, right click on it and choose "Quick Repair or Online Repair" option
By following these steps, files may be fixed and probably Outlook will function again.
Step 5: Run Outlook in Safe Mode
To start Outlook in safe mode, hold the CTRL key and click on the application shortcut.
A confirmation will be asked if you want to start Outlook in safe mode? Just click Yes.
Step 6: Check Email Account Setting In Outlook
When Outlook is not configured properly, then it can result in send receive error in Microsoft Outlook 2016, 2013, 2010, 2007, 2003 etc. One should check the following Outlook account settings:
Check the email address of account with which Outlook is configured
Now check the type of email account: IMAP, POP3 or HTTP
What is the Username and Password entered
Name and Address of POP3 or SMTP Server
Check if Password Authentication is needed
And check email port numbers also
It is recommended to correct the details or delete current account and configure it again if nothing seems wrong to solve send and receive error messages in MS Outlook account.
Step 7: Delete Messages Stuck in Outbox
Sometimes when a user sends a heavy file through Outlook, it gets stuck in Outbox. When the user tries to delete this message, an error message occurs. So, to work around, first enable the "Work Offline" mode of Outlook and then delete the message. After this again activate the "Online" mode of application.
Step 8: Increase the Server Time – Out
Basically, the time limit for which Outlook should wait for Server to respond to send and receive request is known as Server time-out. By default, the server time-out is 1 minute only; which is very low. For example, Largely sized emails get stuck in outbox, which is because less time is set for sending the message and server may also take time for responding to its completion.
Step 9: Run MAPI Repair Tool
If mapi32.dll file is corrupt then the error can be encountered while sending or receiving Outlook message. Just run MAPI Repair Tool to fix the Outlook email error.
Step 10: Mail Address Incorrect In SMTP Distribution List.
Sometimes errors are also caused by an invalid email address. This results in error 0x8004210b that cause message failure. Therefore, it is recommended to test the email address before sending emails to the required person in the distribution list.
Professional Method for Outlook Send and Receive Error
If send receive error in Microsoft Outlook are not fixed by the manual method. Then a user can go for a professional approach. SysTools Outlook PST Repair Tool is the best solution for all MS Outlook send and receive error messages. This tool can be used by even a non-technical person as it is easy to operate because of its user-friendly interface.
Conclusion
If a user faces trouble while sending or receiving an email, the user must select manual method first. If the errors are not fixed, then the professional method should be adopted. It is important to fix send receive error in Microsoft Outlook 2010, 2013, 2016 etc. as they can affect the system in a negative way. So, it totally depends on the user, which method to choose to fix Outlook send and receive error messages effectively.