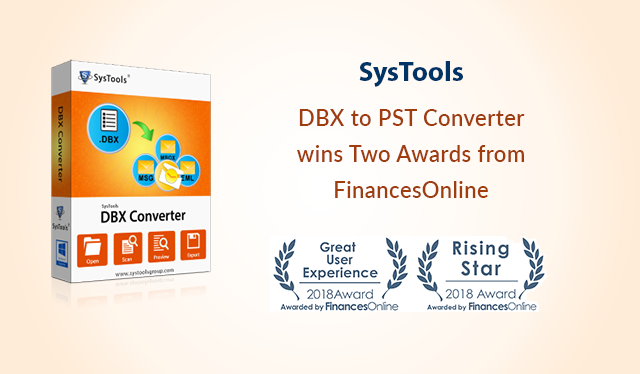 SysTools DBX to PST Converter is one the major product of SysTools Family has recently got the Great User Experience and Rising Star award by FinancesOnline. It is also listed as one of the best software in email conversion and email migration category.
SysTools is proud to announce that reputed business software directory FinancesOnline has honored our migration tool with its Great User Experience and Rising Star awards. DBX Converter also received praises from FinancesOnline, with their experts stating that our software swiftly and securely converts and migrate DBX files to various formats such as PST, EML, MSG, and MBOX.
SysTools Aims to Built Product Simple By Simplifying Technology
The SysTools philosophy of simplifying technology is recognized by this award. SysTools always dedicated its award, product, and services to its valuable customer. This is what SysTools believes in. Customer satisfaction is not the one-time goal and we are continuously working on it to make it better each day. Getting this award is another milestone added to SysTools journey. This will drive us to achieve excellence and add something new to SysTools Family.
SysTools Dedicated This Awards to Its User
FinancesOnline awards its Great User Experience distinction to personal email management software solutions that are equipped with tools that allow users to easily and efficiently accomplish their tasks. Their experts emphasized on this aspect in their review, stating that SysTools DBX to PST Converter easily gets the job done without the need to install Microsoft Outlook. Functionalities FinancesOnline highlighted include batch exporting, instant identification of DBX files, the vast selection of file preview styles before migrating, and format-free migration and save the selection of files.
SysTools DBX to PST Converter Emerges as Rising Star in Email Management Software
SysTools was also distinguished as a 2018 Rising Star due to the high positive personal user feedback of clients and our ever-increasing popularity on the market. FinancesOnline also found SysTools to be one of the best of the best, as they included it in their top 10 communication software solutions. FinancesOnline also states that software systems with this award are perceived to be as really efficient in solving one's problems.
The Final Words
These distinctions from FinancesOnline show that SysTools DBX to PST Converter is the premier tool for conversion and migration of Outlook Express to Outlook. Make sure to check out our review on FinancesOnline and share how SysTools helped you convert files.