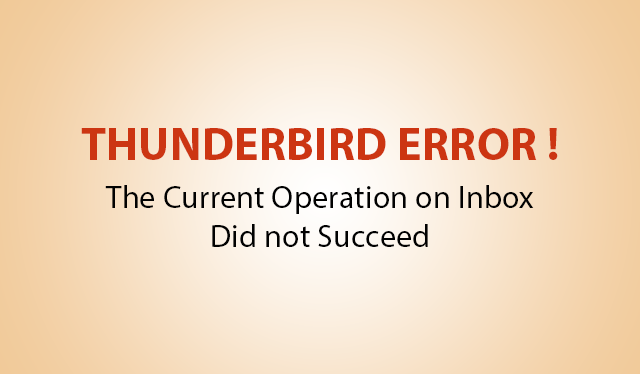 "I am using Mozilla Thunderbird for a long time. My entire email communication is dependent on it as it contains all my important email messages. It was so comfortable to use until the last week when I started getting an error i.e. The current operation on Inbox did not succeed. I have tried some solutions to fix it but I am not able to remove the issue. Can anyone please provide me with a working solution?"
Many users who are using Mozilla Thunderbird as their email application are getting this issue. Due to this error, they are unable to access their email data which hampers their work. In such situations, rectifying the issue should be the first priority. But, the users don't have the technical knowledge to resolve the error. Thus, in this article, we will discuss some solutions that help in fixing "The current command did not succeed" error.

Do note that this error is not just limited to the Inbox folder. It can occur in other folders as well, such as Sent, custom folder, etc. The following queries taken from different forums show how sudden the error can appear in your Thunderbird application:

---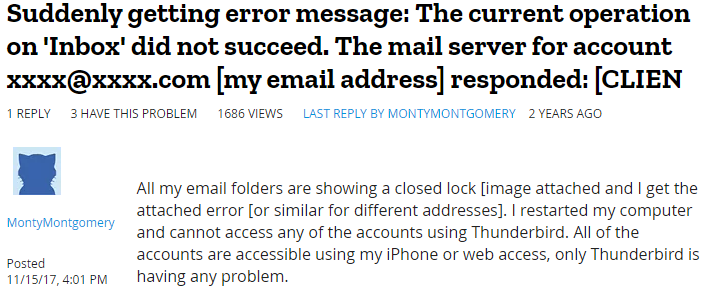 Resolve The Current Operation on Inbox Did Not Succeed Thunderbird Error Manually
Till date, no official solution has been released by Mozilla or any other concerned webmail service provider to rectify this error. So, we dug up every possible corner of the web that we could find. And looking for the solutions that have actually fixed "The current operation on Inbox did not succeed" error in the past or has the potential to do so. Feel free to go through these techniques in the below section.
I. Repair the folder
If the mailbox allows you to access its properties, you can try repairing it. To do this, follow the given steps:
Right-click on the Inbox folder.
Select Properties
Click on the Repair folder.
Restart Thunderbird to see if the error is resolved or not.
II. Delete the mailbox index file and let Thunderbird recreate it
This is technically called the rebuilding or reindexing process. Thunderbird stores an index file for each of its mailbox folders. This file if corrupted can result is several errors including the "The current operation on Inbox did not succeed" error. To rebuild the Inbox folder, do the following:
Right-click on the account name and open Settings in which the error oriented folder resides.
Go to Server Settings.
Look for the local directory on the right-hand panel.
Copy and open this directory in your system.
Close Thunderbird.
Look for Inbox.msf file in the directory and delete it.
Start Thunderbird and see if the issue is resolved.
III. Disable all add-ons and restart Thunderbird
Sometimes, the problem is bad and incompatible add-ons. You can start Thunderbird in safe mode or simply disable all add-ons and restart Thunderbird. This should get rid of the error "current command on Inbox did not succeed"
IV. Create a new profile and reconfigure the account in it
If worse comes to worst, you always have the option to create a new profile in Thunderbird and configure the account in which you were having problems. If what you used was IMAP account, a simple reconfiguration of it in Thunderbird will resync the emails and give u access to the folder.
However, if a POP account was used, no worries, copy the local directory storing all the MBOX files and store it someplace else. Then, reconfigure the account, and point the local directory location of the account to the copied directory.
To know the location of the file and to point it to another location, simply go to Settings > Server Settings > Local directory.
V. Uninstall the Thunderbird application and reinstall it
The last solution is to completely reinstall the Mozilla Thunderbird application. If you are using POP accounts, don't forget to save the MBOX files of those accounts at another location.
If you do not know what the account type, simply right-click, go to Settings > Server settings and see if its POP or IMAP.
Still Unable to Resolve the Problem?
In that case, the only thing you can do is wait for it to get resolved on its own. Yes, that may sound weird, but this error has the tendency to come and go after a while on its own. A lot of users who encountered such problems have experienced it firsthand. An example is as follows:

Or you can simply switch over to other email platforms. There is a boatload of email clients, both free and paid, available on the internet. There is also an option to simply use the webmail account to access the emails. And not use the email client at all.
This may not sound like a solution to fix the current operation on Inbox did not succeed error in Thunderbird. But it is an effective way to maintain your workflow with minimum damage.
Note: If you have decided to leave Mozilla Thunderbird and switch to other platforms such as MS Outlook, do take a look at SysTools MBOX to PST Converter. It preserves formatting, attributes, and structure and easily migrates your data over to the Outlook platform.

Concluding Lines
Errors generally occur when you least expect them. And this really hampers the workflow of any user. The same is the case with users of email clients such as Mozilla Thunderbird. A sudden error on the mailbox folder like 'the current operation on Inbox did not succeed' leaves people in disarray. "What will happen to my data?" is probably the most concerning issue for such users. Therefore, with this article, we tried to deliver some solutions to this issue. Hopefully, your problem is now resolved and is back to work again.