All Possible Solutions to Export Thunderbird Contacts to Gmail
Everyone must be aware from the fact that technology has turned the world into a global village. It means that the virtual distance between the population of this world has been reduced to such an extent that it can be called a village. Modern time technology has given us so many modes of communication, for example, email.
Email is a mode of communication among people which can be used for multiple purposes like professionals use to migrate Thunderbird Contacts to Gmail when they face problem to export address book from Thunderbird to Gmail.

Let's take a look at query of a customer from a technical forum regarding the migration of contact from Thunderbird into Gmail.
"I used to have a Thunderbird Email account in the system of my home for personal use. Last month, I got admitted to the Ph.D. program. My University uses customized Gmail account for all the people associated with the University. I will be using that Gmail for next 4 years. This is the reason I want to export Thunderbird address book to Gmail contacts so that I can still be in touch with my old friends and family members, even from my University. Is there any easy solution to this migration process?"
The problem is not a unique one. There are many people who have faced the problem. For their convenience, this article will discuss the techniques of exporting address book from Thunderbird to Gmail. Before going to the steps, have a quick glance at the reasons behind this export process.
Why Migrate Thunderbird Contacts to Gmail
The requirement to transfer contacts from Thunderbird to Gmail lies on the fact that Thunderbird is a desktop based email client, which means all its data is saved in the system, not on the server. On the other hand, Gmail is a cloud-based email client. Its data is stored on the server, not in the system which means the Gmail contacts can be accessed from anywhere. If someone wants to access Thunderbird contacts from another system, it will not be possible. Therefore, the necessity to import Thunderbird contacts into Gmail arises.
How to Copy Thunderbird Address Book to Gmail
Here is the procedure to transfer Thunderbird contacts to Gmail. The overall process can be divided into 2 parts.
First, Convert the Thunderbird Address Book into CSV file.
Second, Export the CSV file into Gmail account.
The steps of creating the CSV file from Thunderbird Contacts are given below:
Saving Thunderbird Contacts as CSV:
1. Open Thunderbird Email client from the system.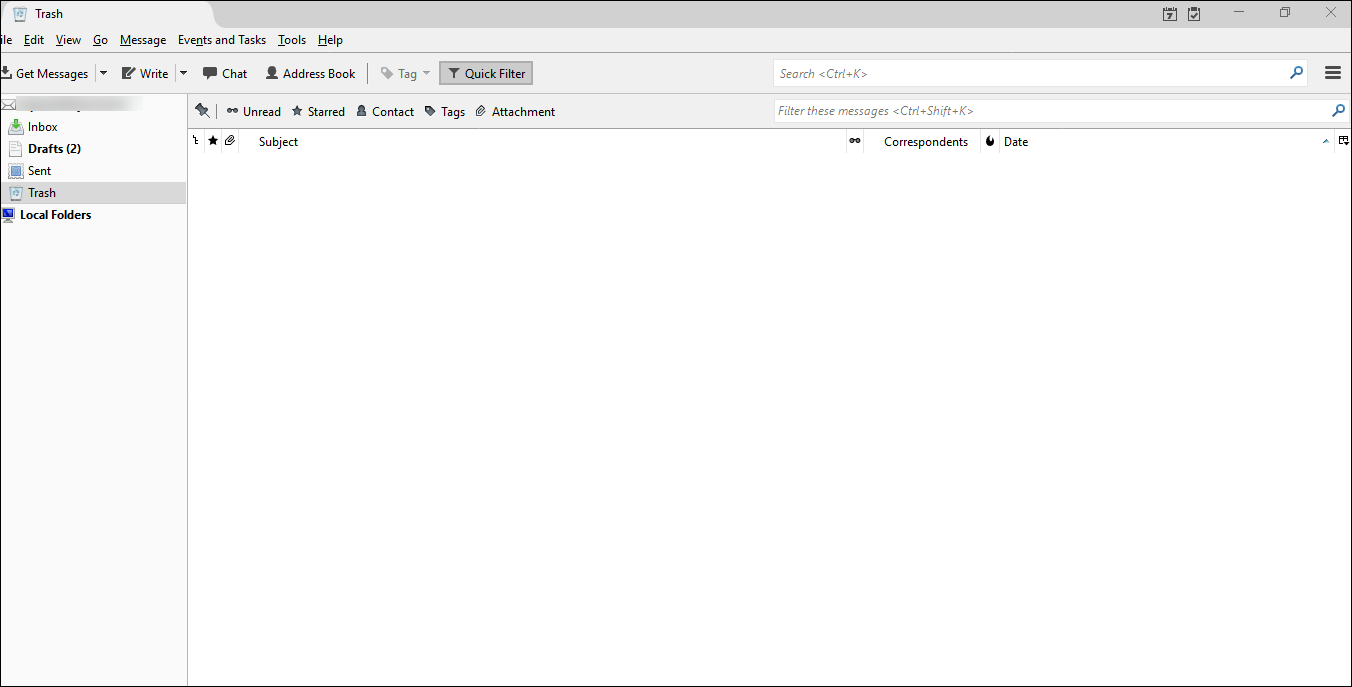 2. Look at the Menu bar, you will find the Tools option. Click on that to find the option of Address Book.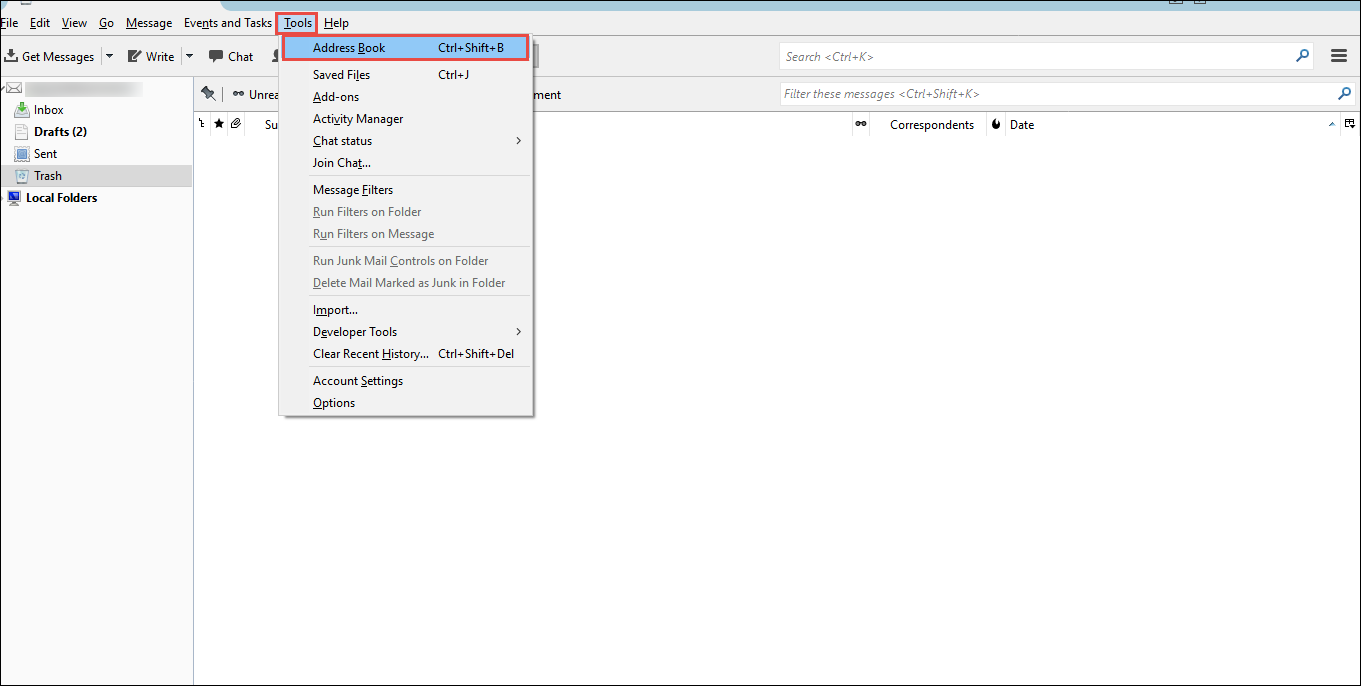 3. Click on Address Book, a new window will pop up showing all the components of the Address Book. On the left side of the window, you will see Personal Address Book and Collected Addresses.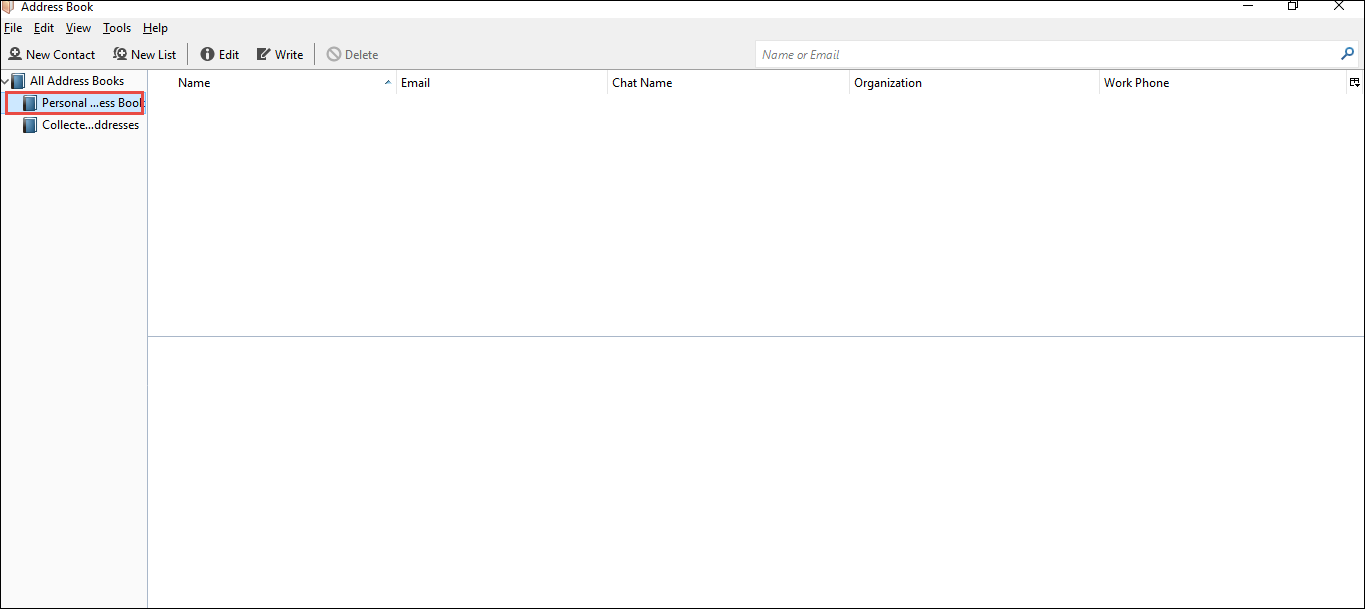 4. Highlight the Personal Address Book option by clicking on it. Now click on the Tools option above and choose Export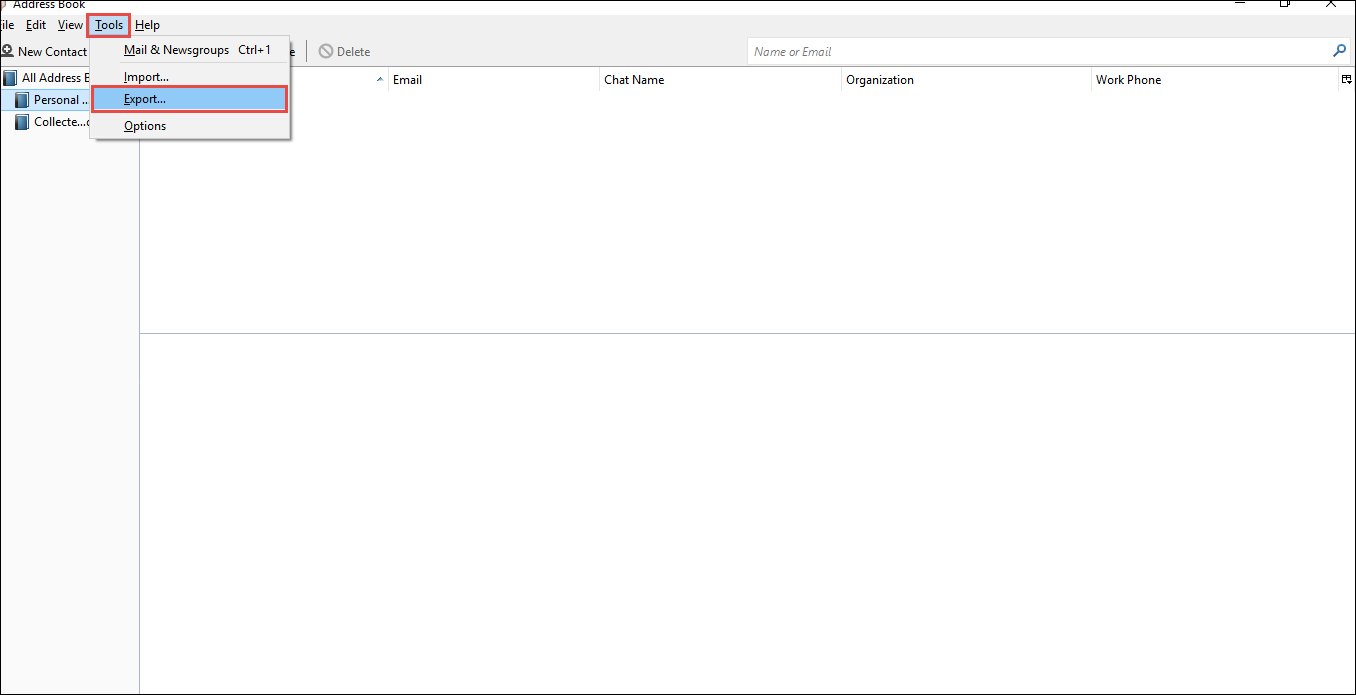 5. Another window will appear with the option of choosing the destination location, file name, and type. Choose Desktop to save the file, set Contacts as File Name, and most importantly, set the File Type as CSV (Comma Separated Value.)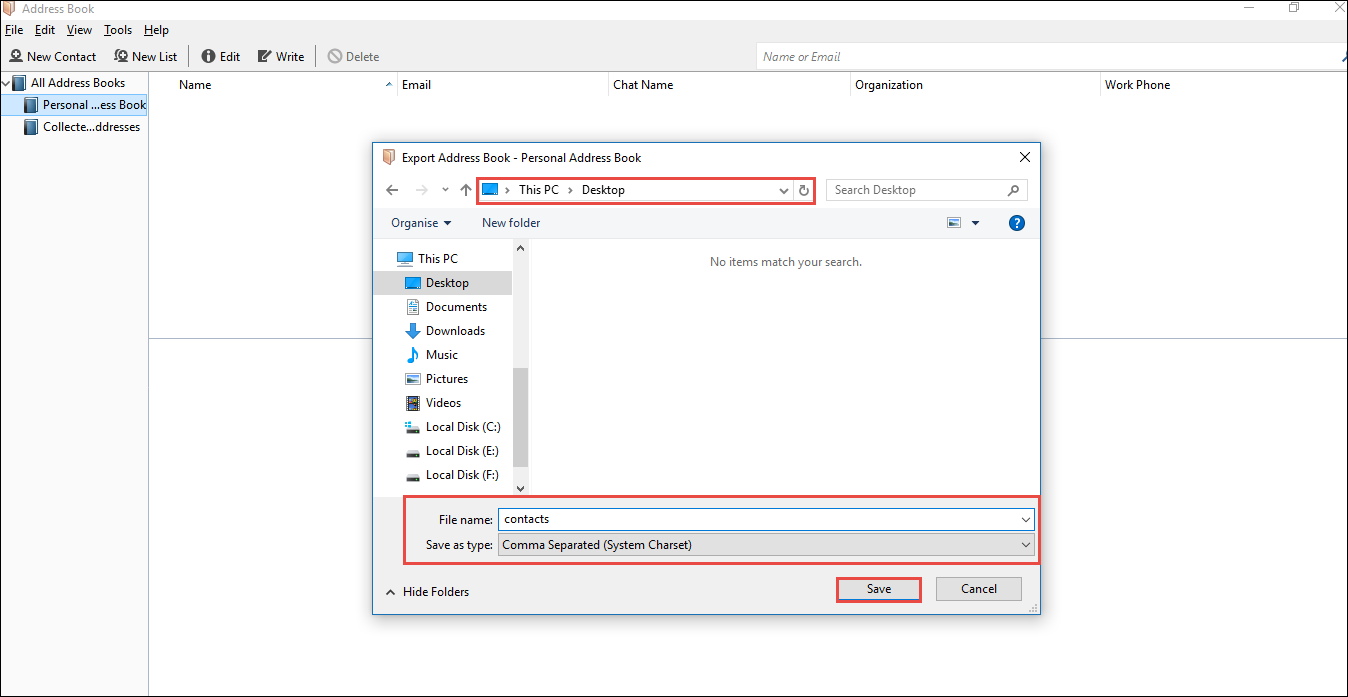 Issues while Creating the CSV Files
Many times, this has been observed that users face problem while creating CSV files. In case of CSV file not being created, the header and columns of the Excel Workbook are needed to be reformatted. If you are unaware of the method on how to create CSV files then, this method is a hard task for you. Even after reformatting there is a chance that it will not get saved. Then, you need to save another CSV file to export Thunderbird Contacts to Gmail. Thus, this whole process can become time-consuming and troublesome. To get rid of this trouble, users can always opt for the easy solution of using third-party tools.
SysTools MAB Converter is an all-rounder tool that can perform various tasks including exporting Thunderbird contacts saved in MAB format to CSV format without any hassle. You can use it for various purposes such as to export Thunderbird Contacts to Office 365.
You can search and add MAB files either folder wise or file wise. This software allows you to switch between the vertical and horizontal mode of viewing. The best part of this tool is that it can convert MAB file of any size. So, whatever may be the size of your Thunderbird Contacts, you can remain assured that none will get left out during the exportation of Mozilla Thunderbird address book to Gmail if you use this tool.
With the help of this application, MAB files can be easily saved to CSV files. After CSV file formation is done, the user can go ahead with the steps to export Thunderbird Contacts to Gmail.
Exporting CSV File to Gmail
After the CSV file has been created, it is necessary to import contacts from Thunderbird to Gmail by using the below steps:
1. Open Gmail account on any browser and click on the reverse triangle on the top left corner beside Gmail to get a drop-down menu. From the Menu, Click Contacts.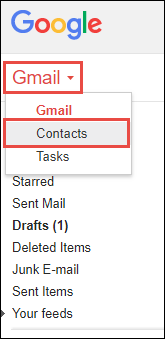 2. A new tab named Google Contacts will open. Click on Switch to the Old Version.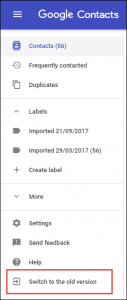 3. The page will refresh and the option of Import Contacts will appear. Click on this option.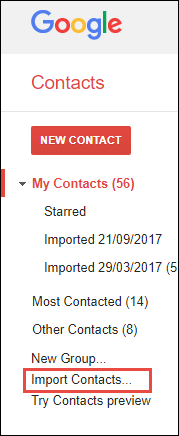 4. A window will pop up to let you choose the file. Go to Desktop location and select the file contacts.csv. Then click on Import button to import it to Gmail.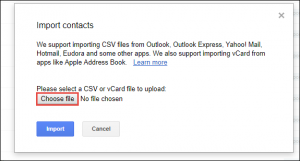 5. After the Import is done successfully, a new group will appear under My Contacts named "Imported – Date of Import".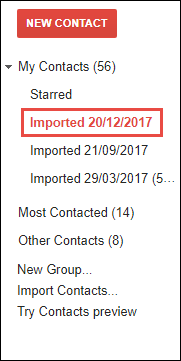 6. Now you can go back to using the Gmail normally. From next on, all the contacts from CSV files will appear in Gmail.
Final Thoughts
Everyday new technology is being invented to make our lives easy. There is no reason why a user should be left behind from using the up-to-date technology. The export operation of the Address book from Thunderbird can be done easily with the technique mentioned above. In case any problem appears during the manual procedure, users can take the help of SysTools MAB Converter. With the help of this application, all migration problems regarding Thunderbird contacts to Gmail can be resolved.