There are lots of options available in market for cloud storage facility, of which some are Google Drive & Microsoft SkyDrive. At times, G Drive may not meet needs of company or individual user. In such cases, they look for ways on how to migrate from GDrive to OneDrive. There are more benefits and advantages to replacing company policy. It is much faster, convenient and powerful technology. It cannot hurt to learn little more about this product and switch the cloud storage. Here is little more information on this topic.
User Query: "I have lot of users who complain about G Drive and its usage. We have finally decided to move our cloud storage base from GDrive to SkyDrive. It sounds like plan but we have no idea how to proceed. We have been asking and confirming with experts who can make this transfer happen for us. It has been difficult finding budget for such professionals. We were looking for some help in this regard. Can anybody help me with this?"
User Query: "I have been searching for good cloud storage solutions online. I have small business that I run by myself. I would go for free options wherever possible. I was looking at some options and found GDrive as one of apt solutions. I have decided to upgrade my Google drive to Microsoft SkyDrive. It is small procedure and I am sure will not take much time. Honestly, my drive is too cluttered and I could use extra storage space. Can anybody help me find method for this conversion?"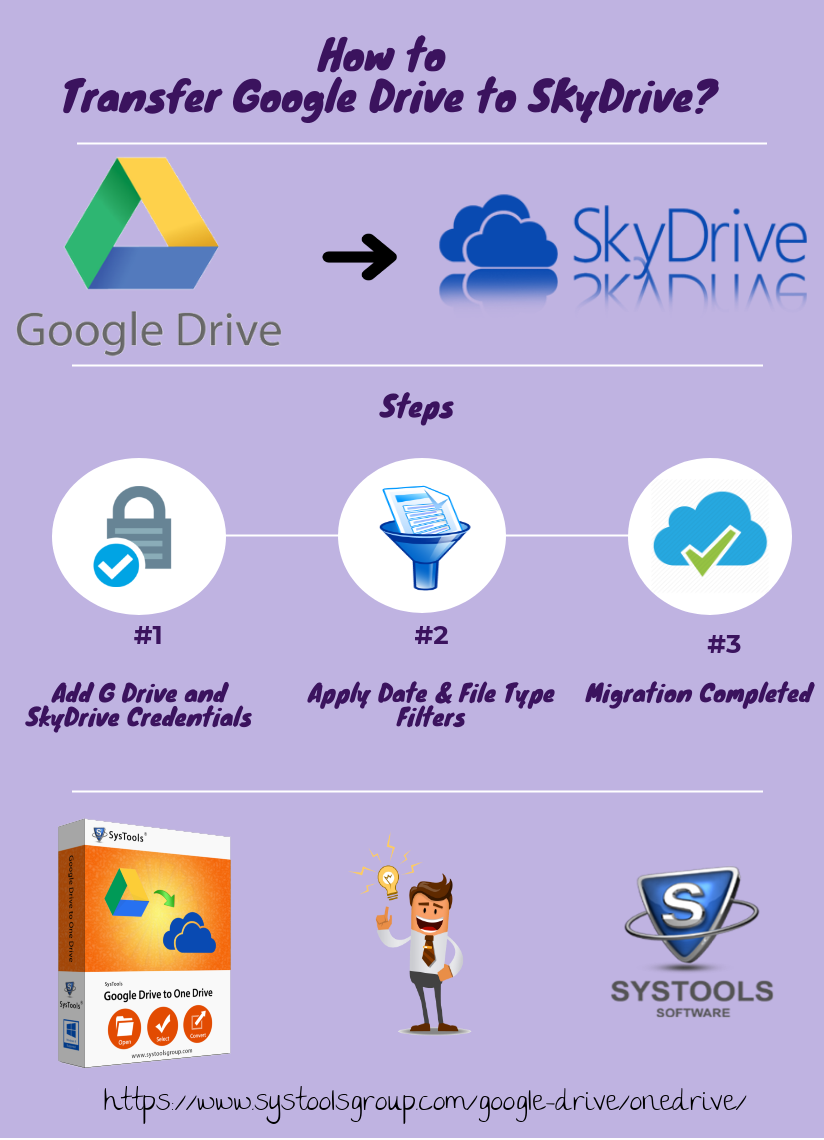 Reasons to Transfer File from Google Drive to SkyDrive
Following are some of common grounds that enable users to replace their existing cloud storage:
Smarter, cost-effective and obvious choice
Better support and advanced technology
All same functionalities as Google framework
No need to train employees specifically for using SkyDrive
It is easy-to-use, user-friendly and anybody can use it on their own PC, laptop etc.
How to Transfer Files from Google-Drive to SkyDrive?
Solution#1: Download Gdrive Files to Desktop
First, log in to Google Drive account
Then, choose files that need to export
Then, click on Download button to save files on physical drive
Finally, login to SkyDrive and upload to cloud one at time
Solution#2 Upload GDrive to SkyDrive
First, login to Google account and go to Personal Information & Security >> Create Archive
Then, select the Apps data from which need to be downloaded and click Next button
Then, set options for file type and Maximum Archive Size
Then, choose Add to SkyDrive as the delivery method and click on Link Account & Create Archive
Next, provide credentials for SkyDrive on Microsoft page which appears
Now, transfer process will be initiated. Wait for it to be complete to proceed forward. It may take couple of hours depending on size of files
Finally, download ZIP file and extract documents
Another Way to Transfer Google-Drive to Skydrive
There are professional solutions available in market that can help transfer G-Drive to SkyDrive files easily. These are automated tools designed specifically for export purposes. It is often than manual methods do not work. Professional Software like GDrive to SkyDrive Migrator can help replace those unreliable means. These applications are efficient, accurate and user-friendly. It is small cost to transfer important files with guaranteed no data loss. It also moves three types of permissions ie. Read, Write and Comment. It allows users to change default permissions while moving documents. Tool is compatible with all latest versions of Windows 10/ 8.1 / 8 / 7 / XP / Vista.
Conclusion
Part of any company policy is to find best and cost-effective solutions. It is important for administrators to look for new technologies that work within company's budget. Not all available options from leading brand may meet organizational needs. One can benefit to learn how to transfer file from Google Drive to SkyDrive. It is much better way to secure confidential company and client data online. Not every cloud storage can prove to be beneficial. It is up to higher-ups to decide. For faster export, manual methods and automated third-party tools have been mentioned in this post.