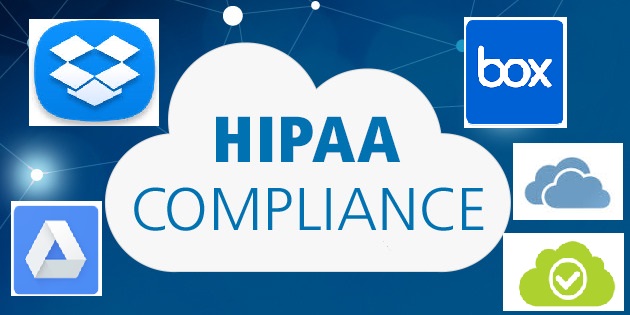 Many of the healthcare organizations around the world are expanding their work with cloud computing. It includes the factors like cost-efficiency, flexibility, and scalability. There is no doubt in saying that cloud system makes file sharing and accessing easy for users but, the bulk presence of today's security risks are well enough to give birth to CASB category. However, it is essential to know how cloud adoption will impact industry regulations before the implementation of any solution takes place. It is also important for an organization to conduct the deep research and analyzes on the chosen cloud storage. Being a healthcare organization, it is necessary to check the HIPAA-HITECH compliance while choosing the cloud service. Choose best HIPAA Compliant Cloud Storage services amongst many.
CloudCodes team have collected the 5 major cloud storage service providers, which are HIPAA compliant. Before we directly read about these five HIPAA Compliant Cloud Storage services, let us have a look at the importance of cloud computing in Healthcare firms and impact of HIPAA-HITECH in cloud services.
Importance Of Cloud Computing In Healthcare Organizations
Following points will help one in understanding the additional benefits to rely on cloud services for the work:
Regular Updates: Any update in security rules or cloud applications is done instantly just after its office release or announcement. Cloud storage and cloud hosting helps in updating the older version of things to the newer ones.
Data Exchange: Now it is simple to share the patient report between doctors, healthcare systems and medical centers around the world. One just need to go the online and share the data that should hold all the HIPAA privacy rule.
Starts with Low Cost: In the beginning, healthcare firms can pay small fees to use the HIPAA Compliant cloud storage provider. However, one point will come where enterprises have to pay complete cost for using all services of cloud.
Disaster Recovery Reduced: Disasters like physical information security and damage gets subtracted when IT professionals adopt cloud computing. There will be no such trouble faced by end users while working with cloud storage services.
Occupies Less Physical Space: Instead of storing records in paper form, healthcare can make them computerized and save on cloud for reliability. This will reduce the storage space that is needed to store and manage the bulk of files in a room where only patient's records are saved.
Role Of HIPAA Compliant Cloud Storage Services
After the data breach incidence of unprotected PHI, the HITECH Act appended a notification that covers all the entities and business associates identification with OCR. The overall database of OCR breach says that the bulk of reported cases are caused due to lost or stole of mobile devices, laptops, and all the portable media like thumb drives. A properly implemented cloud platform will be capable enough to troubleshoot the security challenges on those endpoints.
If the PHI is stored on behalf of healthcare organizations then, the service becomes a business associate that necessarily demands HIPAA compliant. The data integrity, privacy, and accessibility will be controlled by a trusted HIPAA compliant cloud storage. The role of HIPAA is not up to the administrative level but, it also deals with security at physical and technical level.
Top 5 HIPAA Compliant Cloud Storage Services
Following illustrated cloud storage services provide the HIPAA support with BAAs and data encryption at rest and transmit state:
Dropbox (Business): In the year 2015, the organization officially announced the support for HIPAA-HITECH Act compliance. It is providing BAAs for the customers of Dropbox Business. The administrator is having right to acquire control over the user access, track report of user activities, review & remove synced devices, and activating the two-step authentication.
Box: In the year 2013, Box supported HIPAA-HITECH and is now actively helping a lot to its healthcare customers. Enterprise accounts are benefited with BAAs. Well, the features provided access reporting, audit trail and monitoring for the user as well as content. It also includes granular file authorization and creates a secure working environment in the cloud. It permits a secure viewing of DICOM files and allows them to share in a secure way via direct message protocol.
Google Drive: Google is offering the BAA for customers using G Apps for Work. It includes Google Docs, Slides, Sheets, and Forms along with all the Gmail services. Activities like application tracking, keeping an eye on users activities, file sharing permissions, and audits, can be controlled by the account administrator.
Microsoft OneDrive: By enabling BAAs for the cloud services of the enterprise, Microsoft is also supporting HIPAA-HITECH Act. Also, it adopts additional practices to offer best cloud data security to the healthcare organizations. It provides advance level of security management to assess the security risk and gain insights into the cloud threats and advance eDiscovery.
Carbonite: Customers who are using Carbonite are also offered with BAAs. This will help in safeguarding offsite backup for the disaster recovery and compliance with the regulation of Massachusetts data security. The data encryption will be provided both on cloud as well as on the local endpoints in the transition state also.
Conclusion
The basic step to determine the best among all HIPAA compliant cloud storage is to check whether PHI is encrypted or not. After this, the role of OCR is also important for the risk assessment as well as management. It should be the practice of an organization to conduct the comprehensive security risk assessment and check that all the processes, technologies, and policies are at the correct place to mitigate risks.