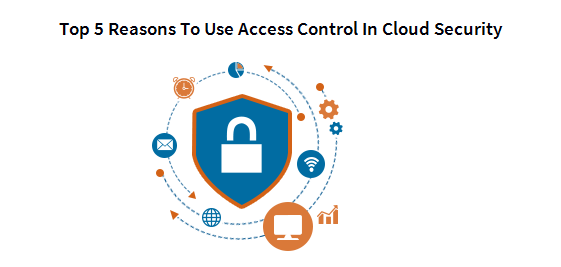 Are you updated from the news that phishing Cyber attacks are targeting on the cloud storage services? The threats made nearly 23% of all the security attacks that got increased over the last 4 years. This strategy is adopted by attackers via gaining business account credentials and using them for their benefits. However, the crime does not stop here! There is a variation in phishing method where attackers deliver Ransomware to targeted systems. They pretend as if they are from government agencies, business partner agencies, schools, and other core infrastructures. Continue reading to know the importance of Access Control in Cloud Security.
Well, due to the reduction of cost from cloud storage and increase in productivity, businesses are openly adopting cloud computing services. Nowadays, keeping data safe in the cloud is a big challenge in an IT field. This means that being a cybersecurity team leader you have to make useful recommendations and apply best practices for cloud enterprise security. Among all, one of the best ways for online data protection is to use data access control in cloud security.
The blog illustrates top 5 reasons due to which it becomes essential to adopt information access control techniques in cloud computing.
Reasons to Use Access Control In Cloud Security
The security of public cloud is not in hands of organizations but, protection of private data cloud is possible. In an on-premises environment safety measures are there to protect cloud environments, software, and keep data safe from unauthorized accessing.
1. Be Aware From Your Responsibilities Clearly
Businesses need to keep one thing very clear that all the cloud services are different, not same. Their level of responsibilities varies from each other. The SaaS cloud service providers make sure that software is safe and data transmission is taking place in a secure manner. But, this is not the case with the infrastructure of cloud storage. For example – a firm is having full responsibility of AWS EC2 (Elastic Compute Cloud), Amazon VPC (Virtual Private Cloud) instances, and Amazon EBS, comprising of operating system configuration with application management and data protection.
On the other hand, the Amazon keeps a continuous eye on the operating system maintenance and programs from S3. It gives its business customers duty to hold all the policies related to access control in cloud security. Amazon renders software for the data encryption for Simple Storage Service but, it is completely dependent on the firm whether they want to enable the protection or not.
2. Give A Full Concentration On Account Security
The data breach in Verizon took place because external access settings were kept enabled, which is a common mistake. Many administrators unintentionally or intentionally keep global access permission enabled for everyone. The web connection is left open that is providing everyone permission to connect with it.
The above-mentioned mishaps take place either with intentional mindset to cause data breach or with the carelessness of cloud data security. In such case, access control techniques in cloud computing prove themselves helpful. Several CSPs offer applications for identity management and access control. Try to provide only the required set of privileges and temporarily give extra permissions whenever needed. Configure the cloud access security groups to have narrow-way focus and if needed, create reference IDs of security groups.
3. Protect Data in Rest Mode and Transmit Mode
Avoiding access control in cloud security leads to storage of unencrypted data on the online storage. A survey commits that 82% percent of database is kept unencrypted on the public cloud. Incidences like leakage of voter information, sharing of core Pentagon files, etc., were caused because the data is kept unsecured even on the servers that are easily accessible by unauthorized users. Saving sensitive information on cloud with no encryption techniques on them leads to easy call for hackers to attack.
So, it is strongly recommended to enterprises that apply encryption keys, at least on your core data. An organization can adopt a CASB solution provider whose responsibility will be to focus on cloud access security. They offer updated encryption applications and management services for keeping sensitive files 100% protected on cloud.
4. Secure Account Credentials From Human Errors
The OneLogin breach clearly shows that it is an easy and common way to gain AWS access keys. It can leak the source code repositories, public websites, dashboards, and other associated forums. AWS customers are suggested to tightly keep access keys safe (like the safety of crown jewels) and train developers to avoid the leakage of such keys on the public forums.
Generate a unique key for different external services and limit down the access, depending upon the principles. Ensure that the keys are not in the hand of a wrong person because it will give him / her full access to work with confidential documents. Cloud access control systems involve creation of IAM roles for assigning particular privileged like developing API calls.
5. Create A real-time Track on Employee's Accessing
Some logging tools are provided by the cloud service providers to ensure turning on the security logging and monitor the unauthorized access. For example – Amazon provides CloudTrail, which audits the AWS environments including call time, API caller identity, IP Address of the caller, etc.
However, still there exist many cloud computing platforms that do not render real-time tracking of data. CASB cloud access security renders this facility. Administrator will be able to view which file is getting accessed from where, by whom, and what changes are made into it. In case any data breach occurs then, it will become easy to catch the culprit.
CloudCodes Makes Access Control More Secure
Access Control in cloud security ensures that only the authentic user will access specific set of documents. As per discussed in the above section that CASB solution providers are needed. They help is filling security gaps that are unintentionally left within the organization. Remember one thing a single small gap can give the attacker a big platform to exhibit data breach. Well, there are several CASB services available in the internet market. The challenge comes in deciding the best and accurate among all. To help organizational readers here, we are suggesting a solution, which is to choice of 200K+ users around the world i.e., CloudCodes. It provides different cloud access control policies like Session Timeout, 3rd Party Access Restriction, IP restrictions, etc. Rest, it is in business decision with which they want to go for because at the end of the day, cloud security is their responsibility.