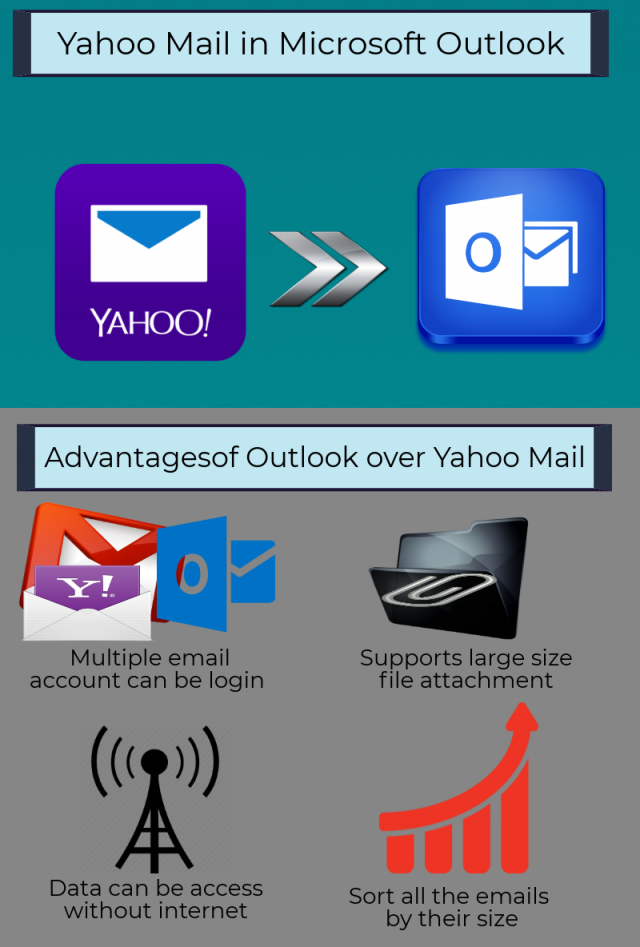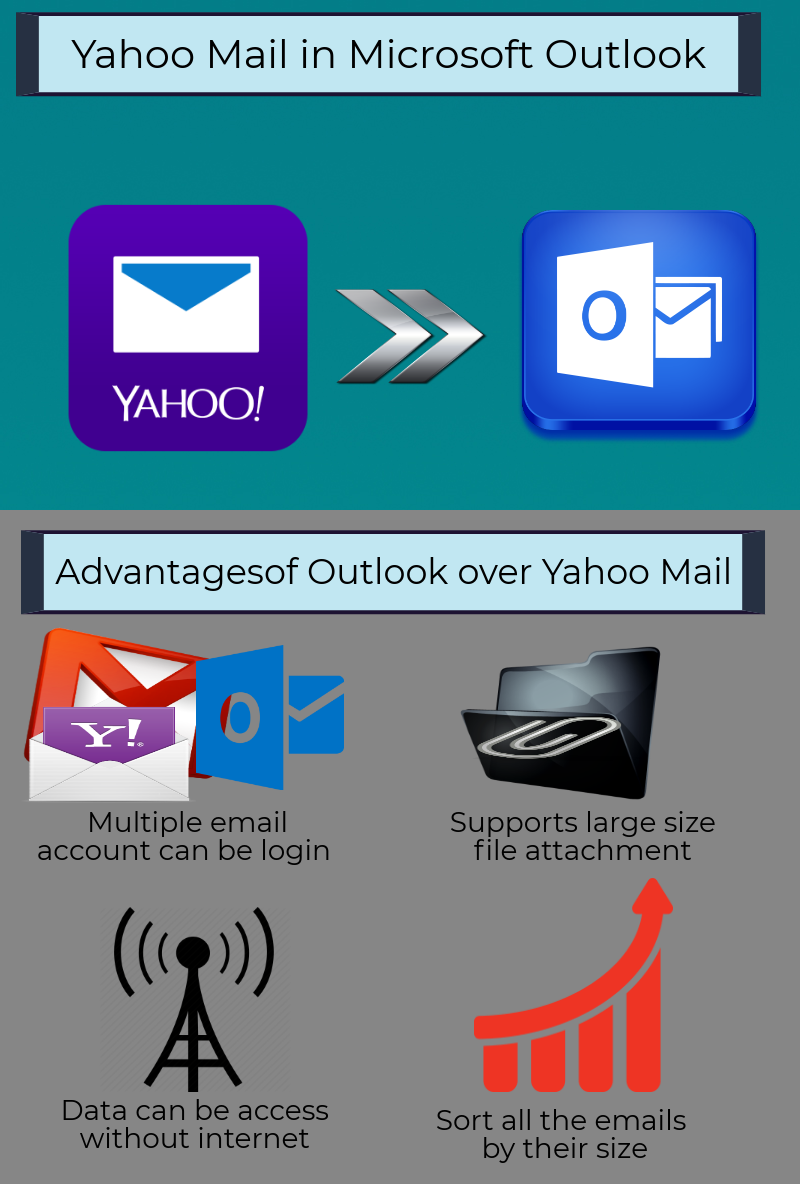 Yahoo Mail is one most popular web-based, open source email client. But there are many users those are looking for a solution on how to access Yahoo Mail in Outlook? The main reason for this question is, in today's arena, most of the users have more than one email account. The email account can be from the same or different email service providers i.e., Gmail, Yahoo Mail, AOL mail, Outlook, etc.
Different email clients have different advantages and disadvantages. But the major demands from the maximum users are, they want to login in a single place from multiple email accounts, and Microsoft Outlook supports these features. This feature of Outlook makes it so popular that users are attracted towards it and they want to connect Yahoo email to Outlook 2007, 2010, or above versions.
Quick Solution: One can easily sync Yahoo Mail to Outlook 2019, 2016, 2013, 2010, 2007 with the help of Yahoo backup software within few clicks.

Why Connect Yahoo Email to Outlook
MS Outlook has many advanced features over Yahoo Mail that makes a user setup Yahoo Mails in Outlook.
• Outlook provides the ultimate storage of 100 MB on file attachment.
• All emails will be available in the account to the user when he/she is offline or not connected to the internet.
• It has an Integrated photo viewer and can move all messages to the Archive folder easily.
• It also can sort emails by file size. They Delete All function allows a user to quickly delete all emails from a particular folder or sender.
• Data share from multiple accounts becomes much easier when they stored in a single place.
Manual Solution to Access Yahoo Mail in Outlook 2019, 2016, 2013, 2010, & 2007
To link/sync Yahoo Mail to Outlook 2019, 2016, 2013, 2010, 2007 via IMAP, follow the instructions provided below.
1. Run Microsoft Outlook
2. Select File >> Info>> Add Account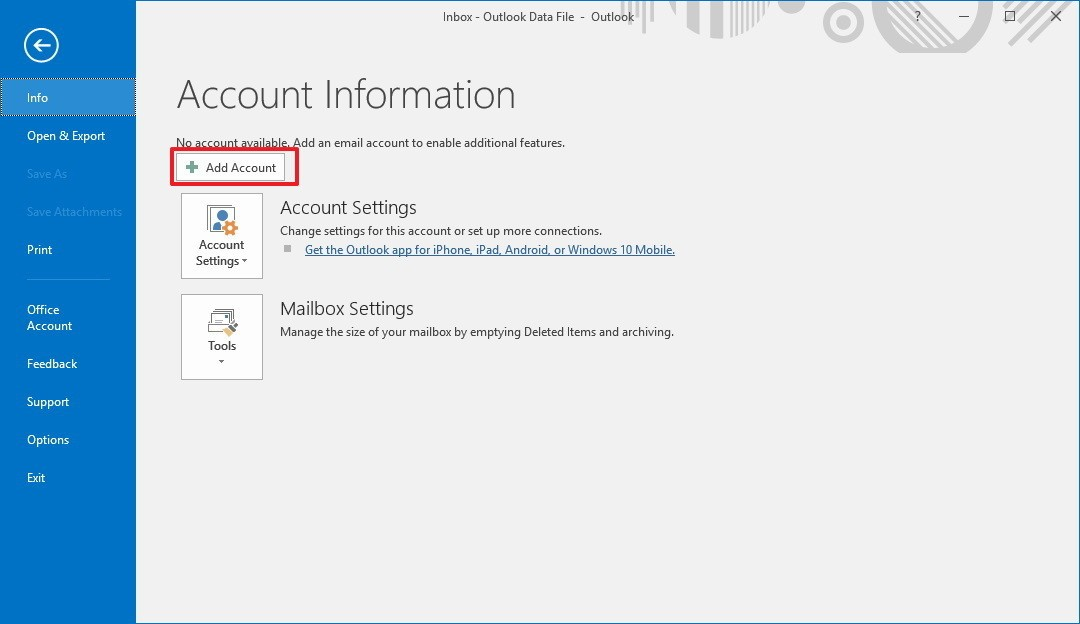 3. Select the Manually Configure Server Settings option.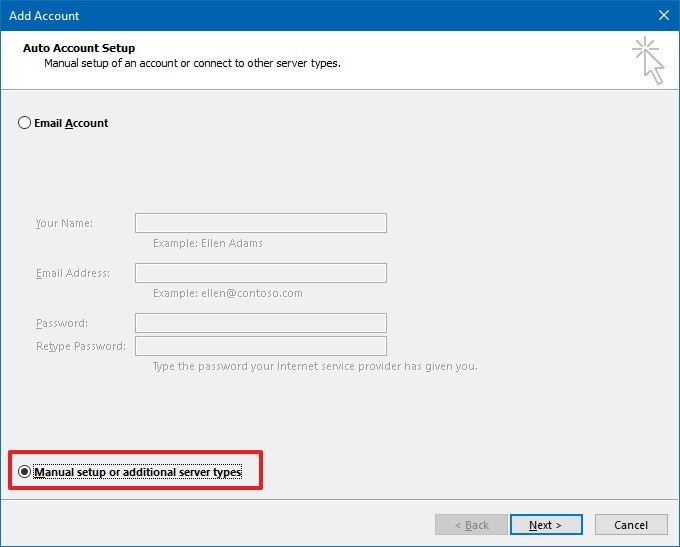 4. Choose POP or IMAP radio option.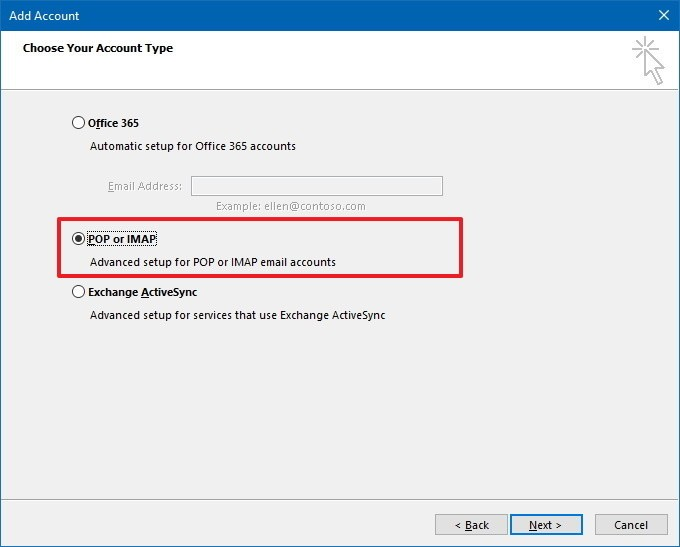 5.Provide the following details:
Full name & Email ID
Account type- IMAP
Incoming mail server

: pop.mail.Yahoo.com

Outgoing mail server

: smtp.mail.Yahoo.com

Yahoo login and password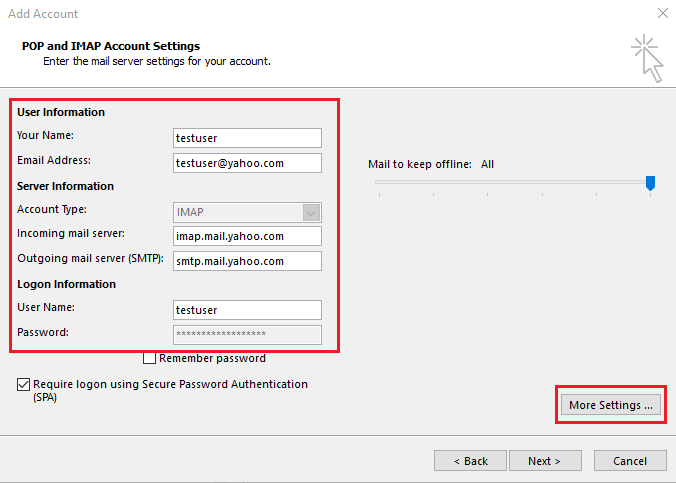 6. Click on More Settings
Outgoing Server tab:

Check for Use Same Incoming Mail Server Settings
Select My SMTP Requires Authentication option

Advanced tab: Set the following as same
• POP3 server: 993 Encryption: SSL
• SMTP server: 465 Encryption: SSL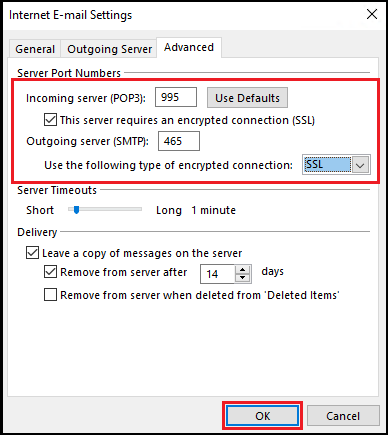 7. Click on OK >> Next >> Finish.
8. Restart MS Outlook
Limitation of Manual Method to Connect Yahoo Email to Outlook
Manual solution to add Yahoo mailbox in Outlook PST format is a very lengthy and time-consuming process. It contains different options to be selected while performing the above-described steps. One who has perfect knowledge about Microsoft Outlook can only perform these instructions. If any errors generated while doing these steps then it will lead to the need for an expert to solve it properly.
Automated Solution to Access Yahoo Mail in Outlook 2019, 2016, or Below Versions
As discussed, in the above section that manual method is not a reliable source for the migration process. Therefore, it is necessary to use more secure and quicker method for linking Yahoo emails to Outlook and nothing can be better than a third-party tool. There are many users those are looking for an efficient and reliable software. SysTools Yahoo Backup Tool is one of the best software available to create an archive Yahoo emails with Outlook PST.
Wrapping It Up
Yahoo email client has many users worldwide and it is very famous. But, because of its limitations like it doesn't provide an option to sync with other email accounts. Therefore, the above discussion has described the answer on how to access Yahoo Mail in Outlook 2019, 2016, 2013, 2010, 2007. This process is a laborious task and confusing too. Therefore, one can proceed with an automated solution i.e., Yahoo Backup Software which is a user-friendly tool. It can easily backup all your emails from Yahoo to PST file format and then add them to Microsoft Outlook.