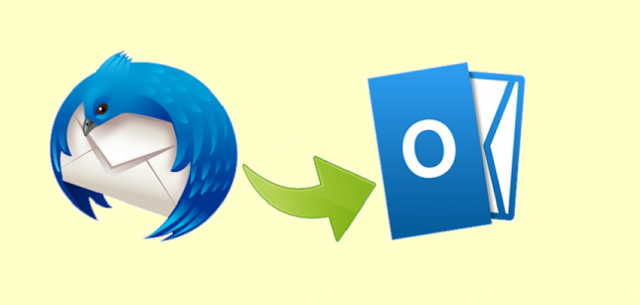 Normally people are getting used to a different application to send and receive emails and get used to migrate from one application to another is because of the inconvenience to perform their needs. So the users and people at different business sectors will have to take the archive of whole data from their Email application. Here in this content we will discuss how to Backup Thunderbird to Outlook with easy & efficient solutions.
Mozilla Thunderbird is an email client which possess Usenet newsgroup reader. Thunderbird is of RSS client. The Thunderbird is supported by different platforms like Windows 95, 98, 2000, XP, Linux, Mac OSx, Solaris etc.. Thunderbird is a free, open software which is maintained by the Mozilla Project. The Mozilla Project was launched by Netscape in 1998 which is of large open source community launched by developers and testers. The developer roadmap is available to the public. It has frequent releases and the Project advocate for standards on the Net, but there are different drawbacks so people tend to backup Thunderbird to PST or another email client of their choice.
Why User Need to Backup Thunderbird Email to Outlook PST
Nowadays users are more concern about new technologies so they tend to move towards the applications which are more beneficial to them. Thus in the below section, we are going to discuss the demerits of using Thunderbird.
• While copying or moving messages, folder navigation is clumsy and error-prone in the case of Thunderbird.
• While by the midst of selecting a folder to move or copy a message to, there is no way to create a new folder.
MS Outlook is available as a part of the Microsoft Office suite and the Outlook is a personal information manager. Outlook is a desktop based application and has different versions like Outlook 2016,2013,2010 & 2007. And it has two file formats I.e. .pst and .ost file formats. The PST file is formed when we configure our Mails with the Outlook. And the OST file is created when we configure Outlook with Exchange Account. Here the transferring of Emails are made and it also includes the transfer of contacts, calendars, tasks etc. It is more comfortable than the Thunderbird and so people configure their account in Outlook which can lead to data loss so taking archive Thunderbird to Outlook is much more reliable process.
Main Features of Outlook:
• Attachment reminder.
• Exchange ActiveSync(EAS).
• Add-in resiliency.
• Cached Exchange mode improvements.
• IMAP improvements.
• Outlook data file(.ost) compression.
• People hub.
• Startup performance improvements.
The features of Outlook have stated above. Due to these additional features of Outlook, many users are migrating from other email applications to Outlook. So to backup Thunderbird Mail to Outlook 2013/2007 and to other versions one need to perform the following manual methods.
Manual Method1: Backup Thunderbird to Outlook
• First Run Thunderbird Email client
• Open the folder which we want to export
• For selecting individual e-mail, press & hold "Ctrl" and press "Ctrl + A"
• Right-click on the choose emails & click "Save As" option
• Save the desired messages in the destination folder where you want and click
'Select Folder' to export messages
• Then run MS Outlook
• Right-click the "Outlook" folder & press on "New Folder"
• In the "Name" section, enter the name for the new folder and click "OK" button to create it
• Choose all emails exported from Thunderbird using by "Ctrl + A"
• Now select and then drag all emails to the middle pane of the MS Outlook which you want
• Now import all messages into a new folder
All email files will be seen after successful import process. So the archive Thunderbird to Outlook is made by this process. The above steps will be used for the users of having limited emails. For bulk data migration, this is not efficient. And so to backup Thunderbird Email to PST won't be successful for a large collection of data.
Manual Method 2: To Backup Thunderbird Email to Outlook 2013
You can Backup Thunderbird to PST by the simple method like drag and drop only if you have installed both application.
• Select emails of Thunderbird drag and drop in a folder on your personal computer.
• Then open MS Outlook now drag all EML files drop it in a folder on your computer.
Limitations of Manual Method:
• The process is very long.
• Those who are not a technical user they will get confused by this long process.
• As we see this is a lengthy approach it will take too much of time.
• Not suitable for bulk data.
Automated Solution
The above steps show how to backup Thunderbird to PST. As because it is long and highly time-consuming one we will move to the next approach which is of really faster than this. And this can be achieved by using third party tool by SysTools which will help to easily transfer emails from MBOX to PST. It is designed to archive Thunderbird mail to Outlook data items in bulk. It has the user-friendly interface which makes the process quick and efficient way while backup Thunderbird mail to Outlook PST. The best part is that it does not have any file size limit so the users can easily convert data regardless of its size so the archive of Thunderbird to Outlook will be of trouble-free. However, this application is compatible with all Windows machine so backup Thunderbird email to Outlook won't be having any trouble while it's switching.
Conclusion
Outlook nowadays is reaching the height of popularity day by day and due to the demerits of other client application user switch files to Outlook so it leads to data loss. Same is the case with the Thunderbird users, they are looking for a simple process, highly system supported applications so that they can perform backup Thunderbird Email to Outlook procedure which will help completely to backup Thunderbird Mail to Outlook. However, manually it takes lots of time. Therefore, one can use the transfer emails from MBOX to PST to Backup Thunderbird to PST in its simple, perfect and reliable manner.