Top 5 Best OST Viewer to View & Read Outlook OST File Instantly
There are a lot of options available in the market to read the contents of an Outlook offline data file. In this post, the top 5 best OST viewers discussed. One can read about them to know more about each product before buying the full version.
List of Top 5 OST Viewer Tools
Let us know better about these top 5 brands with their advanced features!
An Offline storage table stores all emails in a single file with the .ost extension. It is a single repository that stores mailbox copies of the Exchange data on the local machine. This file is proprietary to the Outlook application. To read the contents of an old OST file alternative solutions are needed.
These software solutions are available in the market at low cost and provide effective solutions. Some of them provide the best answers a user looks for. While others may not be best suited to view the contents of Outlook OST files.
Note: Click here to know about the 5 best MBOX Viewer Tool
Top 5 Best OST Viewers to Read OST File
Normally a user tries to download a free version of each OST viewer to try and find which one is the best. This is a good practice and should be used when hoping to buy a licensed version of the product. To spare the needless hassle, this post describes some of the best free OST viewers.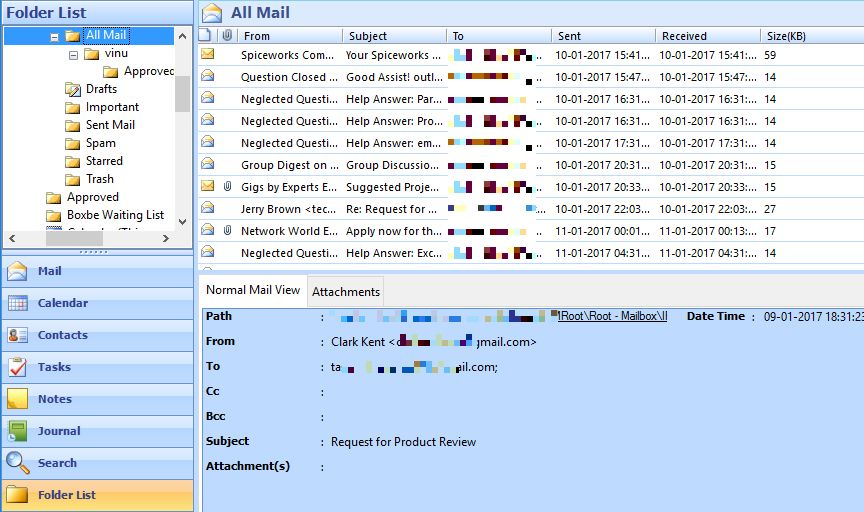 This is another likely candidate for the category of best OST viewer. It is a very easy-to-use and user-friendly tool that can provide an effective solution to read corrupt OST file contents. Following are some of the tool features to name a few:
Upload Multiple OST Files in Bulk: The tool is a powerful algorithm that can preview contents from multiple .ost files one at a time. It is a free OST Reader that can generate a preview of each email file with attachments.
Outlook Installation Not Required: There are no prerequisites to making the OST File Browser work. No Outlook installation is needed to view OST file contents. Furthermore, a Live Microsoft Exchange server environment is not necessary at all to read OST data.
View Optimized OST File Results: The OST file explorer can open OST file items in an optimized way. It displays all the error logs and crash report prior to opening the Outlook offline file data in the tool. The location to save recovered data can be changed as well to save some space on the primary drive.
This is definitely a quality product and brand when considering data file recovery and repair. Freeviewer is a well-known name in the data migration and security business. One can not talk about the best OST viewer without mentioning the one from this brand.
Standalone Application: This tool is by far the best free OST viewer. The tool does not require an Exchange server environment to work. It can operate and read emails without it. Hence, the OST file browser is a standalone application.
Effective Forensic Analysis: The tool provides the facility to read email messages from a password-protected or encrypted .ost file. This could be useful from a forensics point of view. The OST file explorer can be used to read emails from any OST file.
View Emails with Attributes: The free version of the product is also very efficient and can generate a preview of all email files with attributes. The best OST viewer displays emails along with to, from, sent, received date, and file size in bytes.
This is yet another effective solution to read OST files without Outlook. It is a simple yet efficient tool that can help a user to read contents from Outlook offline data files. Some of the very many features of this best OST viewer has been listed below:
Dual Modes of OST File Scanning: The free OST file explorer provides dual modes of OST file scanning. One is the quick scanning mode during import that repairs any minor corruptions in Outlook data files. The other is Advanced Scanning mode for highly corrupt or damaged OST files.
Read OST File Calendar and Contacts: This free OST viewer can preview calendar and contacts data along with emails. Distribution Lists are also displayed on the left panel of the software interface. A different tab is denoted for each different mailbox item.
Multiple Different File Preview Modes: There is six different preview modes available to read OST file data. These are Hex, Normal, properties view, MIME view, HTML view, RTF view, message headers, and one with attachments. These can be useful in forensic analysis of emails.  
This tool helps users to easily view offline OST files along with Attachments in bulk format. You can also preview OST Emails, Calendars, Contacts, Tasks, Journals, etc. Using this software you can easily view multiple Outlook OST files without facing any hassle. Then, know the advanced features of this tool are below-mentioned:
Options to View Multiple OST File: To read the OST files in bulk using this tool. You can easily preview Emails, Calendars, Notes, Contacts, and other data items to view. This tool provides an instant preview of all the emails with all attributes such as To, From, Subject, Sent, Received Date, and Size in bytes. 
Read OST Emails Along With Attachments: The Best OST Viewer Tool consists of many required things and sometimes an email comes up along with attachment only. This Microsoft OST File viewer software displays all the OST file emails with the associated attachments in a trouble-free manner. You can easily view OST file attachments such as: Files, Documents, Image, and many more.
No Prerequisites in OST File: Reading OST files does not require any particular program on the system such as Outlook or Exchange Server. The OST email viewer is an independent tool to view multiple Offline Storage files without Exchange Profile.
This RecoveryTools can easily open & read the Orphaned Outlook OST files data. This is easy-to-use that can easily provide an effective way to read the corrupted Outlook OST file easily. Follow the advanced features for best OST Viewer:
Open the OST Files Without Outlook: It designed to open OST files without any requiring Outlook email clients installation. To read all the details of OST Emails, Contacts, Calendars, Tasks, Journals, and Notes with this utility. Also, allows to open the encrypted Outlook messages stored in OST files.
Batch Mode to Open Multiple OST Files: This RecoveryTools allows users to open multiple OST files in batch mode directly in the software panel. It can load OST files in the tool panel by dual methods using "Add Files" or "Add Folders' '. It can also browse for source folder location of OST files. Therefore, users can easily load the files in single or multiple OST files directly from the folder.
Digital Forensics to Analyze OST File: The Best OST Viewer tool can easily analyze OST files for digital forensics purposes. It will display all the required details in its panel. Also, a preview of both UNICODE or ANSI OST files. Forensic experts can easily & simply read the Password Protected, Corrupted, or Encrypted OST files through this tool.
Observational Verdict
These are just some of the 5 different Best OST Viewer Tool available in the market. It is important therefore to make a note of what is required for a professional solution. This helps in determining which tool will make it to the top of the list. Therefore, Some of them will be best suited for the current need to view OST file contents while others may not.
It is recommended that one should read all about the different solutions available and make the best decision going forward. Hopefully, the information mentioned here will be enough to make an informed decision on buying a product.
FAQ's
Que. How can I read and view OST files by using OST reader software?
Ans. Follow the below steps to view OST files.
Step 1: Download & install  PCVITA OST reader software on your PC
Step 2: Browse the OST file by using the advanced scan option
Step 3: View and Read the OST File Message in Normal View Tab
Step 4: Choose any option to view the files in Horizontal or Vertical Mode
Que. Is it possible to work on it without the installation of Outlook and the exchange server environment?
Ans. Yes, the FreeViewer OST File viewer tool has the ability to work even without Outlook and Exchange server environment.
Que. Can I preview attachments associated with the OST file by using this tool?
Ans. Yes, users can easily view the attachments associated with an OST file by using the DataHelp OST viewer software.