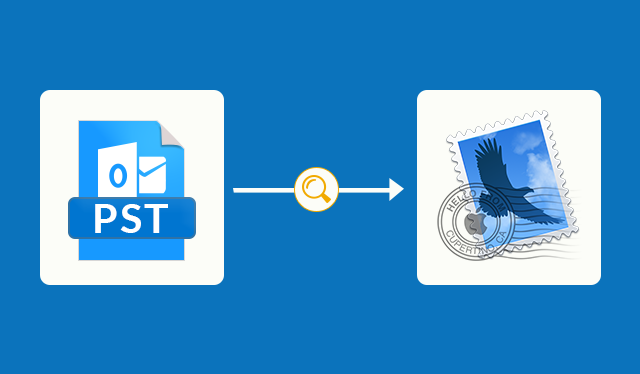 Can Apple Mail read PST files? – It is one of the most asked queries that can be found in every major technical forum on the internet. The answer here is Yes, Mac mail can open and view .pst files of Outlook. However, the approach is neither a direct one nor an official one. This query generally emerges while switching from Windows Outlook to Mac Mail or simply trying to read the old Outlook readable files in Apple Mail. In this article, we will guide you through the methods by which Apple mail can import .pst files on Mac platform.
User Query – "Last week, I bought a new Macbook and it has Apple Mail installed in it. In my previous laptop, I was using Outlook for Windows and now I want to move all my PST emails to Apple mail. My doubt here is that can Apple mail import .pst files in Mac? And if it's possible, then what is the process to do that?"
Microsoft Outlook uses PST files i.e. Personal Storage Table for storing all its mailbox data such as emails, contacts, tasks, calendar, etc. in it. As PST file is a proprietary file format of MS Outlook, it cannot be accessed in Apple mail. So, the only way Mac mail can read PST files is by moving them to its supported file format. And the next section will discuss the exact methods to do so.
How Can Apple Mail Read PST Files? – Manual Solution
There is a manual method using which you can resolve your query of Mac Mail opening and reading the PST files. If you have installed Microsoft Office 2019, 2016, 2011 or other versions for Mac then you can simply import the PST data into it and then transfer it to Apple Mail supported format. To perform the migration, follow the steps mentioned below:
Overview of steps to open your PST files in Mac Mail
Outlook for Mac 2011:
Run Microsoft Outlook for Mac
Go to File tab and click on Import
Choose Outlook Data File (.pst or .olm)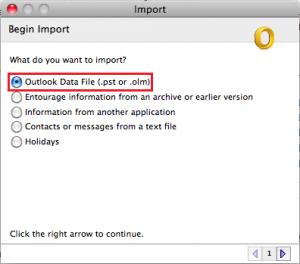 Then, click the Next button
Here, select the Outlook for Windows Data File (.pst) option
Click the Next button
Now, move to the location where you have saved the file and select it
Finally, click Import
Outlook for Mac 2019 or 2016:
Run the MS Outlook application
Navigate to Tools, then press the Import button
Choose Outlook for Windows Archive file(.pst) and hit Continue button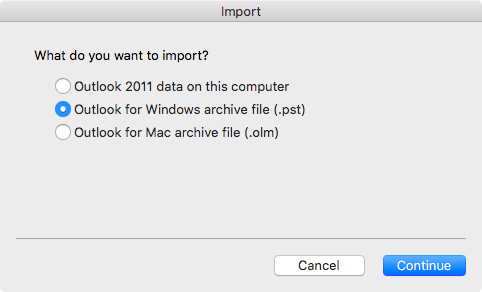 Find the .pst files on your system, select them and click the Import button
Once the process is complete, hit the Finish button.
After following the mentioned steps, the data will be imported into Outlook for Mac and can be found under On My Computer heading. Now, drag that folder containing those messages to the desktop and those emails will be migrated into MBOX file format which can be directly imported into Mac Mail. This concludes the manual procedure by which users of Apple Mail can import PST files.
What If no Outlook is installed on Mac system?
Not all Mac users have Outlook installed on their system. This renders the manual approach completely useless for them. But don't worry! We also have a solution for that. Any users having issues with opening and reading the PST files on Apple Mail can opt a better solution. This simple and efficient procedure is explained in the following section.
Can Mac Mail Import .pst Files? – The Effortless Solution
Another method to perform the migration is by opting a third party application such as SysTools Outlook to MBOX Converter. It is designed using advanced algorithms with which users can easily import PST emails to Mac mail. The conversion process is made easier as the software directly moves Outlook emails into the file format supported in Apple mail. Simply download the application and convert the .pst files to Apple Mail readable format. This way you can easily import converted .pst files into Apple Mail. This process will not only save your time and effort but get rid of any chances of data loss as well.
Situations where software can be used:
When the user does not have the Outlook application installed on the system. Using a stand-alone software solution will be the way to go here.
In case users have a large PST file containing hundreds of emails, it will take a lot of time and effort to go for the manual way. Using the software guarantees reading the PST files on Mac Mail in limited time.
Also, using an advanced method such as the mentioned tool minimizes any chances of data loss and provides users with original emails to open and read.
Conclusion
After analyzing multiple queries on the internet, all pointing to one question i.e., "Can Apple mail read PST files", we have come up with a solution. This article envelopes both the manual and automated methods to help Mac Mail users open their PST files. Users can opt for any of the solutions depending on whether they have Outlook installed on their Mac machine or not.
However, as discussed, If a user has hundreds or thousands of emails, then it is suggested to go for the third party solution. It is the perfect way to carry out the entire migration in countable minutes. This way Mac Mail can import .pst files without requiring any external application like Outlook.