2 Simple Methods to Convert MBOX to HTML Format
Shini Mohan
| Modified: July 5th, 2023 ~ 5 Minutes Reading
People, in today's generation, generally use more than one email client application to either send or receive email messages. The inbox gets filled soon because most of the communication takes place through email. One of the solutions to this problem is the periodic archiving of email messages. And HTML is one of the sought-after file formats used for saving email messages on the local system.
Most email applications for Mac such as Apple Mail stores all the emails including the attachments in the MBOX file format. Thus, the process to convert MBOX to HTML format on a Mac OS is gaining more prominence and popularity with each passing day.
Table of Content
Reasons to Convert MBOX File to HTML
Better optimization is provided by HTML to the search engines.
Content can be fast and easily edited whenever necessary if used in an HTML format.
The time required to download in HTML format is less.
Adobe Acrobat, Microsoft Word or any other additional software is not required to view the HTML contents.
Also, this format ensures more content security for remote access from the devices, through which, the internet is accessible
Take a look at a user query: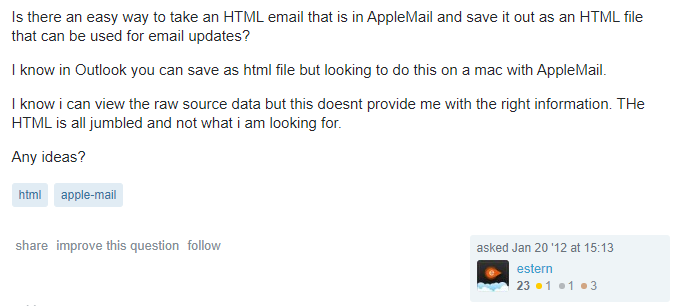 Convert MBOX to HTML for Free
Open Mozilla Thunderbird.
Highlight and right-click on the email you want to convert to HTML.
After that, select Save as from the list of given options.
Set Save as type to HTML Files and click the Save button.
Repeat the steps for each email message.
This technique works on both Windows & Mac as long as you have Mozilla Thunderbird email client.
Best Ways to Export MBOX to HTML on Mac & Windows
You are for sure at the right place if you are searching for tools and techniques to convert MBOX file Format to HTML on a Mac operating system. A great solution to convert MBOX to HTML format is by using a professional tool. SysTools MBOX Converter helps to convert multiple mailbox files to HTML. This software tool is available for both Mac and Windows.
The Mac variant supports Mac OS X 10.8 and all the newer versions of Mac OS.
Download Now
(Mac) Purchase Now
(Mac)
The Windows variant supports Windows 11 (64-bit), Windows 10, 8.1, 8, 7, Windows Server 2019, 2016, 2012.
Download Now
(Win) Purchase Now
(Win)
Easy steps to convert MBOX to HTML on Mac
Step 1: Run software on your system.
Step 2: Select MBOX files for conversion with "Add File"
Step 3: Set format to "HTML" and apply email filters.
Step 4: Hit "Export" to convert Mac MBOX to HTML format.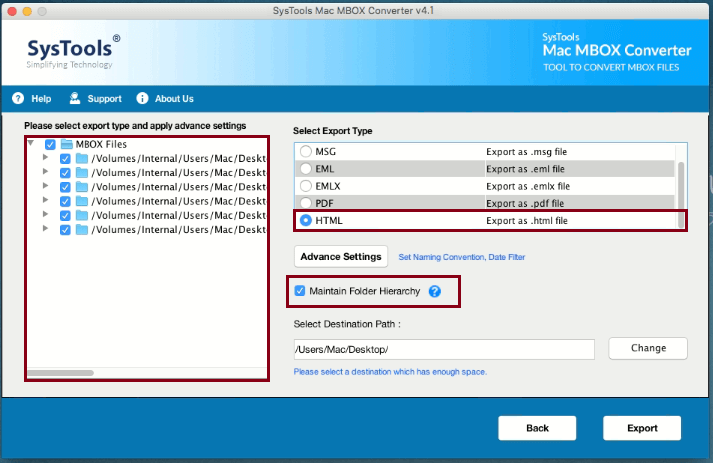 Bundled Benefits
This tool offers advanced features; some of which are as follows:
Exports the Mac MBOX Emails to HTML Format: This software processes MBOX file-format emails and changes them into HTML file type on Mac OS. The generated output is in multiples, meaning that, for each source file in the mailbox, one HTML file is generated.
Retains Messages' Properties: An email comprises of Cc, Bcc, attachments, header information, etc., which are its message properties. This software tries to retain the message properties when the files get converted from MBOX to HTML format on Mac.
Supports Email-Filtering: Quick filtering of MBOX files before converting them using this software in Mac, as per the date range specified.
Maintains HTML formatting & Inline-Images: The proper HTML formatting & inline images present in the MBOX file format are retained after the conversion of files to HTML format. Also, this output file which is in HTML format can be used to send emails on any website.
Advantageous Solution to Migrate MBOX Files to HTML!
As explained above, it is easier and more efficient to transfer MBOX mailbox files to HTML format than any other format. One of the best third-party tools for this purpose can help you perform this conversion in very simple steps. We are talking about SysTools software for easy conversion of MBOX files to HTML format. This tool has many advantageous features, as follows:
One is that it supports multiple email clients' .mbox files during the migration process.
The other feature is that the Mac mailbox files can be moved at once in bulk.
But the most advanced feature of this tool is that the inline image, the .html format in the body of the email, and the overall integrated email message structure are maintained even after converting the .mbox file to .html format.
Email filter options and naming conventions are also provided by this Converter tool.
Also converts MBOX to PDF, PST, EML, MSG, etc.
Conclusion
The growing requirements to convert MBOX to HTML can successfully be met by using an adept third-party solution as discussed in this blog. This blog helps the readers to know about this migration requirement. Those who are seeking to perform it at the earliest can quickly fetch the reference of this apt solution in this regard. All-in-all, this blog informs the readers about the need for doing this conversion. It also provides a process that can be followed with much ease and guaranteed results without inviting any hassles at all. The software is a safe solution, free from any kind of risks, as such.