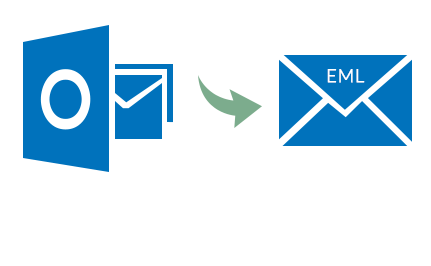 It a common concern among many Outlook users to convert PST to EML. Since PST is only compatible with Outlook and EML file cannot be created from it, the file conversion is not possible using any direct native method. For PST file to EML conversion, people should choose an automated application such as PST to EML Converter Tool.
Learn More about Outlook PST File to EML Converter
The Converter is a software that will export Outlook to EML file format. This application supports both ANSI and Unicode PST files on Outlook 2019, 2016, 2013, 2013 and other lower versions. The resultant EML file can be easily exported in Mozilla Thunderbird and other email applications that support EML files. This tool works on all Windows and Mac OS.

Related Blog: How to Convert Outlook Email to Word Document
Steps to Convert PST to EML are as follows;
It only takes some simple steps to export PST file to EML format. Follow these steps one after another to convert PST file to EML:
For Windows OS

For Mac OS

Step 1. Start running Outlook PST File Converter on your computer.
Step 2. Add PST file from which you want to export emails.
Step 3. The software will load the data and display full preview. Click Export to proceed.
Step 4. Choose EML from the list of export file type options.
Step 5. Click on Adv. Settings and click on Export to start the conversion.
Why Should You Choose Outlook Conversion Tool?
This conversion tool comes with many amazing features that smoothen the process to convert PST to EML file format. Here, we are enlisting some of these features:
Advanced Scan: The software comes with Advance Scan option. In case you have a corrupted or damaged PST file, enable this option to fix the corruption of the PST files.
No Outlook Needed: This application can process orphan PST files. So, users do not need MS Outlook installation on the same system for this tool to function.
Naming Convention: Naming convention plays an important part when it comes to saving a large number of emails as EML. User can choose their preferred type from a list of naming conventions.
Date Filter: The tool supports selective data conversion based on time range. Select the Date range as per your need and the program will convert the emails sent during that date range only.
Folder Hierarchy: If you are willing to keep the original folder structure after exporting into EML, you can do that by enabling the "Maintain Folder Hierarchy" feature of this software.
Easy to Use Interface: The application interface in very simple. People with no technical knowledge can use it without facing any trouble.
How to Get Freeware?
The application we discussed is also available in a free demo version. Though the demo version has got some limitations, users can convert 25 items of each folder of the PST file using this freeware. The process to download the Converter freeware is very easy as it down not involve and form fill up or credit card number.
Can I Convert PST to EML Without Spending any Money?
Yes, users can export PST file to EML format manually which will not cost them anything. For that, they have to install Mozilla Thunderbird on their system. Then configure the Outlook account in Thunderbird and open Outlook email. Now, users have to drag the Outlook email from the Thunderbird interface and drop on the desktop. Then the emails will be saved as EML file format. This manual technique is a hectic one and it will be a difficult task if the conversion is required for hundreds of emails.
So, Which One is the Better Way to Convert PST to EML?
If you have a few emails to convert and a lot of time in your hand, you can choose the lengthy manual technique. Otherwise, PST Data Converter Tool should be your choice. This application can convert PST file to EML format without any data loss or format change. Also, this is an automated tool that does not need constant supervisions and works at a fast speed. Considering all points, it can be said that the automated software is the right way to convert PST to EML format.