Convert Outlook Email to Word Document: Learn Different Strategies
Are you looking for a solution to convert Outlook email to Word document? Have you tried to perform the manual solutions but failed? In this blog, we will describe some efficient ways of saving Outlook PST email messages as the Word file.
These days, email clients play an important role in our personal or professional life. One such application is MS Outlook, which is the desktop-based email client. It allows to save data items like emails, calendars, contacts, etc., in PST file format. It has a huge range of functionalities for end users. But, the situation becomes critical when users want to export or save Outlook emails as word document, since Outlook does not provide any direct native options for that. Therefore, we are going to discuss all possible ways to export Outlook to Word document in a clear way in this blog.
Manual Ways to Convert Outlook Email to Word Document
Microsoft Outlook does not offer any direct option to save Outlook emails to Doc file. Therefore, if you want to do this then, you will have to put some efforts. Here are some simple methods to migrate Outlook emails to Word file. Let us have a look:
Method 1: Usage of 'Save' Option
First, start MS Outlook application on your local machine.
Click on an email that you want to save as document file.
Select File option from the menu, and then choose Save As option.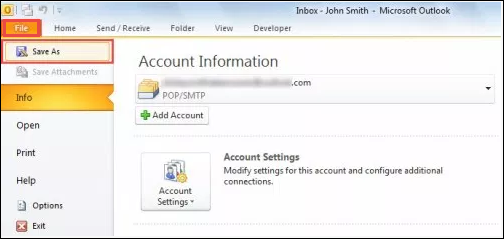 In the dialog box, choose the destination folder and select Text Only from the Save as type field.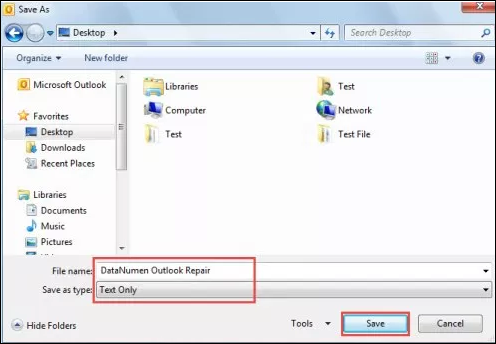 After clicking on Save button, the files will be saved. Open MS Word application.
In Microsoft Word, go to File menu and then, choose Open.
Under the Open dialog box, choose "All Files" option in File type. Go with the text file that you have saved before.
When you opt for Open, the email saved the text file will appear in Word document.
After that, you can choose the File option in Save As.
Eventually in Save as dialog box, select Word Document under Save as type. Click on Save button.
Method 2: Use Microsoft Outlook VBA
1.To execute this process, press the Alt + F11 shortcut keys in MS Outlook.
2. You can open a new module under the Outlook VBA editor window
3. Copy and paste the below mention VBA codes in it.
4. Next, open the Quick Access Toolbar and add the new VBA project
5. Subsequently, choose the mail or in Quick Access Toolbar choose the macro tab.
6. It will display when you enter the email contents with Word document
7. Now, you can save a new Word Document.
Best Approach to Export Emails from Outlook to Word Document
Download for Win

Download for Mac

The above-mentioned methods have some drawbacks to convert Outlook email to Word document. For example, the methods take long time to save email data to Word document. The method with the VBA code will be a difficult one to implement for inexperienced users. Last but not the least, Thus, it is advisable to opt for a reliable solution like Best PST Converter to export Outlook PST file to DOC.
The application can export emails from Outlook to Word Document file formats including DOC, DOCX, TXT, RTF without any data loss or data corruption. This tool has an interactive interface and easily understandable by anyone. It also supports to convert PST to EML, Outlook to HTML and many file formats.
Steps to Convert Outlook Email to Word document are:
Step 1. Launch PST Converter Tool and Add PST file.
Step 2. Preview PST emails along with attachments.
Step 3. Select Document and choose between DOC, DOCX, or RTF.
Step 4. Click on Export and convert Outlook email to Word Document.
Some salient features of the PST Conversion tool are listed below:
1. Export Outlook data items including emails, contacts, notes, etc.
2. Save all .pst emails in different formats like DOC / DOCX / RTF & TXT
3. Option to process both Unicode & ANSI PST files without data loss
4. Ability to extract data from highly corrupted Outlook PST files
5. Compatible with all Outlook (32/64bit) and Windows OS versions
Author Suggestion
When users try to move their Outlook emails in MS Word, they often face problems. Such problems arise because Microsoft Outlook does not provide any dedicated feature to save or convert Outlook email to Word document. Therefore, we have covered both manual and automated solutions to export emails from Outlook to Word document in an efficient way. Users can follow any approach as per their needs and get the satisfactory results.