How to Convert Thunderbird Emails to PDF File in Batch
Nilesh
| Modified: January 18th, 2022 ~ 6 Minutes Reading
Adobe's Portable-Document-Format or PDF format is an open-standard file format that is maintained by ISO, which is an International-Organization-for-Standardization. It is a file format used to present documents and prepare presentation and evidence for government and enterprise. It is independent of any application software, hardware or operating system. PDF format has worldwide acceptance as it can be protected with a password and can easily be viewed or shared.
Mozilla Thunderbird is a desktop-based cross-platform email client that stores its mailbox data in MBOX format. Thunderbird users often wish to save emails in PDF format. But they aren't able to do so. It is still a question "How to convert Thunderbird emails to PDF?".
In this article, we have discussed simple ways to export emails of Thunderbird email client to a universally accepted PDF file format. There can be many reasons for a user to save all his emails in PDF file format. But due to some complexity, he/she cannot perform the conversion process. Continue reading for simple and effective methods to export MBOX to PDF.
What are the Reasons to Convert Thunderbird to PDF?
Thunderbird emails cannot be viewed easily by all users; the reason being that, it has to be first installed and configured. A user needs to login with his credentials to access his emails in his account. Whereas, data in PDF file format is easy to share and view since it is portable.
Adobe PDF formatted document is presented just like its layout and allows to maintain visually pleasing layouts. There will be no change in the formatting of the email if it is kept in this format.
PDF format works across all operating systems irrespective of the hardware or software.
The major reason for the users to export Thunderbird emails to PDF format is for document preparation and presentation.
Also, PDF format provides good restrictions to unwanted user access. It is very helpful as anyone can harm the document by editing, modifying or copying it.
Prerequisites Required for the Conversion Process
Before starting the export process, you may need to install Import/Export Tools NG add-on in Thunderbird. It supports two types of data: one with .msf extension and the other without the extension. It supports .mbox files to store mailbox data whereas the PDF has the document file format. Thus the Import/Export tool is needed for converting Thunderbird to PDF format.

Create a folder on the system to save the extracted PDF files from Thunderbird during the conversion process.
Manual Method to Export Thunderbird Emails to PDF
Open Mozilla Thunderbird.
Select one of the folders appearing on the left-side of the selected email account.
You can select any of the folders like Inbox, Outbox or Sent Items folder.
Click on Tools in the Menu bar.
Select Import/Export Tools.
Click on 'Export all messages in the folder' option.
Select PDF option for the file type that you want to save.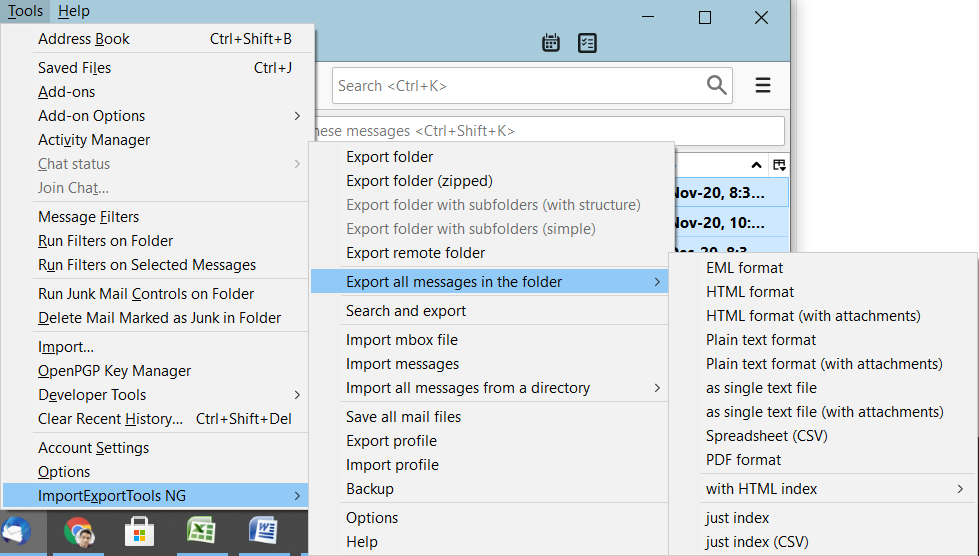 Once the PDF option is selected, the user gets an alert window with the following message "If you export in this format, the attachment is not saved. If you want to save the attachments also, choose a different format".
Click OK and browse where the files are to be saved.
The emails from Thunderbird are now stored in the folder in PDF format.
Limitations of Manual Procedures
As you can see from the last step of the manual procedure, the attachments are not exported with the emails. So, this manual method fails to convert Thunderbird emails to PDF file with attachments. There are chances of data loss during the export process and there is no guarantee that all the attributes of emails will be exported to the PDF format. Also, the installation process of Import/Export Tool in Thunderbird is necessary for this process to be completed. All this may be difficult for a non-technical person since it is a time-consuming and lengthy process.
Professional Approach to Convert Thunderbird to PDF
Since the manual method limits some of the functioning to export Thunderbird emails to PDF files. Therefore, it is better for a user to go with some reliable automated tool like SysTools MBOX Converter tool. This software is a complete tool to view all the Thunderbird emails along with attachments. Also, there is no necessity for the email client installation to view the .mbox files. It can convert multiple mailboxes of Thunderbird in batch without any data loss. It can export multiple emails to portable documents in very little time.
Convert Thunderbird Emails to PDF Step by Step:
Step 1: Run Thunderbird Converter on your system.
Step 2: Click "Add Files" and add Thunderbird MBOX files.
Step 3: Preview emails and attachments.
Step 4: Click "Export" to convert Thunderbird to PDF.
Elaborated Method:
The process to convert Thunderbird to PDF in batch is as follows:
First, launch the software and click on the Add File button from the welcome screen.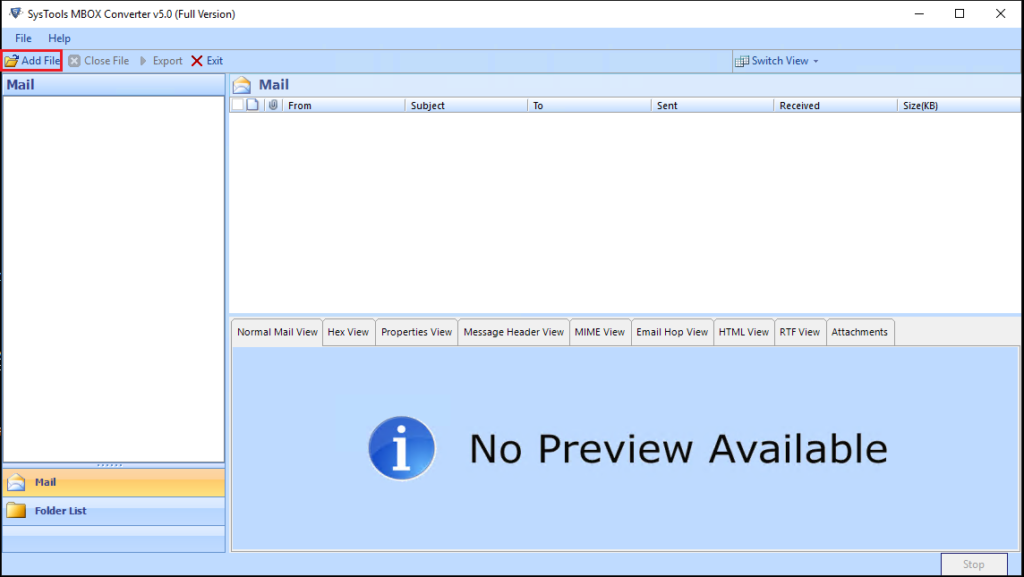 Now, add the Thunderbird MBOX file or simply let the tool detect Thunderbird database with "default profile configured" option.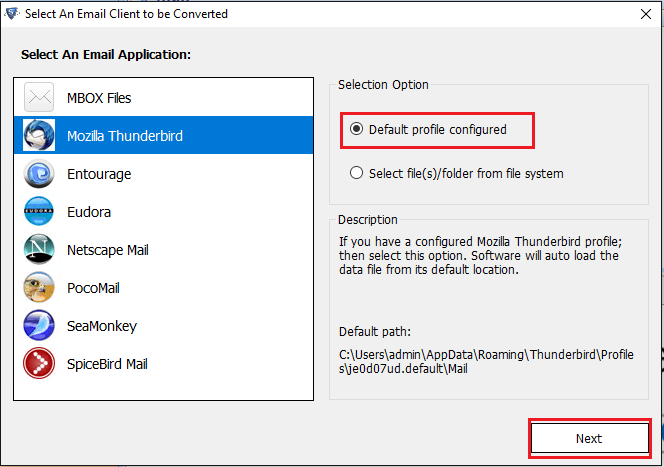 Preview all the emails along with their attachments. On this screen you can choose email messages if you wish to export them selectively.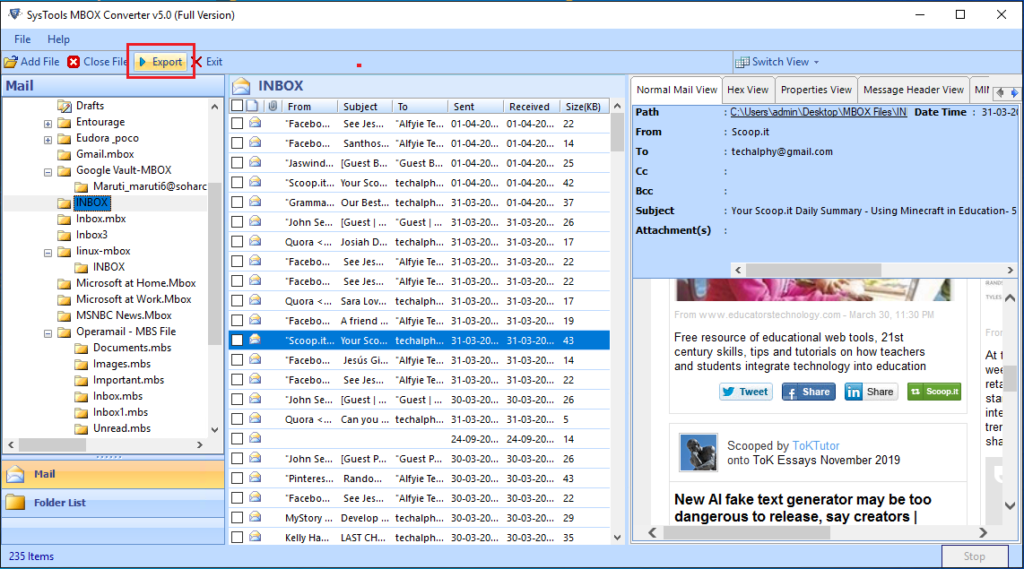 Proceed to choose the PDF option.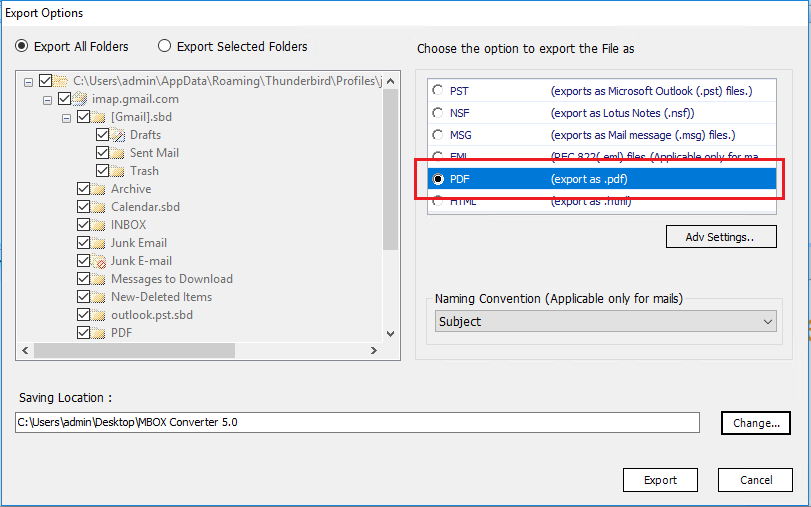 Click on Advance Settings to apply page margins, paper orientation and page size to the PDF files.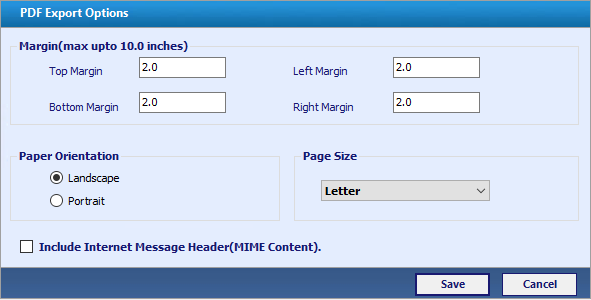 Apply Naming convention as per requirements and click on Export to start converting Thunderbird messages to PDF files.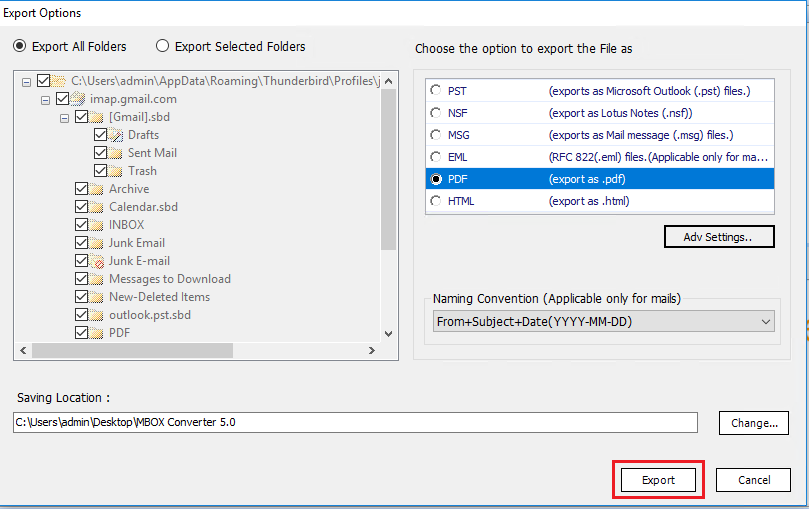 Once the process completes, open PDF file in Adobe Reader to find the email messages along with embedded attachments.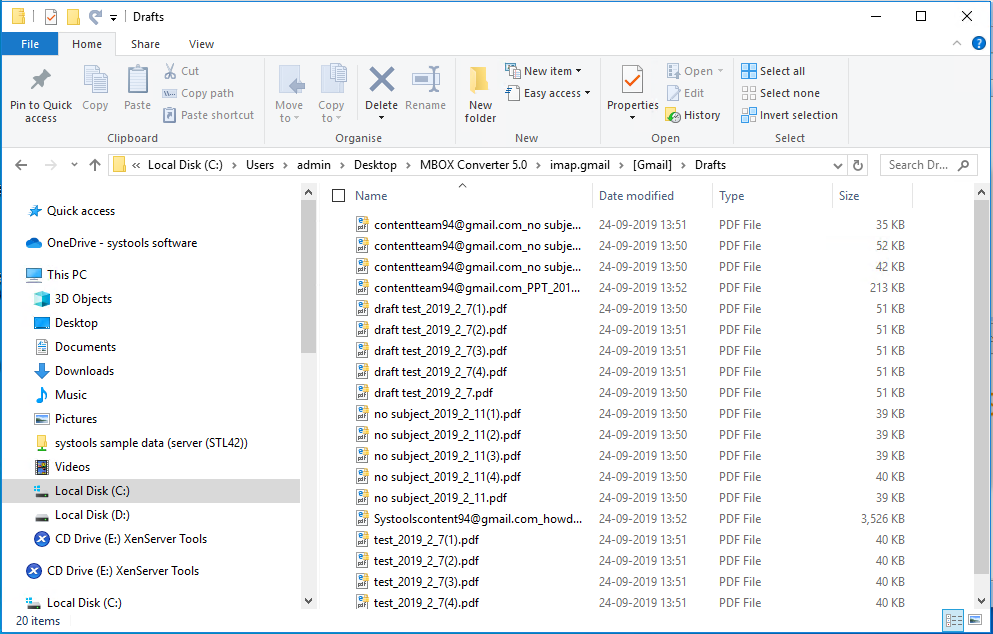 Take a Look at the Infographic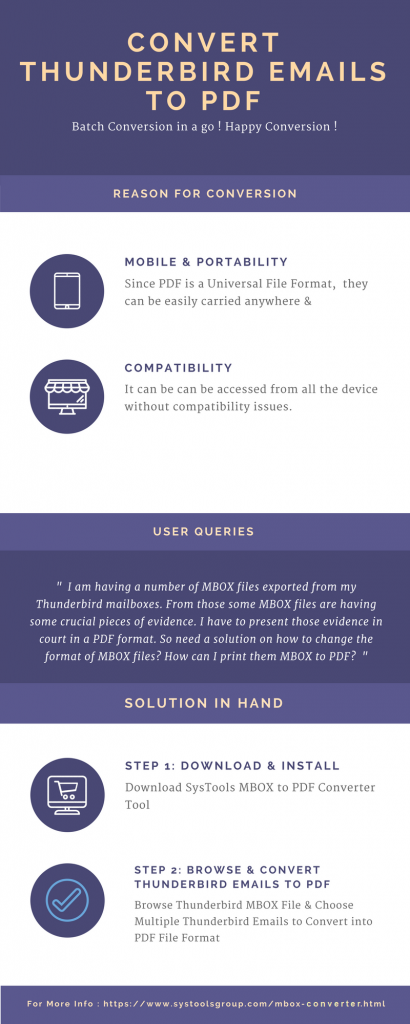 In a Nutshell
Are there free methods available to convert Thunderbird to PDF? Yes, there is such a method available. However, it won't keep your attachments intact. For that you need a professional tool. To cater to such needs of users, we discussed the process to convert Thunderbird emails to PDF file format. Use of a professional tool is also discussed with many features and advantages. It provides a hassle-free experience for the user.