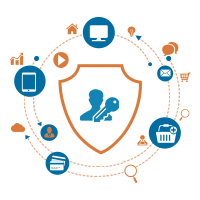 The term 'data filtering' enhances the ongoing work with the third-party. These third-party are the endpoint DLP solutions, which populate properties of file for indicating confidential data, allowing the firewall to activate DLP policy. Users can enable the data filtering feature to secure secretive items from being getting leaked. This will be identifying file properties with their values, which were set by the data loss prevention solution. When any mishap seems to be occurring at this instance of time, the files get blocked. It is an advice to the business users that they should protect their sensitive, proprietary, and confidential files through data filtering profiles.
Well, this feature is not new in recent version, already this exists in earlier editions for defining the data patterns, which is to be used as firewall for filtering purpose. The time-to-time enhancement in data filtering feature provides a more simple and intuitive measure of workflow for preventing secretive files from getting exposed. The functionality of filtering is in a way that DLP provides protection against the data loss by giving assurance that the files will only leave network when they are approached.

What's More?
The data filtering support for Data Loss Prevention solutions are provided in following two ways:
Inbuilt account settings that enable the firewall to scan properties of the file with their associated values. If one is already using a DLP service then, he/she can add more security settings associated with DLP policy.
There exists a set of predefined pattern for data to benefit users with rapid set up of the social security and the detection of credit card number.
Previously, the data pattern objects were defined for filtering credit card numbers, regular expressions patterns, and social security numbers. Now in the coming lines, readers are going to learn about these common terms.
Credit Card Numbers: The number is a unique id for each credit card. It is a 16-digit number where the 1st fifteen digits are decided by the bank, which is issuing the credit card. Whereas, the remaining last digit is considered as the check digit. This last one digit is decided on the basis of all other digits.
Social Security Number: It is nine-digit number, which is issued to the U.S. citizens under a security act. This number is provided to a person by Social security administration, which is an independent US government agency. The basic aim of this is to track an individual for some kind of social security purpose.
Regular Expressions: This is a different text string to describe the searching pattern. It comprises of alphanumeric characters as well as meta characters for creating a complete security pattern. This helps in blocking emails and attachments, which are defined for bypassing data filtering rules.
Create Custom Data Pattern For Filtering Purpose
For securing the secretive data, users can design a customized data pattern. This will be identifying properties of files with their tagged value and restrict the file, which does not follow data filtering pattern.
Step 1: Filter information by defining a new data pattern object
Click on Objects >> Custom Objects >> Data Patterns and then, Add
Give a name with description to the new object
Out of the three, select anyone Type of Pattern that is listed below:

Predefined
Regular Expression
File Properties

Append a new rule to the object of data pattern and then, again specify this on above three
After defining the settings, click on OK to save this new data pattern
Step 2: Append this data pattern to profile of data filtering
Click on Objects >> Security Profiles >> Data Filtering and then, Add or modify the profile
Click on the icon of Add to append a new profile rule and then, choose the data pattern, which you have created in Step (1)
Complete all the details, which are required on the current screen for further process
Set the rules like Block Threshold, Alert Threshold, and Log Severity for enabling the data filtering feature
Click on OK for updating all the changes in the profile
Step 3: Apply settings to the data filtering traffic
Click on the Policies >> Security and then, click on Add or modify security policy rule
Choose Actions and then, apply the Profile Type to Profiles
The profiles that you have created in Step 2 is to be attached here for data filtering purpose
Click on OK to end up this step
Step 4: Prevent browsers from resuming the sessions
Choose Device >> Setup >> Content-ID and then, edit the settings here
Remove the Allow HTTP header range option and then click on OK
Step 5: Check the files, which firewall is filtering
Click on the Monitor >> Data Filtering for viewing files, which were encountered on the basis of data filtering
Conclusion
Data filtering support for data loss prevention solutions enhances the security of all settings required to protect the confidential data. It becomes safe after applying this filtering feature becomes the mishaps are tried encountered at earlier stage.