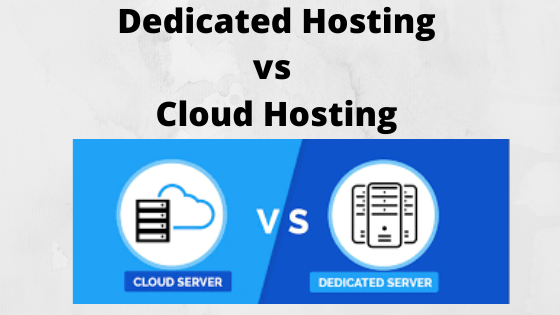 Have a website but do not know which hosting is best for you? Then, here we provide an in-depth comparison of the most popular hosting services– Dedicated Server Vs Cloud Hosting. So, let's begin!
Cloud Hosting and Dedicated Hosting are two different types of hosting services provided by many web hosting companies. Amongst all, the NetForChoice, which is an authorized company, provides you both Cloud and Dedicated hosting.

But the question still remains which one to opt for – Cloud or Dedicated Hosting for the great website performance.
Through this article, user will know the importance of web hosting servers by having a deep comparison. Let's walk-through the Dedicated Hosting Vs Cloud Hosting in a detailed manner.
Cloud Server Hosting
It is easy to put the cloud in a large group of servers that share resources and virtual spaces. One typical asset of a cloud environment is a Cloud VPS. A cloud VPS is nothing but a server that contains a fully functional Operating system which reside (inside) of this shared spaces.
We can compare cloud hosting as a large restaurant. You can imagine the restaurant as the shared physical space within the group of servers. The table is equivalent to cloud VPS's that live within the restaurant shared space. For each table, there is an assigned waiter/waitress, which acts as the Cloud VPS resources.
So, whenever the number of guests increases, it is easy to add another table in the rest of the space. It increases the number of waiter/waitress (resources) which are available to take orders. As the people leave, the extra tables can be removed and the number of waiter and waitress (resource) goes down to meet your lowered demand.
Dedicated Server Hosting
Dedicated Hosting or Managed Hosting Services is a type of web hosting where the user or client leases an entire server and no server resource sharing takes place with anyone else. Adding to it, relate the Dedicated hosting with the restaurant example where you own the whole restaurant and have one huge table. Plus, the entire waiter/waitress attends for your every need.
Related: Top Advantages of Using Dedicated Hosting
Understand the major differences between Dedicated Hosting & Cloud hosting.
Dedicated Hosting Vs Cloud Hosting – Key Differences
| | | |
| --- | --- | --- |
| Parameters | Dedicated Hosting | Cloud Hosting |
| Cost | Dedicated Servers are the physical pieces of hardware that need to be own, and sometimes there can be a setup fee associated with them. | In Cloud Hosting, there is no hardware to purchase. So, it wins over price as you pay only for what you need. |
| Speed | Dedicated servers are entirely dedicated to the persons who own it and no resource sharing takes place. Significantly speed will be high. | In cloud hosting, resources are sharing between the multiple number of users. Significantly speed will vary as compared to dedicated hosting. |
| Reliability | The entire server with all the RAM, CPU cores, etc is dedicated to the customers who own the server. If the server failure happens, then user will certainly face the trouble. | In cloud hosting, if a server fails, the remaining servers keep providing the hosting Services to the hosted website. |
| Up-time | Business generally depends on the information that the site provides. Sometimes it may also face some issues, but, the issues may be because of hardware failure. When scaling up within a dedicated environment, downtime will have an initial impact on your overall time up. Usually, this is limited to the actual time that needs to complete the hardware swap. | In Cloud servers, there is always a chance of downtime due to the overuse of resources from other customers residing on the same server. The cloud environment is very strong and redundant with their environment setup and also have a different role when scaling up is needed as it involves minimal downtime. |
So, Which One to Opt For!
If you have a website and want to make it visible over the internet, then a hosting solution is required. However, it becomes difficult which hosting solution is the best. Therefore, we have discussed a comparison of the most popular hosting – Dedicated Hosting Vs Cloud Hosting. Both the hosting services are the best. Depending upon the requirements, a person can take the hosting service.