Efficient Way to Perform Exchange 2003 to Office 365 Migration
Microsoft Exchange is used to save all mailbox information such as emails, address books, calendars, and so on. With every new upgraded version, this mail server has improved and after some time, it becomes outdated with an older version. Thus, it is better to utilize a later edition to get all advanced features of Exchange.
Due to some reasons, it is vain to opt for MS Exchange 2003, as it might be risky because there are no security updates available. The administrators must migrate MS Exchange 2003 to Office 365 or its higher versions so that they can easily move to an upgraded edition to get new security features, and so on.
In order to switch from MS Exchange 2003, it is better to export it into its higher versions, but if you need to access it online from anywhere, then Office 365 migration will be an efficient option. In the following section, we are going to describe a direct approach to performing Exchange 2003 to Office 365 migration procedure in a proper way.
Important Note: If you are currently using Microsoft Exchange 2013 or 2016, and looking to migrate all the mailboxes into the O365 cloud. Then, you can take the help of SysTools Exchange On-Premise to Office 365 Migration Tool.
This application can help users to carry out the complete process in a few clicks that too without losing any data. Moreover, users can also contact the Support Team 24X7 if they want any assistance to set up this software.
Steps How to Migrate Exchange Server 2003 to Office 365
To do the same, follow these set of instructions to perform Exchange 2003 to Office 365 conversion:
Step 1: Planning Conversion Process
Before beginning the migration process, users get to know what they are going to do. Microsoft has done a good job, which provides a relevant information for an administrator to use, and planning to do migration from Exchange 2003 to O365 account. Follow the step-by-step procedure as given below:
Open the Exchange Server Deployment Assistant. Once it is launched, you will get 3 different options.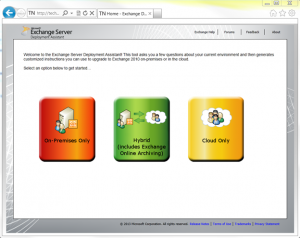 If you are using Exchange 2003 server then, select cloud Only option.
Now, you asked a number of questions on end state goals and Exit the setup.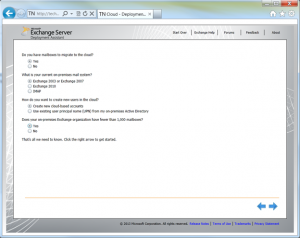 After that, answer to all questions and click on Next arrow. Next, Exchange Deployment Assistant will create a complete guide for Exchange 2003 to Office 365 migration as follows.

Step 2: Verify the Existing Setup
With the help of this guide, Keep in mind that infrastructure of Exchange server 2003 supports RPC over HTTP connection and Outlook at anywhere. We can verify the setup of Exchange 2003 with this guide. After testing the setup, utilize the Microsoft Remote Connectivity Analyzer to check the RPC over HTTP and MS Outlook anywhere.
Launch the Microsoft Remote Connectivity Analyzer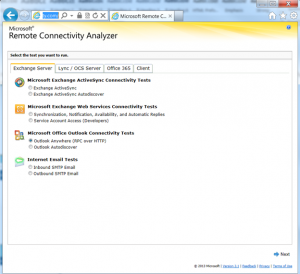 Then, Select an option Outlook Anywhere (RPC over HTTP) test. Press Next button
Now, enter all details that are requested. Keep in this mind with MS Exchange 2003, autodiscovery will not work for detecting the account settings. Even it does not support the autodiscovery. These values have been filled manually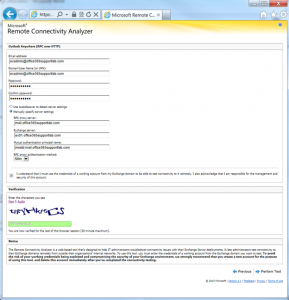 After that, type the Verification code and choose Perform Test. Now, test will begin successfully

Once the whole test is done, you can move to the next step. If it is very successful with warnings, reviews and correct them if required. If you will receive a warning message due to presence of multi-name UCC certificate. Afterwards, if the test will get failed, then, use the generated report and the complete guide (Exchange Deployment Assistant) to resolve these issues.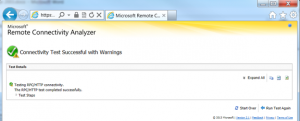 Step 3: Configure the Cutover Migration
Login to Office 365 Admin Center and then, open Exchange Admin Center

Go to the Migration option in order to begin Exchange 2003 to Office 365 migration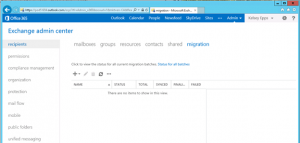 Click on (+) drop down menu and choose Migrate to Exchange Online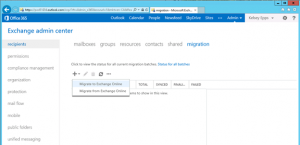 Then, navigate to the Cutover migration ( supports Exchange 2003 and its later versions)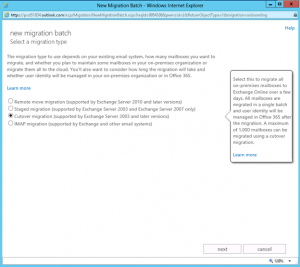 Press Next button and enter all on-premises account credentials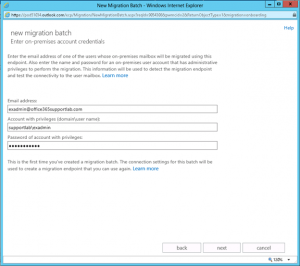 Again, click Next
Fill the on-premise MS Exchange Server and type the RPC Proxy Server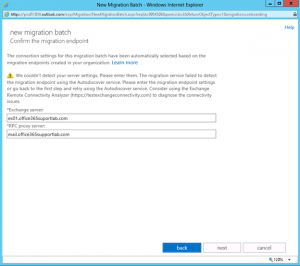 Click the Next
Now, enter the particular name for NewMigration Batch cmdlet and Press Next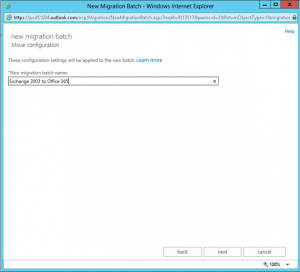 Select a user in Office 365 account for getting the complete report once the data migration is completed. You can select any option out of these two i.e. automatically start the batch or manually start the batch later.
Click on New dialog box
Now, you can easily view the created migration batch and set up the Synching status for syncing
The syncing process will take much time to finish; it will totally depend upon a large number of accounts and size of Exchange mailboxes. Meanwhile, you are permitted to test the migration information by selecting the Mailbox Status and after that, View all Details.
Step 4: Complete Migration Process
Once the synchronization procedure completes from MS Exchange 2003 to Office 365 successfully, you will receive a report email automatically along with details. After finding the complete report, you can execute the following migrations:
Migrate the Public Folders to MS Office 365
Verify All DNS Records
Assign Office 365 licenses
Configure Desktops for New Office 365
Once you have finished the Exchange 2003 to Office 365 migration successfully and also completed MX record DNS replication, after this, stop the bulk migration and all services of MS Exchange 2003.
Final Words
MS Office 365 is a cloud-based email application used by many organizations to maintain the workflow. This platform is very secure and safe where to save all crucial data. After understanding the reasons, users need to migrate from Exchange server 2003 in Office 365 suite that we have discussed in above section. Else, users can go for a tried & tested solution to migrate Exchange 2003 to the cloud. Even users can use any method according to their comfort.
Also Read: How to Perform Exchange On-Premise to Exchange Online Migration?