Exchange On-Premise to Exchange Online Migration – Best Tips & Tricks
Are you looking for a smooth and hassle-free way for Exchange On-Premise to Exchange Online migration? Having trouble finding the procedure to export Exchange Server mailboxes? Well you are at the right place then. Read the complete article and get all your answers.
With this article, you will be able to review the most effective method and practice that will be useful for the desired result of mailbox migration. Plus, it will help you somewhere to select the best option for your organization's needs for migrating On-Premise mailboxes to Exchange Online.
Generally, there are two ways for migration. The first is to migrate mailboxes to a PST and then import files into Office 365. This method is recommended when you have fewer user mailboxes. The second is highly preferred for large organizations, which have a large number of user mailboxes, with the local online exchange server.
Why Users Want to Migrate Exchange On-Premise to Exchange Online
Organizations using Exchange Server on their site claim that they are migrating their mailboxes to get universal device access and the ability to fully control Exchange data. However, the on-premise mailboxes can also be responsible for disasters, putting important data at risk. Also, in some cases, the cost of maintaining these servers can be difficult, and the most important task is to provide 100% efficient server availability.
This is where Exchange On-Premise to Exchange Online migration provides more important advantages than local configuration.
Office 365 provides a fully scalable service. This means that the user only has to buy more new user accounts, and the whole procedure for buying additional volumes and hardware configurations is completely eliminated or even configured.
It provides profitable services. Office 365 only requires investment in an Office 365 subscription and gives you all of the features of its package. You no longer need to keep any local settings or anything else.
Office 365 offers an automatic update of the latest software versions with the latest technology. The user does not have to go through many annoying situations such as server downtime or constant concern about software updates etc. Everything is taken care of automatically.

Trusted Solution for Exchange On-Premise to Exchange Online Migration
If you are looking to run the migration process smoothly and don't want any complication during the task, you should consider using the Exchange 2016 to Office 365 migration tool. This is a reliable and safe app to make the whole process smooth, fast and uncomplicated. Users can easily export the data (Emails, Calendar, Contacts) stored in Exchange mailboxes to the destination account without losing any amount of data.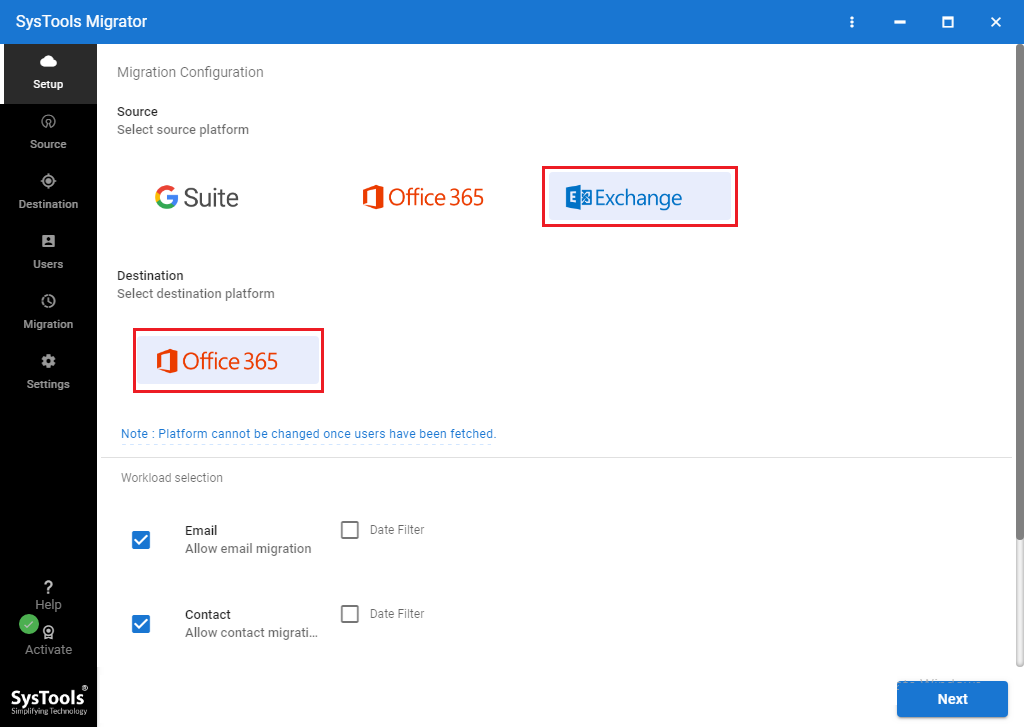 It provides a wide range of features, as the tool that guarantees the maintenance of data integrity throughout the process. Also, the folder structure of the source mailbox is preserved, and users get folders in the same order on the destination account. Let us take a look at some of its advanced features:

Migrate On-Premise Exchange to Exchange Online in Batch
No Mailbox size limitation is enforced by the tool
Original Folder Structure of source account is preserved
Prioritize migration of mailboxes according to needs
How to Migrate Exchange On-Premise to Exchange Online
1. Download On-Premise Exchange to Exchange Online Migration Tool.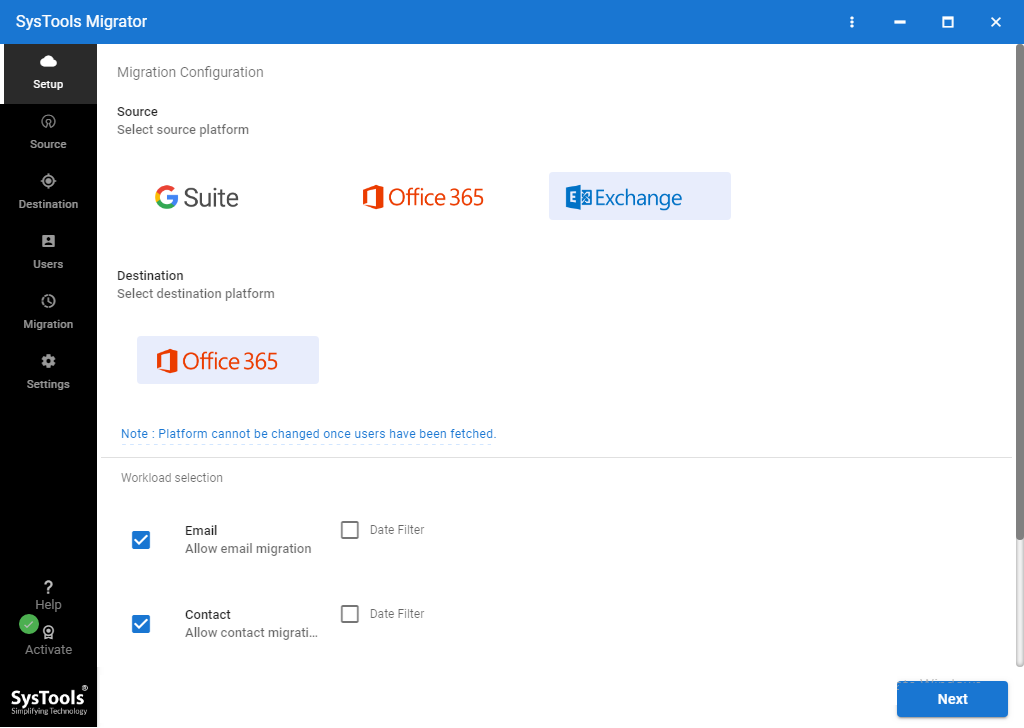 2. Choose Source and Destination Platforms on Setup screen.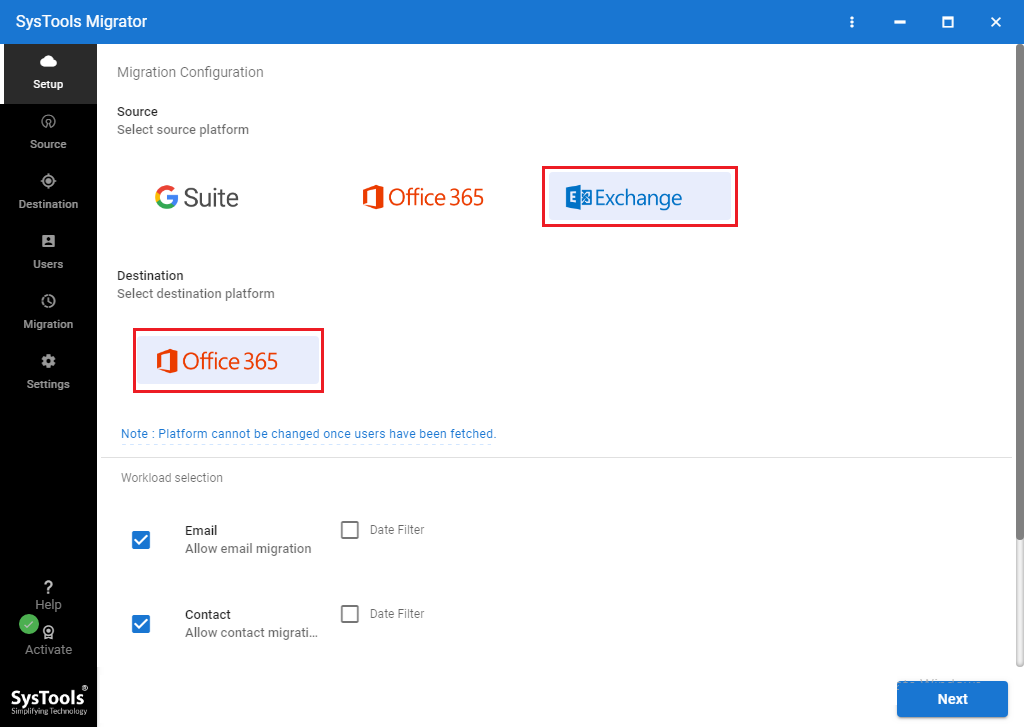 3. Apply Date-Range & Category Based filters if required.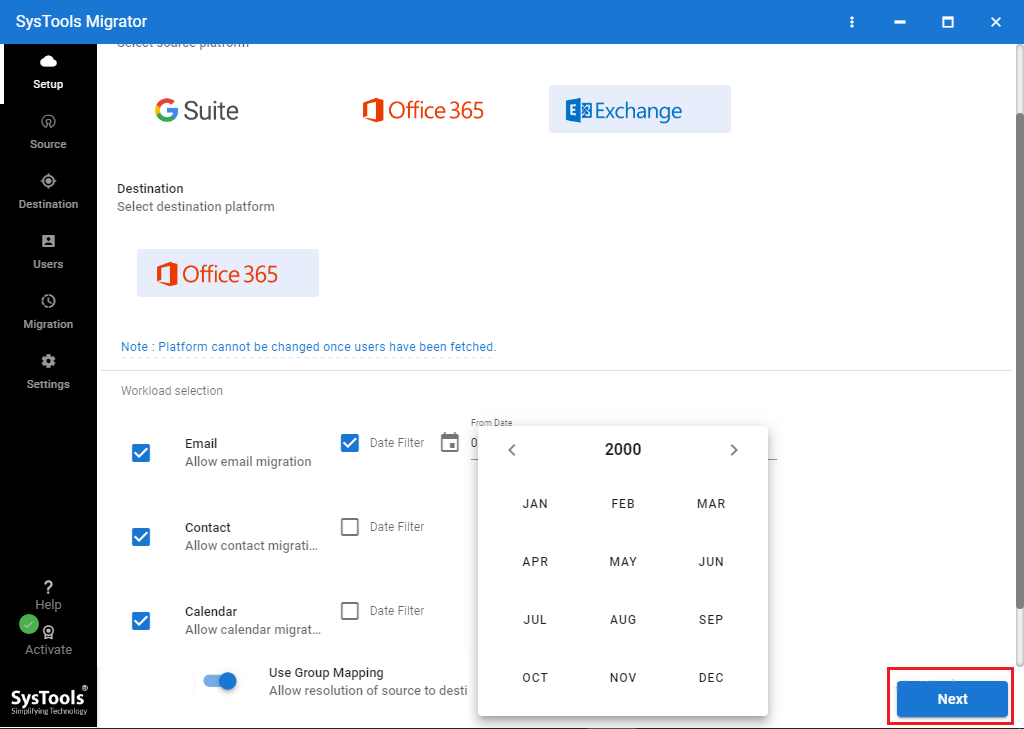 4. Provide Exchange & Office 365 Admin Credentials Carefully.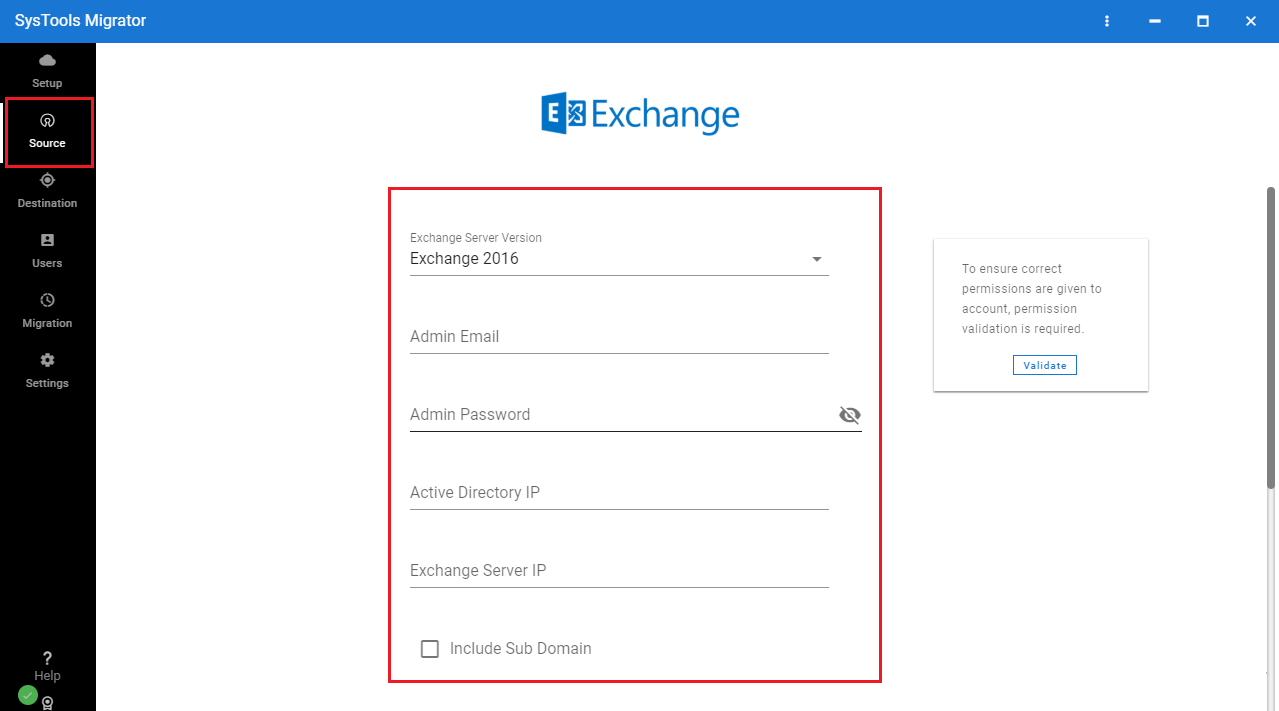 5. Fetch Users from Exchange Server and Map Users.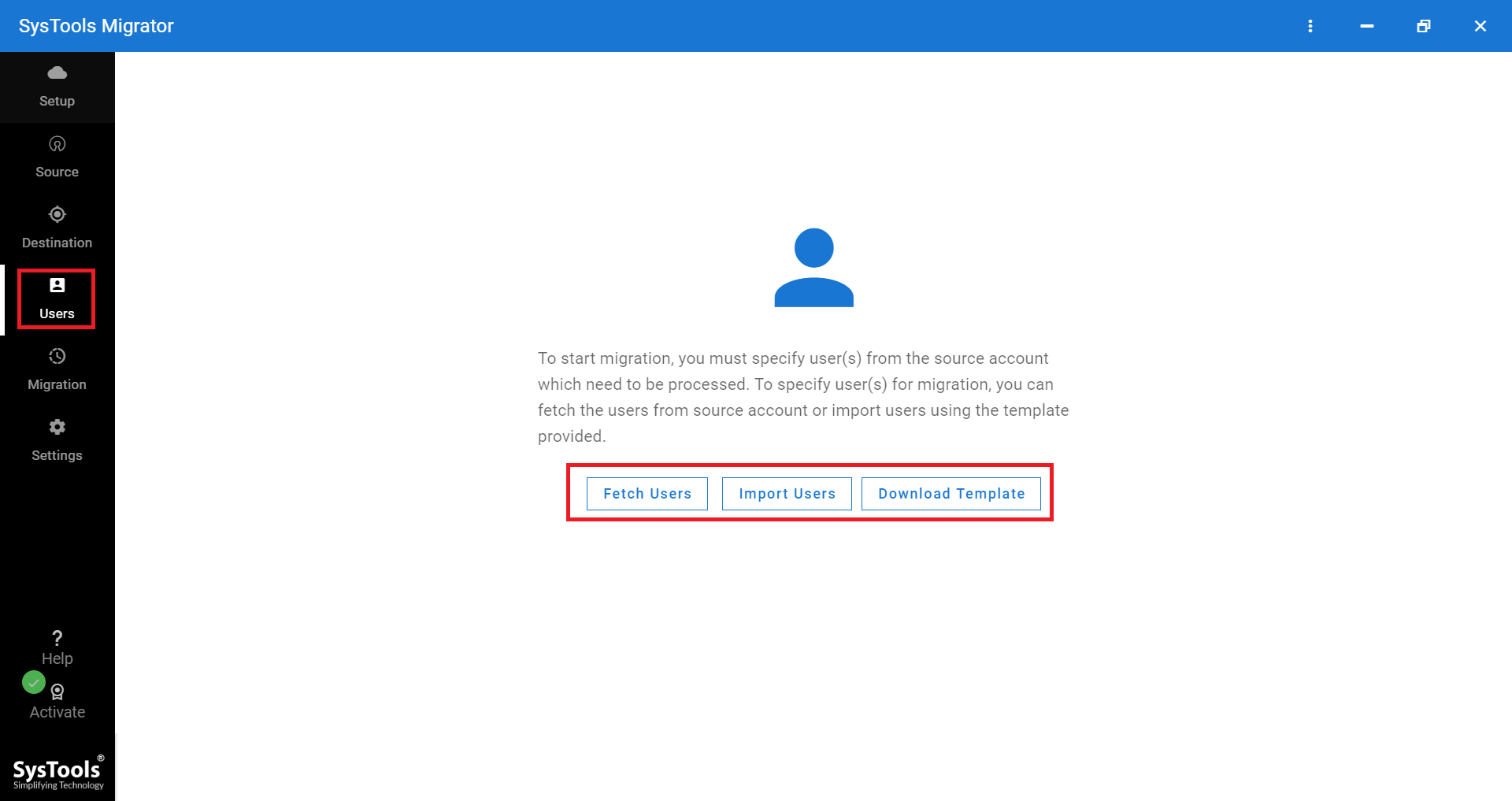 6. Press Start Migration button to initiate the process.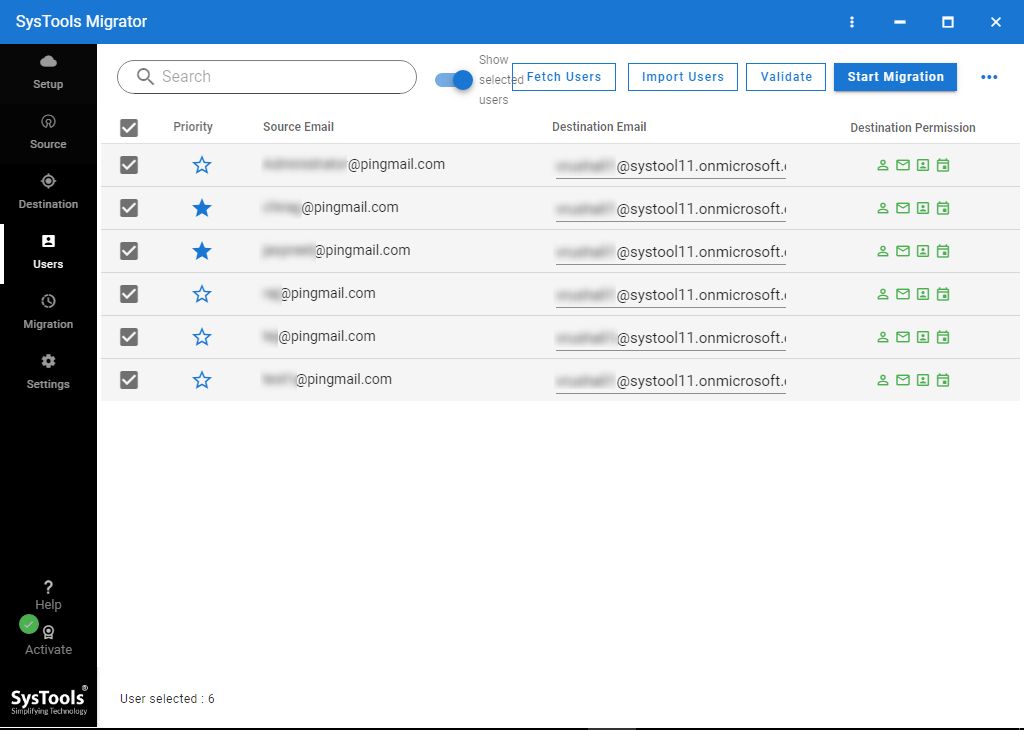 User Testimonials
Our organization is looking to move from Microsoft Exchange, but there is no reliable tool. After doing some research and reviewing app reviews on different sites, I got this Exchange On-Premise to Exchange Online Migration Tool. This is the perfect solution we have been looking to migrate more than 2,000 users.
Due to the wide range of functions, we chose this Exchange to Exchange Online Migration Tool. My favorite feature of this tool is that it supports concurrent migration, making the whole process quicker. Moreover, if data items fail during the migration process, when you rerun the migration, the tool will try to export these items again without creating duplicates.
Currently, there are many utilities that can be used to migrate Exchange On-Premise to Exchange Online. However, none of these applications are reliable because you cannot use this utility to export important data. Therefore, we chose SysTools instead of other tools to migrate data from Exchange 2013 server.
Migrate Exchange On-Premise to Exchange Online Manually
There are several ways to use by which users who can move their On-Premise Exchange mailboxes. All of these procedures have their own restrictions and some conditions under which they can be used. Users can choose any of these methods to suit their needs.
1. Direct Migration to Exchange Online
Staged Migration – This method is best suited where the organization have more than 2000 mailboxes to be migrated. However, this process is only compatible with Exchange 2003 and 2007. Click Here to know more.
Cutover Migration – If your organization expects to migrate up to 2000 mailboxes, you may need to consider relaying the migration. However, Microsoft suggests opting this method if you are having around 150 mailboxes. This solution can be implemented in Microsoft Exchange 2016, 2013, 2010, 2007 and 2003. Find out more about it by clicking here.
Hybrid Migration – This procedure is more appropriate if the organization has 150-2000 mailboxes and they want to transfer them over a period of time. This process is suitable for Exchange 2010, 2013 and 2016. Visit this link to know more.
2. Carry Out Migration via PST File
Users can also export their important data using Outlook PST files. If users have Exchange 2007 or its previous versions, then they can use the ExMerge utility or the Exportmailbox command to export Exchange On-Premise to Exchange Online. If users are using Exchange 2010 or later, they can take advantage of the new Mailboxexport PowerShell command to upload PST file to Office 365 webmail.
Conclusion
The Exchange On-Premise to Exchange Online migration is a critical task for the organization and must be carried out correctly. Any problem such as data loss or any other issue can create a lot of problems and cost the organization a lot. Thus, in this article, we mentioned all the problems and solutions through which users can perform the process without losing data. Users are advised to use the third-party application to do the job in a smooth manner.
People Also Ask
Q. What are the working steps to migrate Exchange On-Premise to Exchange Online?
A. It is a simple 5 step process for migration:
Step 1: Download On-Premise Exchange to Exchange Online Migration Tool
Step 2: Select Source and Destination Platform for Migration
Step 3: Apply Date-Filter and Category Filter if you want to
Step 4: Provide Source & Destination Admin Details and Validate
Step 5: Finally, Map Users and Start Migration Process
Q. How can I speed up Exchange On-Premise to Exchange Online Migration?
A. The best way to speed up the process is to go with SysTools Exchange On-Premise to Exchange Online migration. This software has the option of Concurrent Migration that allows admins to carry out batch migration.
Q. How much does an Exchange Migration cost?
A. There is not a fixed cost of Exchange migration. It totally depends on the number of mailboxes that you want to migrate. The aforementioned tool will cost you around $5 per user mailbox.
Q. How do I move an On-Premise Exchange to Exchange Online?
A. The best option to move On-Premise Exchange mailbox to Exchange Online is by using the expert solution by SysTools mentioned in the above blog.