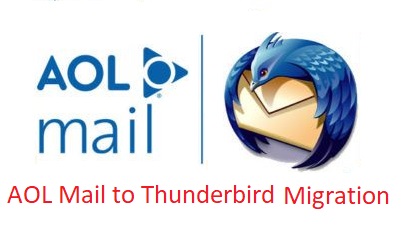 There is a number of desktop and web based email clients available. AOL (America Online) Mail is one of the web based email clients which stores all the emails and contacts in PFC file format i.e. Personal Cabinet File. On the other hand, Mozilla Thunderbird is a desktop based email client which supports MBOX file format. As both. the file formats are different, so it is difficult to access the emails of AOL Mail in Thunderbird MBOX. So, there is a need to export AOL email to Thunderbird  and we will discuss methods to so.

Need to Import AOL to Thunderbird
There are various reasons to migrate from a web-based email to the desktop based email application You need to add AOL account to Thunderbird due to following reasons:
If a user needs to create a backup of emails in his local disk, then he needs to access the data from a desktop email client like Thunderbird.
If a user needs to access multiple accounts from a single email client then he can use Thunderbird.
If the server is down, then you cannot access your data from the server. So in that case, you should export AOL email to Thunderbird MBOX file format.
There are a number of features in Thunderbird like attachment reminder, message archive, powerful search option, activity manager, large files management, etc that can easily attract any user to go for the desktop email application.
Sometimes security of data is one of the issues for the web based email client. So, to overcome that problem, you need to convert AOL to Thunderbird.
Solution 1: Set up AOL Email in Thunderbird Manually
Follow below steps to move emails and contacts from AOL to Thunderbird:
Open Mozilla Thunderbird. Click on Tools >> Account Settings >> Account Actions.
Select Add Mail Account from the menu.
In Your Name, type your name.
In Email Address, type full your AOL email address (like xyz@aol.com) and in Password, type your password of your AOL account. Then click on Continue.
To convert AOL to Thunderbird, make sure IMAP is selected as if you select POP3 then Thunderbird will automatically delete downloaded messages after two weeks or after the emails have deleted locally. If the current settings is POP then make changes in Server Settings.
Click on Manual Config. Now under the server host name, verify the following:
Incoming: imap.aol.com/Port: Either 993 (SSL) or 143 (very infrequently) 585(SSL)
Outgoing: smtp.aol.com/Port: Either 25 or 465(SSL) very infrequently 2525
Click on Retest.
Now click on Create Account. You can check your emails in Thunderbird.
Now set up the sent folder properly by Thunderbird by Tools >> Account Settings >> Copies & Folders. Place a copy of sent items on the mail server.
Solution 2: Automated tool to Configure Thunderbird for AOL
The biggest limitation of above method is that it requires IMAP/POP3 configuration which is a difficult task for non-technical users. So, to help those users, this solution to export AOL email to Thunderbird is the answer. You can go for the expertise and trusted SysTools AOL Mail Backup software which can easily import AOL to Thunderbird and one can easily all the emails in Mozilla Thunderbird. Backup AOL emails by this effective tool which has excellent features:
The tool can backup AOL email folders by saving AOL mail to the hard drive in different file formats like MBOX, PST, MSG, and EML.
A user can customize internet bandwidth and manage backup settings.
The software allows a user to filter specific emails by using Date Filter option.
The tool supports America Online 9.7/9.6/9.5 and below versions.
Conclusion
All the users that are trying to import America Online emails to Thunderbird are facing many issues as they are not able to migrate their data manually. There are some problems like Server down that makes a user to export AOL email to Thunderbird. As discussed, there are few limitations of the manual approach as it is quite lengthy and time-consuming. For a non-technical person, the process may be difficult to perform. Therefore, we have discussed another alternative solution to convert AOL to Thunderbird. With the help of this tool, you can easily export your data without any data loss.