Export Cached Contacts Outlook 2010, 2007, 2003 – Complete Solution
Summary:- In this blog post, we will discuss the solution to export cached contacts Outlook 2010. There are plenty of users who have the same query but they are not able to find a perfect solution to accomplish this task. If you are also facing the same issue, then read this complete blog and get the best result!
Cached Contacts or AutoComplete contacts are one of the best features in Outlook so far. Generally, when one types the latter related to the address in the field of To, CC, Bcc, then a list of email addresses will appear on your screen, that is the auto-complete contacts.
As we have mentioned above, multiple users are looking for an easy way to export cached contacts to Outlook 2010. If you are one of those individuals, then make sure to read this blog till the end as we will elaborate on the right approach to perform this task.
What does "Outlook Cached Contacts List" Signify?
Microsoft cached contacts AKA Nickname Cache is a list that consists of SMTP Addresses, and Legacy ExchangeDN entries and helps the name of people to whom users want to send an email. Now, that we know about Outlook cached contacts list, it's time to know why users want to export cached contacts to Outlook 2010. So, let's discuss:-
Reasons Why users want to Export Cached Contacts Outlook 2010
There are multiple reasons behind this procedure, but we are going to talk about the major ones that may have led users to export their auto-complete list.
The first reason is backup purpose because many users want to save all of their auto-complete contacts for future reference.
Besides that one may also want to import these contact to the Outlook address book. Thus, they want to export their cached contacts.
Now the question arises, how one can export cached contacts Outlook 2010? If we talk about the direct or manual procedure, then we hate to break this to you, there is no possible way to resolve this query manually. So, in this situation using an automated solution is the only way out.
A Quick Guided Method to Restore Cached Contacts Outlook 2010
Due to the lack of a manual method, we highly recommend you utilize third-party software. Frankly speaking, there is no shortage of online tools and applications. But, for this procedure, we strongly suggest the Outlook AutoComplete Recovery Software. This utility allows users to restore cached contacts Outlook NK2 and DAT files to multiple export formats such as PST, PDF, HTML, TEXT, Google CSV, CSV, vCard, MSG, etc.
Apart from this, it is also capable to repair corrupted NK2 and DAT files and provides you with a corruption-free PST file. Along with that, this software also supports various NK2 and DAT files so you can easily export multiple files at once.
Working Guide to Utilize this Recovery Tool
Follow these below-mentioned steps:-
1. To start, Download and Launch this application on your Machine.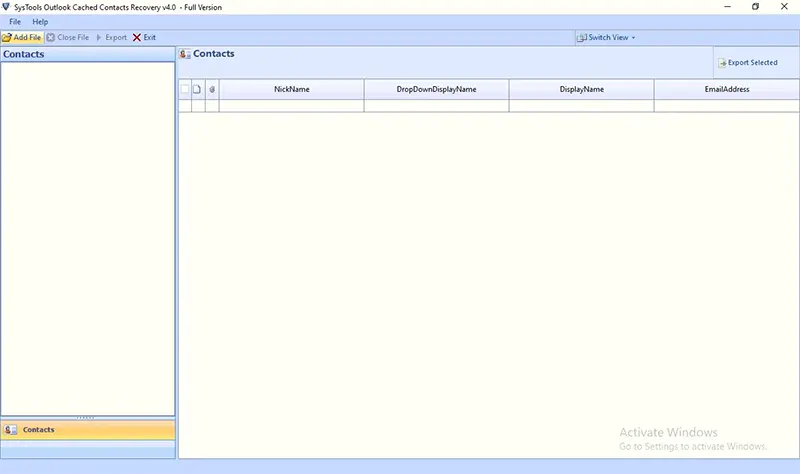 2. Next, browse your NK2 files by using Add Files option.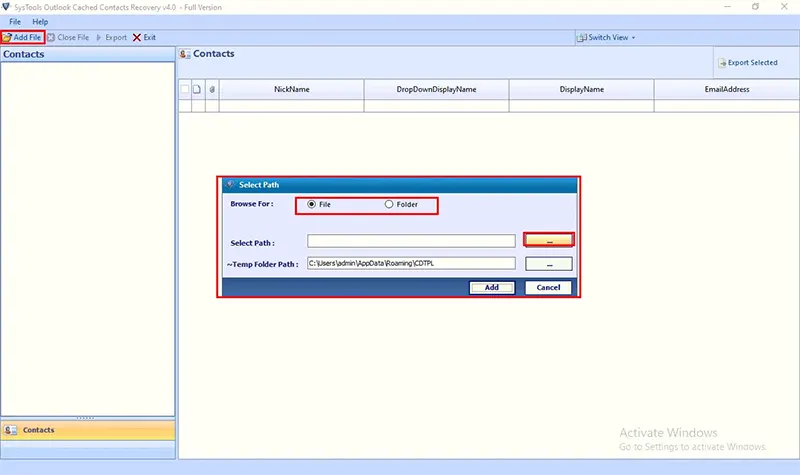 3. After adding your files into the panel, you can easily preview your files before the procedure.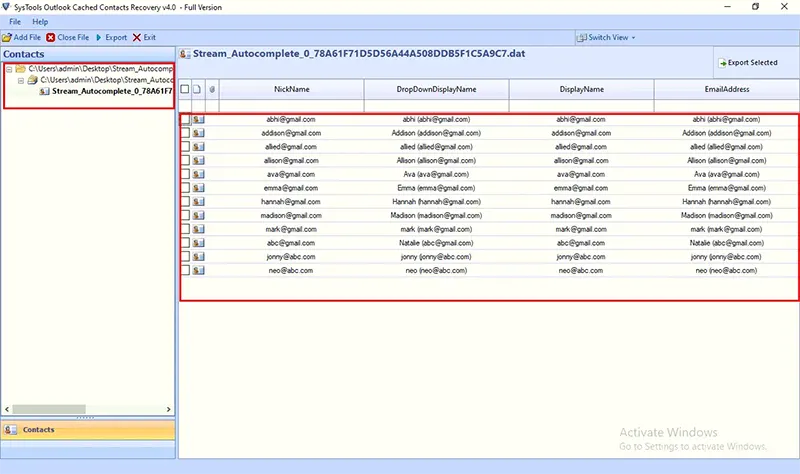 4. Hit on the Export option and choose any format as per your requirement.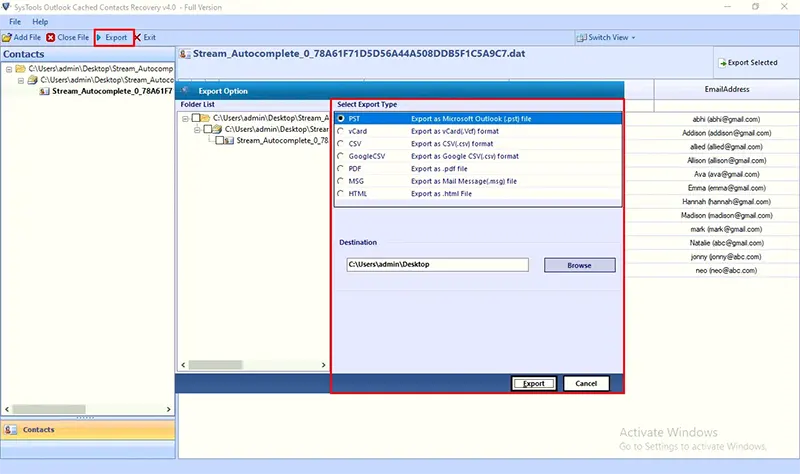 5. Afterward, select you're desired location where you want to save your resultant files.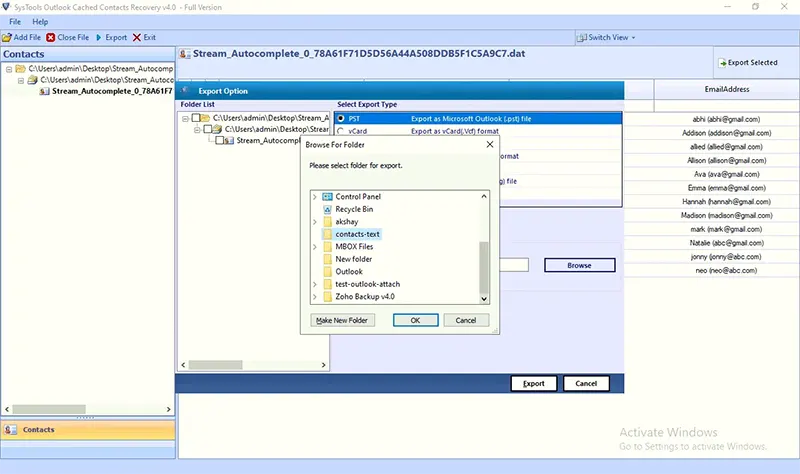 6. In the end, press the convert option to export cached contacts Outlook 2010.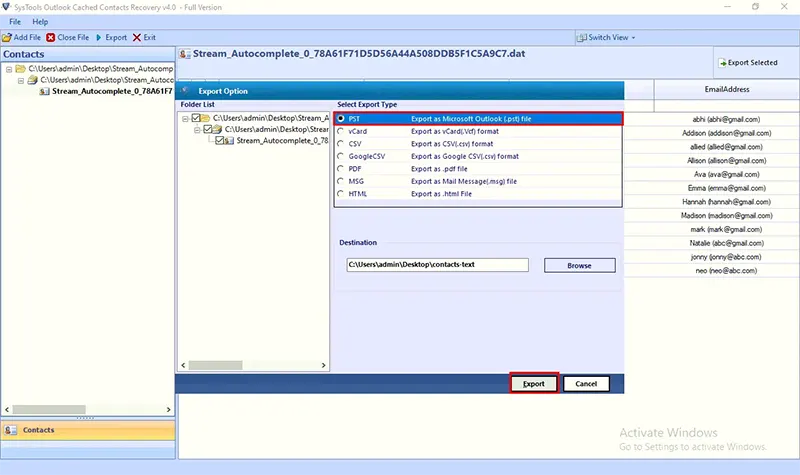 Amenities of the Outlook AutoComplete Recovery Tool
This software allows users to export cached contacts Outlook 2010 into a wide range of saving formats such as PDF, Google CSV, CSV, PST, MSG, HTML, and so on.
Also, it provides an option to auto-locate the cached contacts from the default storage.
Besides that, this utility offers an option to save autocomplete list in all versions of vCard such as vCard 2.1, 3.0, and 4.0.
With the help of this tool, users can export the cached contacts into the default contact folder.
Along with that, it also generates a detailed report of the export procedure.
It works efficiently with all the current and previously released versions of Windows and Mac OS.
Read More:- How to Recover delete Auto-complete addresses?
Ending Part
This blog explains how users can export cached contacts to Outlook 2010 in a trouble-free manner. Here we have discussed the best way to complete this task by using a professional solution as there is no direct solution available. Users can simply download the tool and try out the demo version of this tool.