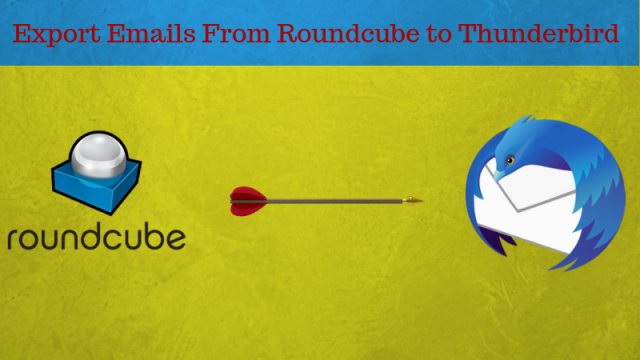 "Hello! I have both Roundcube and Thunderbird email but due to some official reason, I need to access Roundcube emails through Thunderbird. That is why I need to move Roundcube to Thunderbird. Unfortunately, I do not know how to perform this data transfer. Is it even possible to export Roundcube mailbox to TB? If yes, then please tell me its procedure. I will be grateful. Thanks."
There are many users around the world who are suffering from the same problem as mentioned in the user query. Both Thunderbird and Roundcube have got their own fans but some users need to transfer Roundcube emails to Mozilla Thunderbird. If you are one of them, do not worry. In this write-up, we will tell you various methods of this data export. Let us not waste any more time and go straight to the solutions of this problem.
How to Transfer Data from Roundcube to Thunderbird

There are various ways to move email and other data from Roundcube to Mozilla Thunderbird. Here are two manual techniques that you can follow to perform this process manually.
1. Configure Roundcube in Thunderbird
Users can add the Roundcude email into Thunderbird. Thus, the data of Roundcube will get synchronized. Here is how to configure Roundcube in Thunderbird.
a. Launch Thunderbird on your system.
b. Click on File>> New>> Existing Mail Account.
c. Set Up an Existing Email Account dialog box will appear. There, you have to enter your name, Roundcube email address, and password. Click on Continue button.
d. Select IMAP from the settings that will appear next. Click on Done button.
e. The Roundcube account will get configured in Thunderbird. To check its settings, navigate to the left panel of Thunderbird and select that account.
f. Click on View settings for this account under Accounts.
g. Account Settings box will appear. Select Server Setting option to verify the IMAP Port is 993 and outgoing server is 465.
h. Now, you can easily access all Roundcube emails by using Thunderbird.
2. Extract Email or Folder from Roundcube
Even without configuring Roundcube in Thunderbird. Users can export their data by downloading the individual emails or folders and later importing them in Thunderbird. For that, perform the steps:
In Case of Roundcube Single Email
Access your Roundcube webmail account.
Select the email that you need to export into Thunderbird by clicking on it.
Click on More button located at the top.
Choose Download (.eml) from the list to save the single email on your system.
To import it in Thunderbird, Launch the client and drag and drop the EML file to any Thunderbird folder of your choice.
In Case of Roundcube Mailbox Folders
Open Roundcube webmail.
Expand all the mailbox folders and click on Folders tab.
Select the folders you want to move and click on Choose Action.
Choose Download [.zip format] option from the menu. Here, the Zip file will contain the data in MBOX file.
Click OK to confirm the download process.
Use the drag and drop method to import the Zip file in Thunderbird.
Limitations of Manual Methods to Export Emails From Roundcube to Thunderbird
As you can see, these methods are quite lengthy and need complete knowledge about both Roundcube and Thunderbird. That is why users always look for some alternative methods. There are various third-party tools available that can perform Roundcube to Thunderbird migration, but one software stands out: that is Maildir Converter.
Use Maildir Converter for Smooth Roundcube to Thunderbird Data Transfer
SysTools Maildir Converter is a tool that converts Roundcube Maildir files in multiple other formats. When users have to export the data in Thunderbird, they have to choose the MBOX file format. The software can export emails along with their attachments. Besides, users can transfer partial Maildir data using date based filter. Before migration users can preview the files. All in all, this is the right choice for Roundcube to Thunderbird migration.
Read More: Import Maildir to Mac Mail
Conclusion
Often users face the requirement of Roundcube to Thunderbird but their lack of knowledge in this matter stops them from performing the data export. To help them in such situations, we have depicted multiple methods to conduct this file transfer process. If users find the manual methods difficult, they can try the cited software. The application is suitable for all popular Windows OS versions and easily operable by anyone.