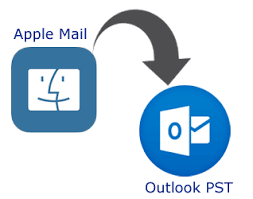 The PST file is the proprietary file format for Outlook provided by Microsoft. All the data in the Outlook account like the emails, Calendar, Contacts, Attachments, etc., are stored in Outlook in PST file format and is stored in the local database of the system. This email format cannot be used with any other email client since it is not supported. Therefore if you need to transfer or export Mac Mail to Outlook PST format, one need to sync or move .mbox files to PST format. This article is meant to explain how to convert email messages from Apple Mail to Outlook 2016 (Windows) effectively.
Mac mail email client is the default application in the Mac OS. Even though Apple Mail offers excellent features, but still due to various reasons, many users often seek solution to move or export emails from Mac Mail to Windows Outlook easily.
Reasons to Convert Apple Mail to MS Outlook
Synchronization of multiple accounts is possible in Outlook.
Outlook 2016 version has smart lookup facility and quick message preview feature which makes it more attractive to the users.
Outlook supports cloud link and ability to view multiple calendars at once.
Outlook supports grouping of messages.
Convert or Export Mac Mail to Outlook PST Manually
There is no direct method for this conversion process, the primary reason being the different file format supported by these two clients. The process discussed here is a lengthy procedure wherein there is a requirement of four email applications namely Apple Mail, Eudora, Outlook Express, and MS Outlook, and this is the only manual way out to export mailboxes from Mac Mail to Outlook 2016 account.
Step 1: Transfer Mac OS X Mail to MS Outlook
Launch Apple Mail
Go to File -> Import Mailboxes
Select Import Data from the option and select the file that is to be migrated. Click the Continue button
Browse the location to be clicked to locate your MBOX file and after selecting it, click Continue
The entire process gets completed when you press the Continue button
Thus the first stage to export Mac Mail to Outlook PST is done. Now go to the second step in Eudora email client.
Step 2: In Eudora Mail
Install the Windows Eudora Mail for generating the MBOX files. This is done because a direct transfer of MBOX files into Windows Outlook account is not possible. So to migrate emails from Apple Mail to MS Outlook Account, follow the steps below.
The extension of the file that was imported from Mac Mail needs to be changed for example from xyz to xyz.mbx.
This xyz.mbx file is to be moved to the directory in which all the Eudora Mail files are stored, by default
C: Documents and Settings\Application Data\Qualcomm\Eudora
Open the Eudora Mail account. Double click on the xyz.mbx file and close the application. This generates the MBOX file.
Step 3: In MS Outlook Express
The file that is created is to be transferred from Eudora email client to Outlook Express account. Now refer the given below steps to export Mac Mail to Outlook PST format with help of Outlook Express application.
Login to your Outlook Express account
Go to File -> Import ->Messages
Select the Eudora option from the list of available email applications and press Next
Browse the location where the xyz.mbx file is located, select it and click OK
Click Next -> Next -> Finish
The process is completed and the MBOX file is transferred to Outlook Express account.
Step 4: In Windows Outlook 2010, 2013, 2016 Versions
Now the final step is to sync the email messages from Outlook Express to Windows MS Outlook
Open the Windows Outlook account where the file is to be imported.
Go to File -> Open -> Import -> Import and Export Wizard.
Select Import Internet mail and Addresses. Click the Next Button.
From a list of options in the drop-down list, select Choose Outlook Express 6.x, 5.x, 4.x or Window Mail option.
Ensure that the checkbox for Import Mail is kept checked and click the Next button.
This completes the migration process, and the user can now access the xyz mail on Windows MS Outlook.
Demerits of Manual Method to Export Mac Mail to Outlook 2016
Access to four email application is necessary
Tedious and time-consuming process
Non-technical user has difficulty in execution
Not advisable for bulk migration
No guaranteed results
Chances of data loss or changes in data integrity are high
Alternative Automated Solution to Move Mac OS X Mail to Outlook 2016
The manual method described above has many pitfalls, and it is inevitable for a user to switch to some other easy means of migration. That can be easily achieved with the use of a powerful automated tool like SysTools MBOX to Outlook Converter Tool. This utility lets the user effectively import or convert Mac Mail emails to Outlook PST file and has several features that help in a hassle-free migration.

Steps to Export Mac Mail to Outlook 2016
Run the Mac Mail Conversion Tool.
Click "Add File" to add Mac Mail mailbox files.
Preview the emails.
Click "Export" to convert Mac Mail emails to Outlook 2016.
Conclusion
The users prefer Windows MS Outlook due to its added advantages to the Apple Mail for Mac OS. This blog deals with the manual method to export Mac Mail to Outlook 2016 PST format by migrating the emails from an Apple Mail account in Mac OS to Windows operated MS Outlook email application. Also, it suggests the use of an automated tool for better efficiency and accuracy.