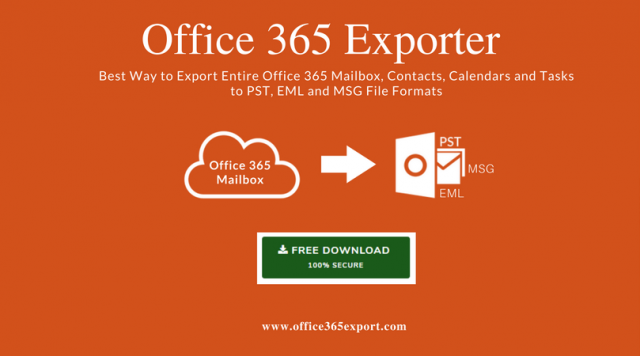 Office 365 is a Web-based version of Microsoft's Office suite. So, it is not possible for the user to access it offline. Also, in order to obtain the safe backup of data, users want to export mailbox from Office 365 to PST file format. But, the problem is users do not have deep knowledge of Exchange Online and do not know how to export Office 365 mailboxes to PST using eDiscovery or by Office 365 Export PST tool. Well, it is not that difficult. In this post, the best possible solutions are provided to download Office 365 mailbox to PST file format.
Reasons Due to Which a User Wants to Export Office 365 Mailboxes to PST
The possible reasons which lead a user to export mailbox from Office 365 to PST are as follows:
Archiving Purpose: When the data in other folders, for example, data of the other user needs to be shared, reused or archived.
Offline Access: To enable the user to access the mailbox Offline. PST is the file format of Outlook and Outlook is a desktop-based email client. On the other hand, Office 365 is a web-based email client.
Deprovisioning Users: In case any employee left the company, then the organizations need to remove the access and freeing up the resources reserved by the user.
Maintain Continuity: If the mailboxes are available offline, then a user is no more dependent on the internet connection, thus maintaining the continuity of information flow.
How to Export PST From Office 365 Mailbox

To export Office 365 mailboxes to PST file, there are two types of approaches. These are:
Manual Technique
Automated Technique
In the manual method, a user needs to perform the steps manually but, in the automated method, this can be done with the help of Office 365 Exporter.
Let us discuss each method individually.
Manual Technique
A user can use the eDiscovery Export tool which is available in the admin center of Exchange Online to export Office 365 mailbox to PST. Another solution is to use Import and Export Wizard in MS Outlook account. Both these solutions are manual approaches to backup Exchange Online mailbox to PST.
Solution 1: eDiscovery PST Export Tool
A user can export Office 365 mailbox to PST file with the help of below-mentioned steps:
Login to your Microsoft Office 365 account and open O365 Admin center.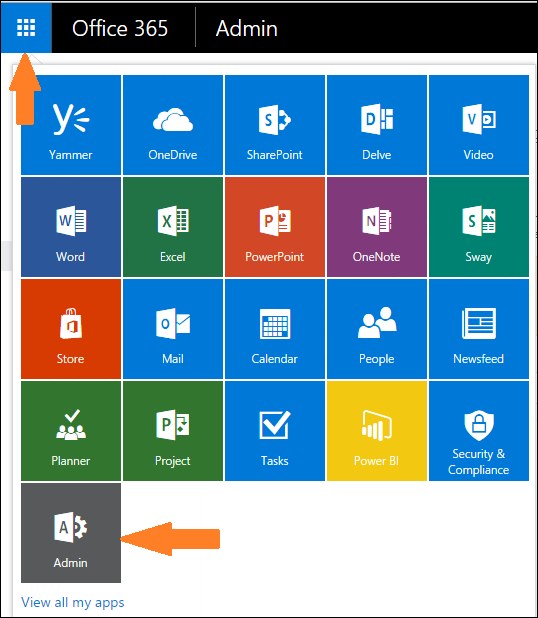 Now, go to your Exchange Admin Center.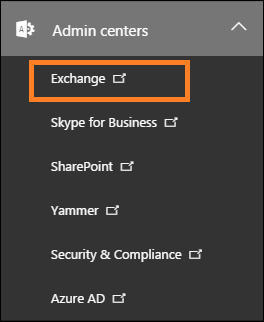 Open the Permissions tab to assign "Discovery Management" role in the Exchange admin center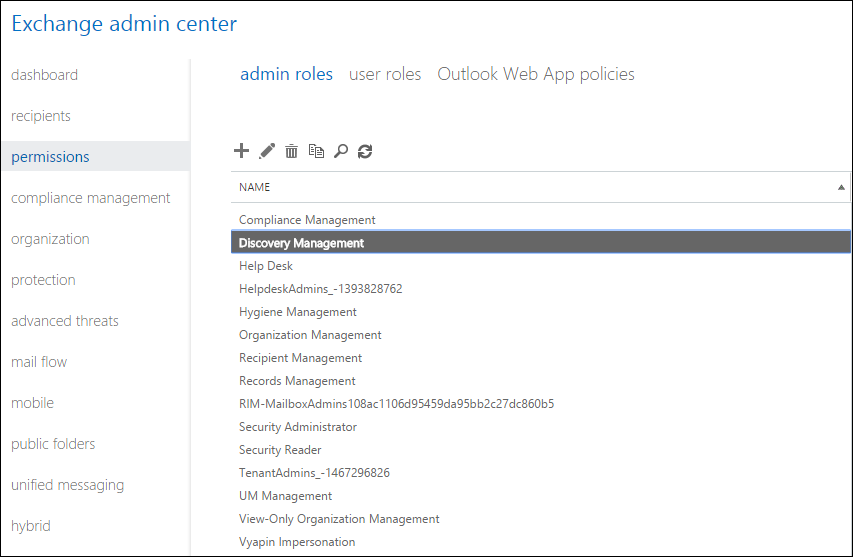 Select Edit icon to add up essential roles for the Discovery management group.
Some of the roles like Legal Hold, Mailbox Import Export, and Mailbox Search should be compulsorily added to the roles. By default, Mailbox Import Export will not be added to this role group. If it is absent, add it using the "Add Role" button.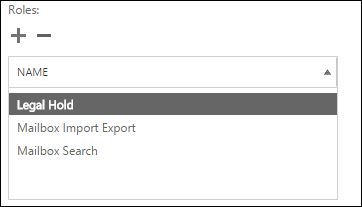 In the same dialogue box, add your account to the member list. Then, click on Save.
Navigate back to Exchange Admin Center and click on Compliance Management. Here, select the "New" button to open "In-Place eDiscovery and Hold" window. Enter the name for litigation hold and then click "Next".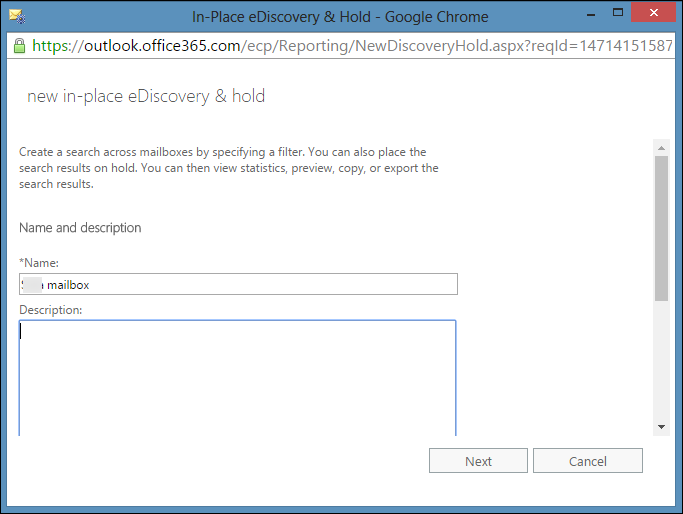 In this step, it is required to select the mailboxes to perform the search. An alternative to this is a user can search in all the mailboxes instead of selecting a particular mailbox.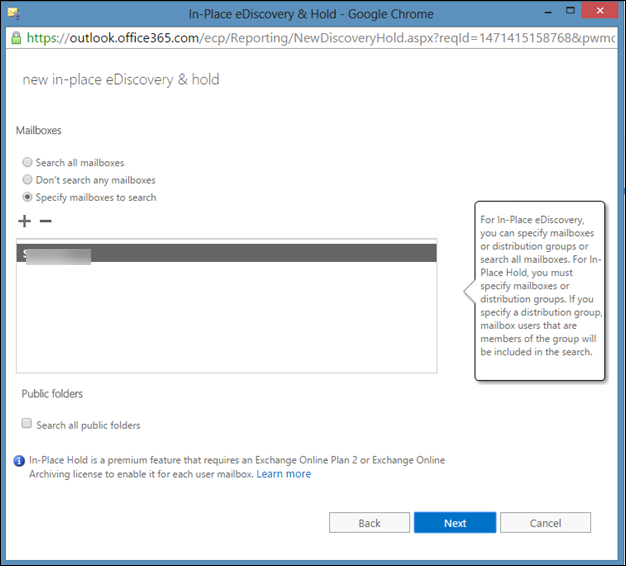 You can search for the content in "Public Folders". This option is useful only if you want to export public folder content also.
In this step, you can provide filtering options. This will help you to filter selective emails in the mailbox as well as public folders. After applying filters, click on Next.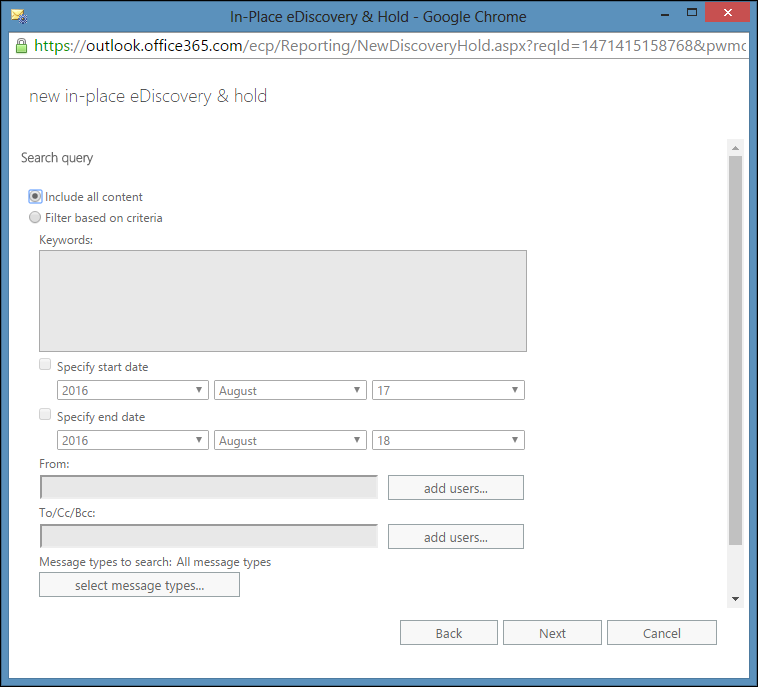 The next step is "In-place hold settings". This setting is not required for exporting mailboxes. So you can leave this step and press on "Finish" to save the changes made.
Once the settings are saved, the search result along with the search progress will be displayed in the right pane.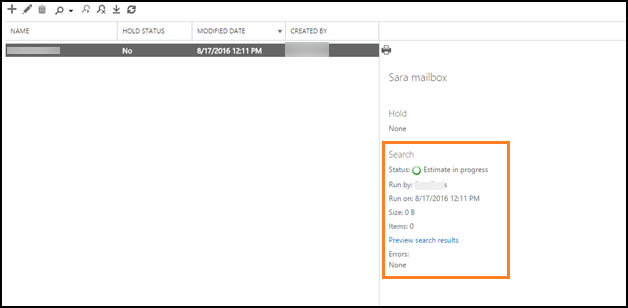 After the search process is complete, the necessary information regarding the search will be shown.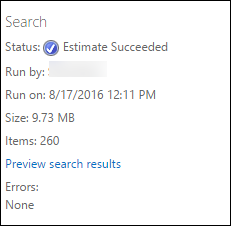 This search result can be exported to PST simply by clicking on "Export to a PST file" button.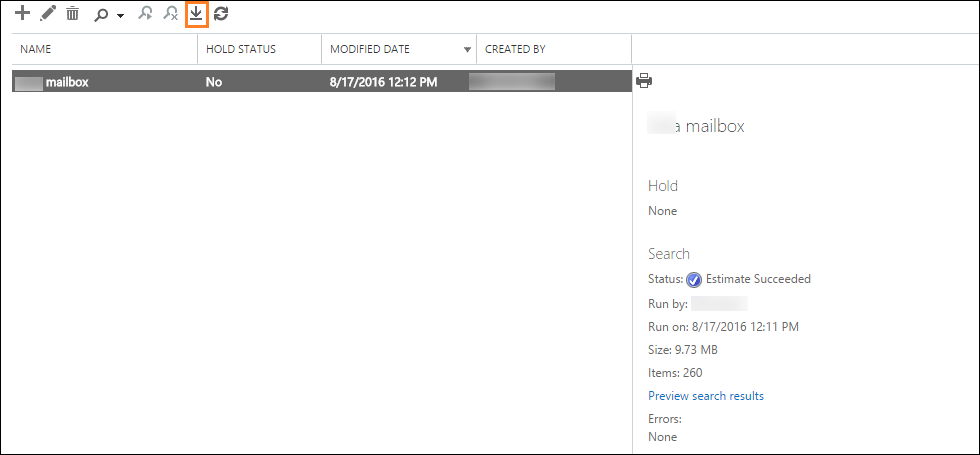 Click Once the application of Microsoft will be downloaded. Please, make sure you are using the latest browser version for the proper functioning of the application.
Select the destination location where you wish to save the resultant files and click on "Start" to begin the export process.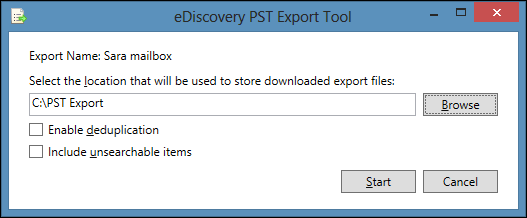 Drawbacks of eDiscovery Export PST Tool
Although eDiscovery PST export tool is considered as a good option to export Office 365 mailboxes to PST, it still has some of the limitations like:
All the steps need of being performed by the user and the procedure is very time-consuming.
This is the premium option which requires Office 365 archiving license.
Selective export of the mailboxes is not facilitated by this tool.
Solution 2: Using Microsoft Outlook
In this option, a user needs to migrate the mailboxes or public folder content with the help of MS Outlook. For this, users need to configure their Office 365 account with Outlook account. This O365 user account must have full control permissions on which mailboxes should be exported or not.
Once the permissions are assigned, it will take some time so that Office 365 mailboxes will be displayed on Outlook account. After the mailboxes are visible in Outlook account, you need to go through the following steps:
Open MS Outlook. Click on File >> Open & Export and then you need to select Import/Export.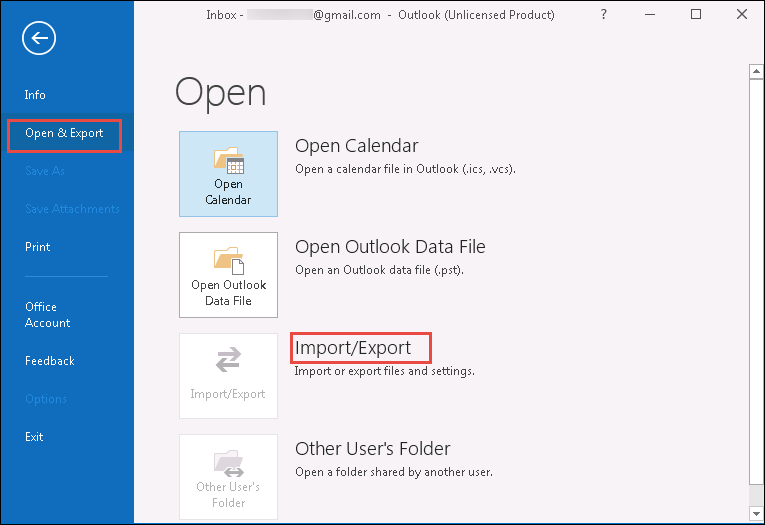 An Import and Export Wizard will open. Select Export to a File and click on Next.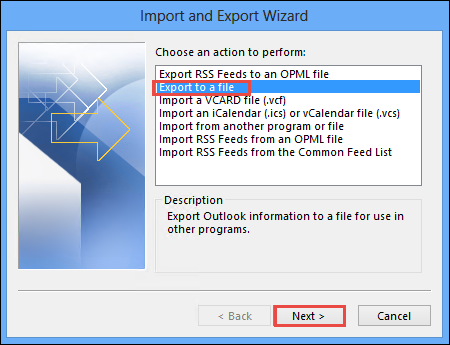 From the available options, choose Outlook Data File (.pst) from Export to a file wizard and click Next.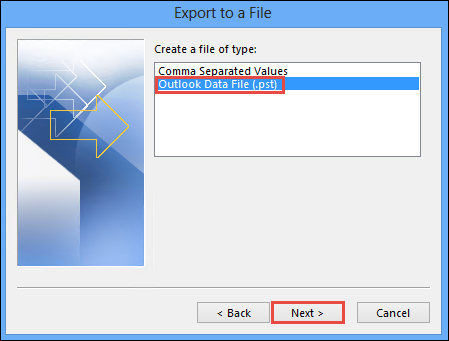 In the upcoming screens, it is required that you select the mailbox folder to be exported, the location where you want to save the resultant files. After providing these details, desired mailbox or public folder will be exported.
Drawbacks of Microsoft Outlook Technique
Multiple mailboxes cannot be exported using this technique.
Users cannot select some specific mailboxes which they need to export.
Solution 3: Office 365 Exporter – The Automated Technique
It is a proven solution among experts to export Office 365 Mailboxes to PST. This is a professional solution and has a simple user interface that even a novice user can use it without any problem. The application converts complete data without changing any properties of emails and other mailbox items.
Moreover, this tool offers additional resultant file formats other than PST file when compared to the above discussed manual procedures. Users can select PST, MSG, or EML format to export data as per their choice. There are some advanced settings as well which offer better export options and save complete experience great.

The software works with 100% precision and your data is migrated securely without any data loss.
Step by Step Guide to Export Office 365 Mailboxes to PST
Open software on your system and click on Login button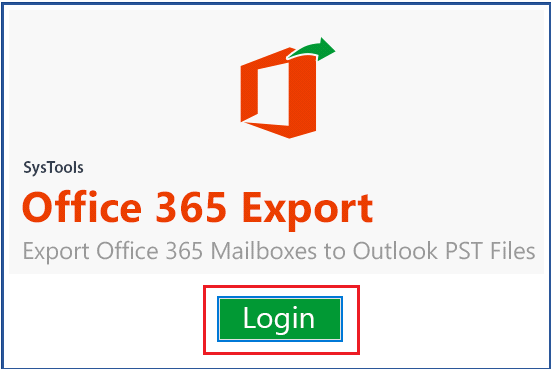 Enter Office 365 ID and Password and hit Sign-in button.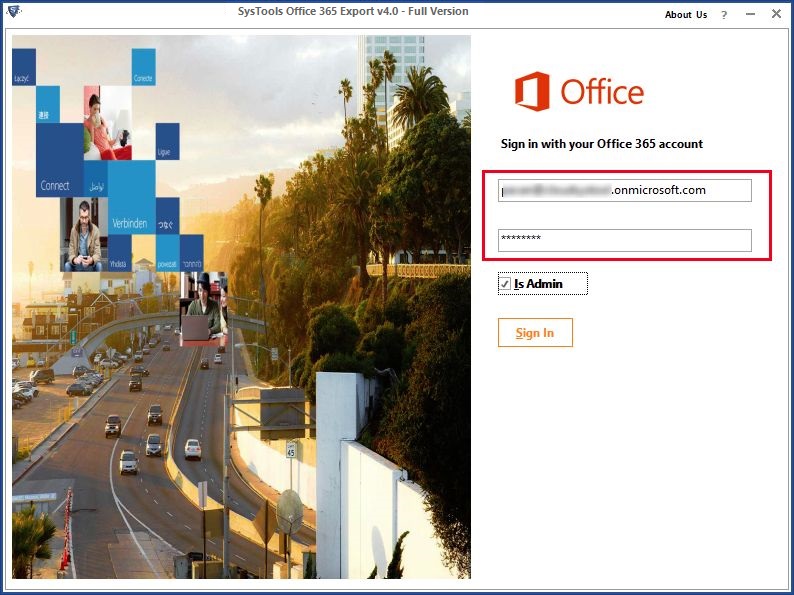 Select Email Format and Apply Settings as shown below.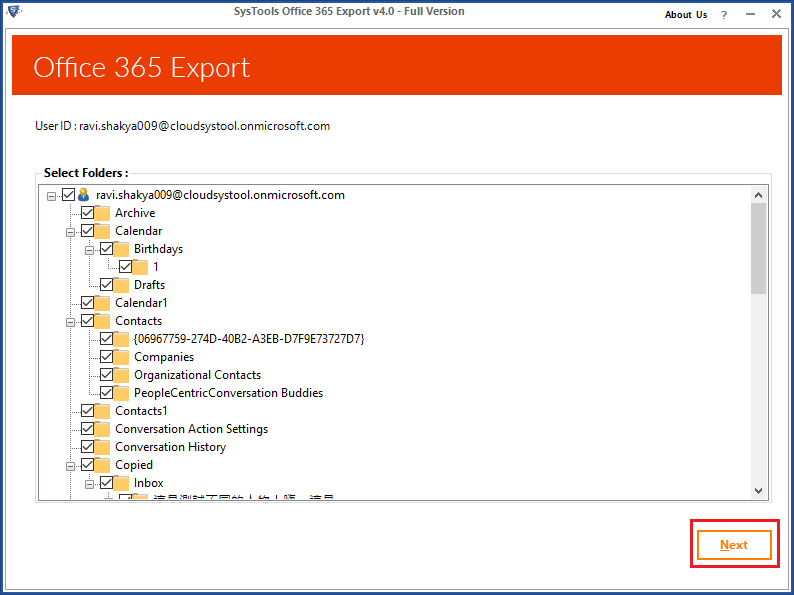 Click on Start Button to export Office 365 mailboxes to PST.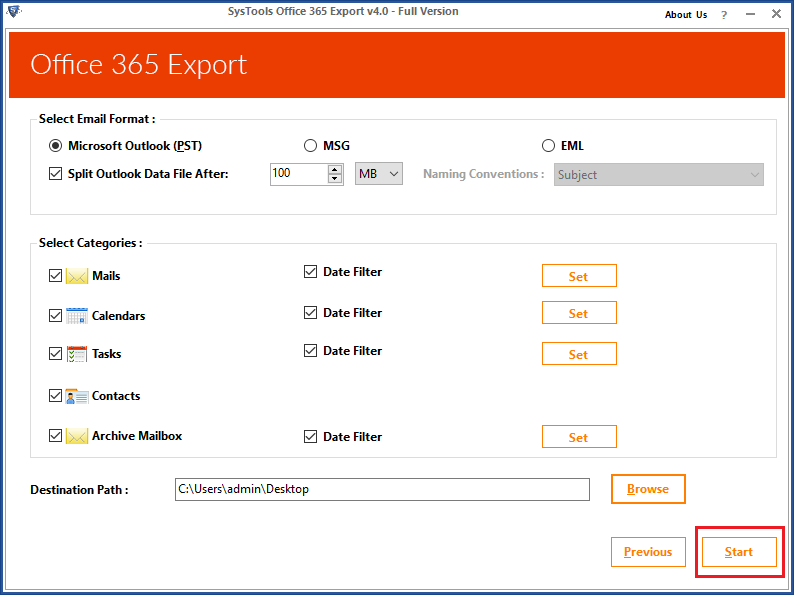 Wrapping it up
To access the Office 365 offline or to create the backup of the Office 365 mailbox, users need to export them into PST file format. But, the question is how to export Office 365 Mailboxes to PST. This can be done with the manual solution by using eDiscovery PST export tool or Microsoft Outlook. Both of these approaches possess some limitations due to which a user moves towards a third-party tool like Office 365 Export PST tool. According to the experts, it is the master tool to export mailbox from Office 365 to PST file.