Extract Contacts from OLM File Smartly – Read This Article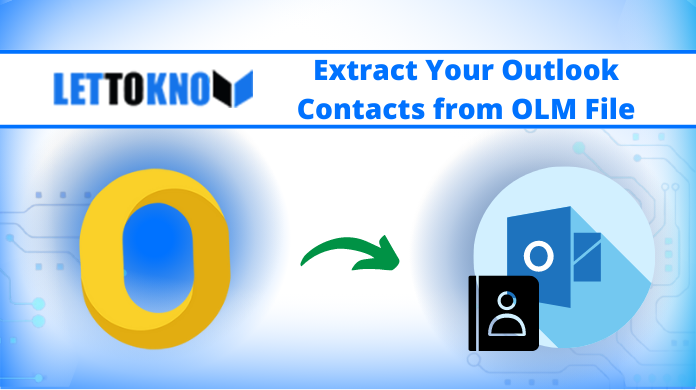 "Hey!! My Outlook consists up of more than 8000 contacts. I am using Mac Outlook for a long time and don't want to update individual contacts manually. So I decided to convert my OLM file to CSV file format. As it is the easy and quickest way to make changes in a spreadsheet program. So I need a full guide solution to extract contacts from OLM file. So please recommend me a perfect solution to my problem.
Thank You!! "
If you have a similar query and want a perfect solution to convert Mac OLM file to CSV then read the entire article to get an efficient automated solution to execute the entire operation effortlessly.
Before moving further let's understand some important terms:
Extract Contacts from OLM File to Which Platform?
MS Outlook was first launched with Exchange Serve 5.5 and allows the users to manage to configure POP3 and Web-service manually. A user can compose, send, receive, or manipulate emails. And also MS Outlook provides many additional features but still lacks the main feature of contacts extraction.
Overview of OLM and CSV File Formats
OLM file format is used by Mac Outlook to preserve the mailbox data. It saves items locally such as email messages, folders, contacts, calendars, notes, journals, etc. from Mac Outlook.
Comma Separated Value (CSV) is another file format used to store data in tabular format. It is a common file format use to preserve contacts with .csv extension. This file format data can be easily accessible through different spreadsheet programs. Here, we're going to extract contacts from OLM file to the CSV file also.
Phases of OLM Contacts Extraction Operation?
We divide the steps to convert Mac OLM file to CSV into two sections by which it became easier to understand.
Phase-1: Extract Contacts from Mac Outlook in the OLM file format.
Phase-2: Export the converted OLM file into CSV file format.
Extract Contacts from OLM File Format Smartly
Outlook for Mac contacts is accessible only in OLM file format. In the upcoming section, we will explain to you how to convert contacts from OLM to CSV. Follow the given steps:
Launch Outlook for Mac on you Macintosh.
After the process is completed click on Finish button.
Navigate the File Menu and choose the Export option.
Then check the checkbox of contacts and hit the Continue button.
Choose the desired location for your exported file and click on Save as a button.
Follow the further procedure to export the converted file into .csv file format.
Convert the OLM file into CSV File Format
It is an important step to extract the contacts from the OLM file because the OLM file is only supported by Mac Outlook. But the CSV file formats are supported by all the spreadsheet programs like MS Excel, Google Sheets, etc. Simply follow the below steps to extract contacts from OLM file safely.
Step-1. Download and Install SysTools Mac OLM Converter Tool developed to import OLM File to Windows Outlook application.
Step-2. Launch the Tool and Hit the Add File/Folder button to add an OLM file.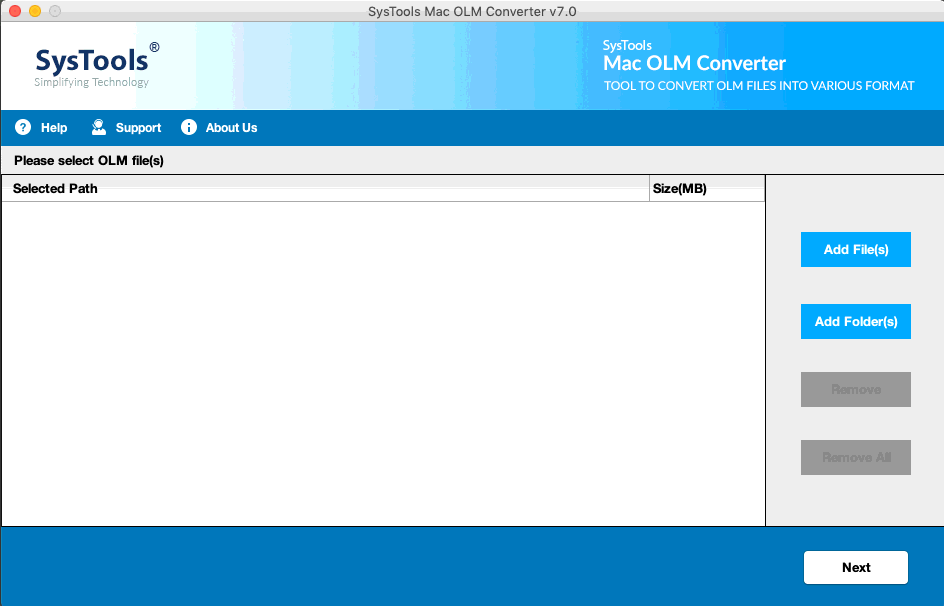 Step-3. Choose the OLM File which you want to convert.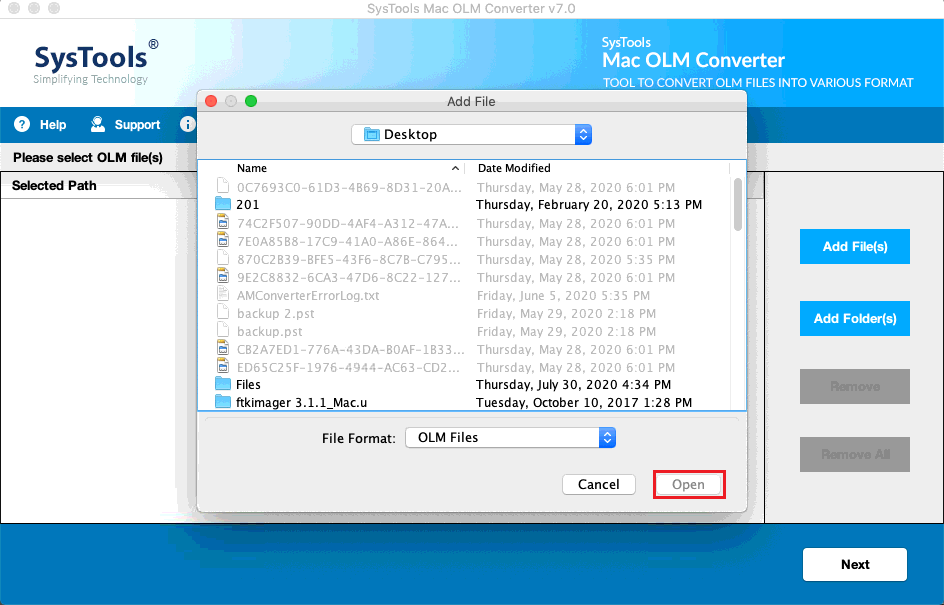 Step-4. Then, Choose Export All folder/ Export Selected folder according to your requirements.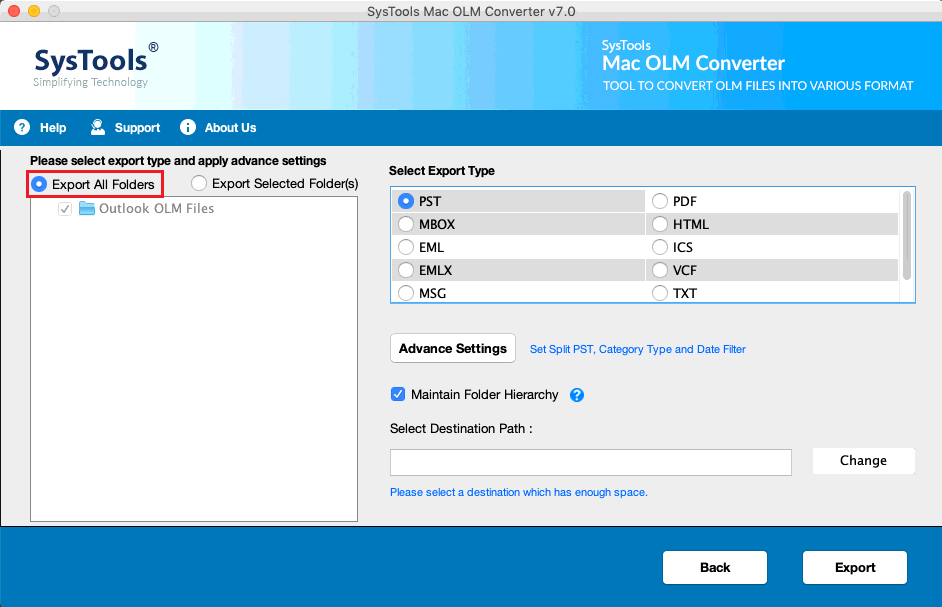 Step-5. Select CSV option to convert OLM to CSV file format.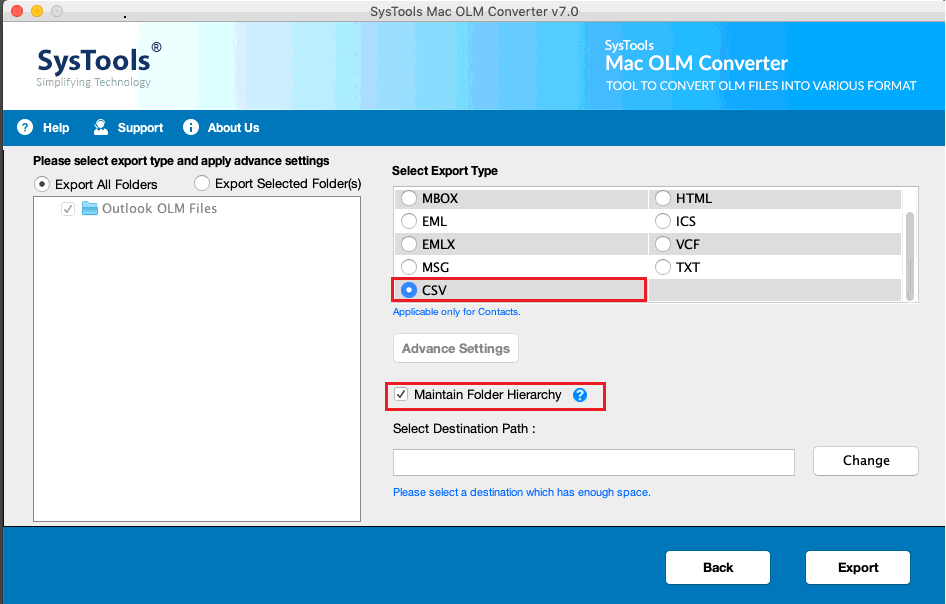 Step-6. Navigate the Destination Folder to where you need to preserve your converted CSV file.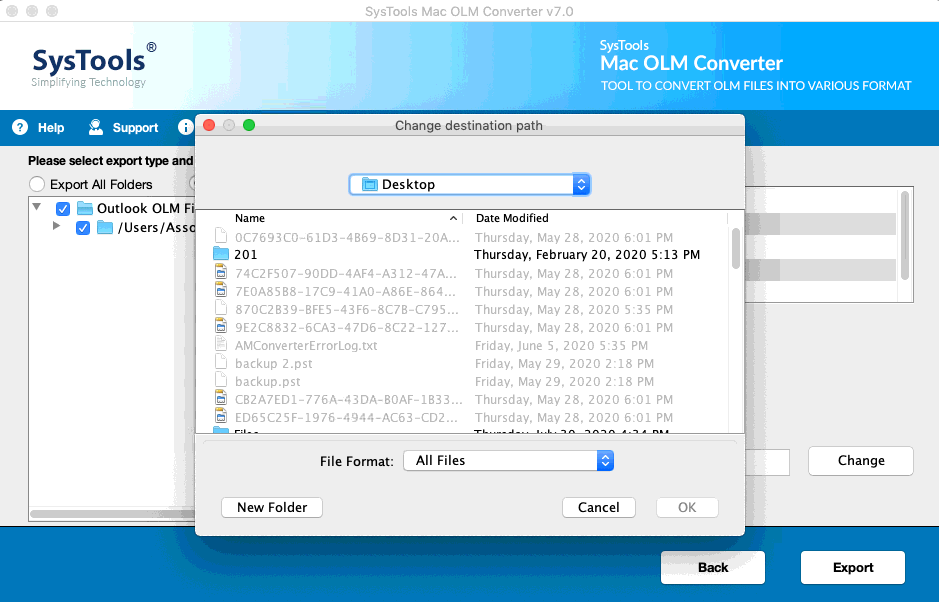 Step-6. Click on Export button to initiate the process.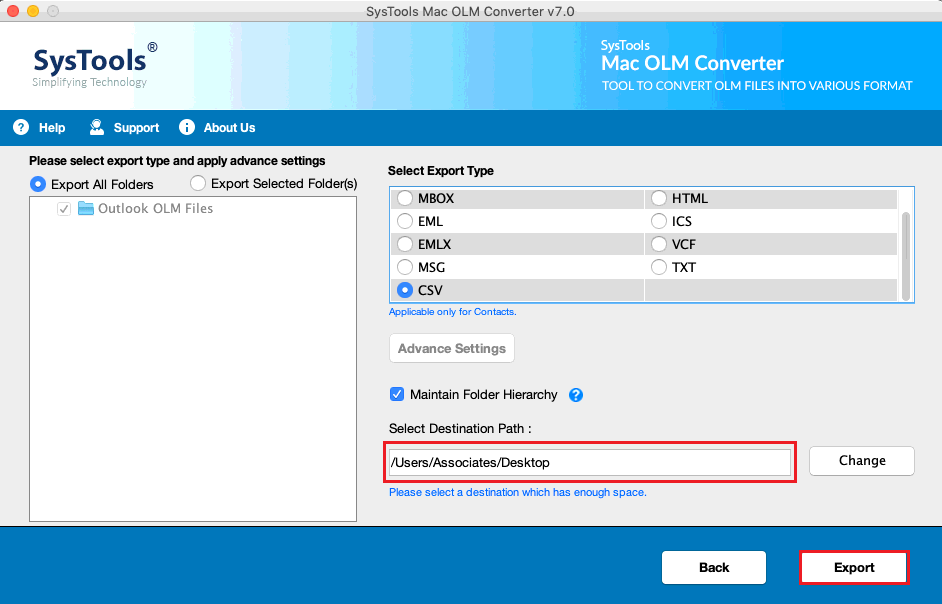 Step-7. Wait till the process is completed, and you will get a notification. Hit the OK button.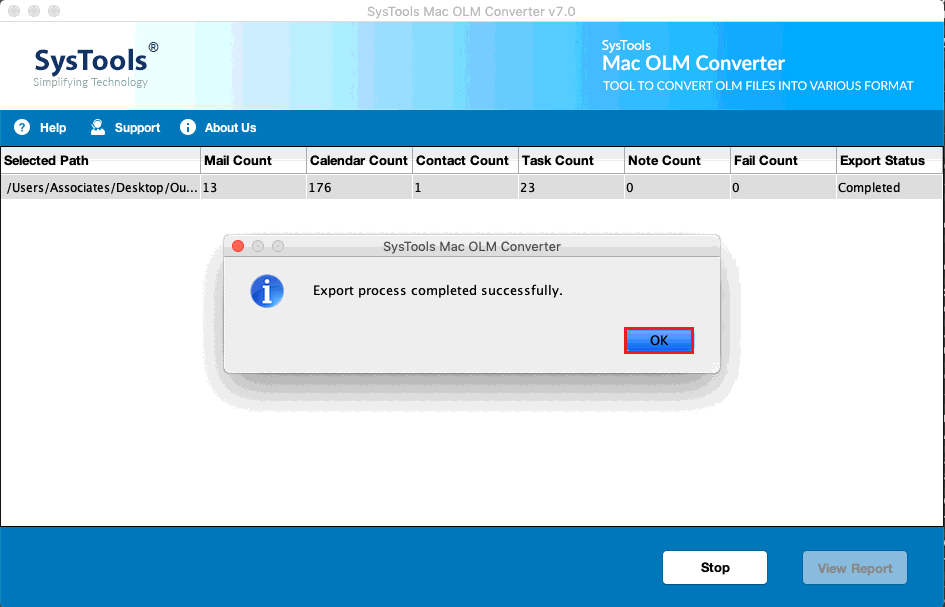 By the above process, one can easily extract contacts from Mac Outlook. Also, try SysTools Outlook Mac Exporter tool to move Outlook contacts to a new computer in the Windows operating system.
Extract Contacts from OLM File with These Advantages
The data preserve in CSV file can be easily accessible through any spreadsheet application such as MS Excel, Google spreadsheets, etc.
In CSV file store data as a plain text. So it is easy to understand and access the data for both technical and non-technical users.
Many web email client supports CSV file format.
All the contacts which are preserved in the CSV file format can be imported into email services very easily.
Final Words
Many people are searching for a full guide solution to extract contacts from OLM file on Mac OS X. If you are also searching for the same the go through the article we hope you will find a suitable solution to convert Mac Outlook OLM to CSV file. Follow the above steps and after it, you will see that all your contacts are extracted from the OLM file in a trouble-free manner and also one can do this conversion without having much technical knowledge.