Fix Microsoft Outlook 2007 Not Implemented After Windows 10 Update
Samuel Adams
| Modified: September 6th, 2021 ~ 5 Minutes Reading
When Outlook users were trying to send or receive new email messages at that time, they may receive "Not Implemented" error message. As a result, users cannot use Outlook to send or receive the message. There are several reasons like antivirus software integration with Outlook, harmful add-ins, corrupt Office installation, damaged SRS file, etc., due to which Outlook error occurs. Therefore, in the upcoming section, we are going to discuss what does Not Implemented mean in MS Office and different methods to fix Microsoft Outlook 2007 not implemented after Windows 10 update error.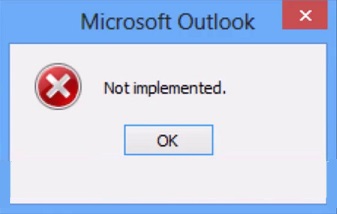 "What does Not Implemented mean in Outlook account? I am using MS Outlook 2007 in my Windows 8 Operating system. Recently I upgraded my Windows to Windows 10 OS and my Outlook started generating error message ' not implemented'.
How to resolve this issue. How to fix not implemented error in outlook 2007? Will this be resolved if I upgrade my MS Office to 2010 / 2016 etc. Whether Outlook 2016 / 2013 / 2010 user also face the same problems after windows upgrade?"
Microsoft Outlook 2007 Not Implemented after Windows 10 Update – Solution
Outlook displaying Not Implemented issue is not new. It mainly occurs when a user upgrades their Windows OS. But it is not clear and there is no direct steps or solution to resolve Outlook issues. It can be occurring due to any of the following reasons like, antivirus installed, Outlook Add-ins, PST file corruption, MS Office configuration issues etc. Go through the following methods by which you can fix Outlook 2007 Not Implemented error after windows 10 update. Please have a look how to repair Outlook PST file:
Professional Solution to Fix MS Outlook Error
If none of the above methods work, then you can opt for a smart and efficient solution, which is known as Outlook PST Recovery. This software is designed in such a way to recover deleted Outlook PST file data items. It can resolve issues and error messages like Microsoft Outlook 2007 Not Implemented after Windows 10 update etc. This is the best application, which helps to restore all items like emails, contacts, calendars, notes, etc., from Outlook data file. It is strong enough to fix Outlook PST file corruption (minor and major) without any difficulty. Another impressive feature of the tool is that it can decrypt and remove SMIME & OpenPGP encryption from Outlook emails. This software is compatible with both Windows 10, 8, 8.1, 7 (32/64 bit) and Outlook 2019, 2016, 2013, 2010, 2007 (32/64-bit) and all the below editions respectively.

Turn-off Antivirus Scanner
First, you should turn-off antivirus scanner, which scans any message whenever sending or receiving. Evidently, it can also interrupt the email process to a large extent. Therefore, you should disable even although you have not encountered an error. Otherwise, you can disable it within Microsoft Outlook. You just click on the add-ins page and remove it. On the other side, you can disable it within antivirus software itself. So you can select either one or two as per your choice.
Disable Faulty Outlook Add-ins
At certain times, faulty add-ins could be the criminal. It can result in generating Not Implemented issue in Microsoft Outlook 2016, 2013, 2010, 2007 versions etc. Thus, it is always recommended to verify the add-ins installed in your Microsoft Outlook account. After that,
Click the Outlook Option
Switch to Add-ins tab and select Go button
Then, a new dialog box appears, you can disable one add-in at the same time
Restart MS Outlook
Now check if your Microsoft Outlook 2007 Not implemented after Windows 10 update is resolved or not. Now check for all other add-in installed, if the problem is not fixed yet.
Reset Send or Receive Setting
In addition, Microsoft Outlook 2007 Not Implemented after Windows 10 update error message will pop up if send/receive setting is not correct after upgradation process. Therefore, you should reset send or receive settings. To do this, you can copy this storage path to Windows Explorer:
C:\Users\%username%\AppData\Roaming\Microsoft\Outlook\
It will acquaint the location where SRS file is available. Rename that file ".old". When you restart MS Outlook, the file will automatically recreate.
Repair MS Office Installation
Apart from this, if the Office installation gets corrupt or damaged, you may encounter 'Microsoft Outlook Not Implemented' error as well. Thus, you should try to fix this 'Not Implemented' error by repairing MS Office. Exit Outlook 2016 / 2013 / 2010 / 2007 (the Outlook version you are using) and follow the steps given below:
Go to Control Pane
Choose uninstall programs >> select MS Office and click Change button.
Under the subsequent window screen, choose repair" and then click Continue button.
Create Newt Outlook Profile
Due to the vulnerability of MS Outlook profile, create a new one profile is almost a universal approach to solve Outlook error like 'Microsoft Outlook 2007 Not Implemented after Windows 10 update'. How to fix Not implemented error? You will never overlook the function of this way,
Navigate to Control Panel
Choose Mail applet.
After that, click Show Profiles >> Add to create a new Outlook profile.
At last, you can select to set up your account manually or automatically.
Use Scanpst.exe to Fix Outlook Error
Moreover, Outlook that comes loaded with inbox repair (Scanpst.exe) tool. It will check the integrity of MS Outlook, and try its best to resolve this error. Therefore, if the above techniques may get fail, you can use Scanpst.exe to repair Outlook PST file. You can find it by searching "Scanpst" in the Windows Explorer.
Time to Conclude
What does Not Implemented mean in MS Office Outlook account? Most of the time Outlook users may encounter various issues and error messages, which is most annoying for them. To overcome such problems, in this blog, we have discussed different manual ways to fix "Microsoft Outlook 2007 not implemented after Windows 10 update" error. Else, users can take the help of an automated solution, i.e., Outlook Recovery to repair PST file. It is the most proficient method, which helps to fix minor as well as major PST Corruption and other Outlook error codes and error messages without any data loss.